Main content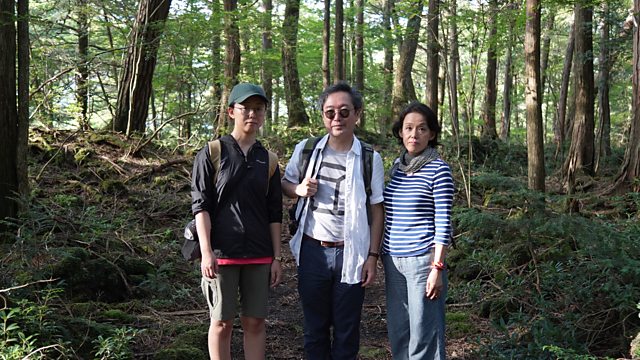 Atmosfears
Three Japanese poets create new work in a landscape shaped by a dark history. Their aim is to evoke new meaning and understanding.
Three Japanese poets create new work in a landscape shaped by a dark past.
The world is shaped by the words we give to it. Locations across the globe are coloured by our own thoughts and feelings towards them. We worship and sanctify certain areas while dreading, demonising and recoiling away from others.
In certain places, the layers of words are so close to the surface that we cannot ignore them. They are palpable, alive and tangible.
This is the Atmosfear.
A group of poets have chosen to travel to one of these locations with a tragic history. Here, they try to overcome the negative vibrations that persist by reconnecting with the land underneath.
Poet and translator Jordan Smith travels with Yasuhiro Yotsumoto, Takako Arai and Sayaka Osaki to the Aokigahara forest in Japan.
The Japanese nickname given to it is Jukai - meaning Sea of Trees. It is a site where many people have taken their own lives. Initially, they converse about what this landscape says to each of them individually – but most importantly they discuss the new words, the new meaning and the new story they want to write onto it. They then write original works of poetry and come together to read them to one another.
As a group, they decide what Atmosfear they think should be left behind.
Produced by Anishka Sharma and Barney Savage
A Whistledown production for BBC Radio 4
Last on
Find more information about services that can offer support and advice.
Photo:
Image is of poets Sayaka Osaki, Yasuhiro Yotsumoto and Takako Arai whose work features in the documentary. (c) Barney Savage.
Broadcasts