Main content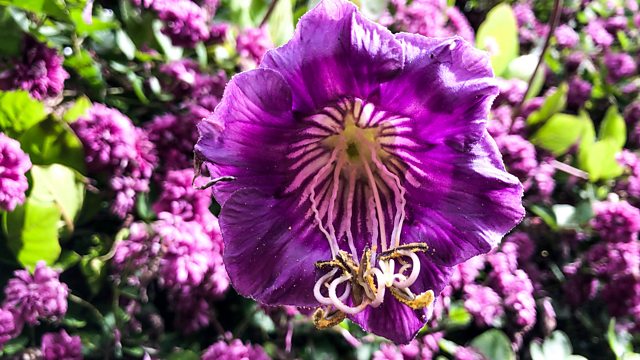 Episode 21
With the prospect of a long bank holiday weekend ahead for some, Monty advises on pruning blackcurrants, taking cuttings and planting bulbs for flowering this autumn.
With the prospect of a long bank holiday weekend ahead for some of us, Monty has plenty of advice - from pruning blackcurrants and taking cuttings to planting bulbs for flowering this autumn.
Carol Klein finds a collection of plants that are at their peak right now, and gives her advice on how to grow one of the late summer garden stunners, the monarda, while Adam Frost makes the finishing touches to the Leicestershire couple's garden, which he helped them start from scratch earlier this year. Joe Swift meets Peter Moore, who has spent his working life breeding plants for our gardens, and Nick Bailey shows us how we can use colour to the best effect in pots and borders. We also meet Kelvin Archer, who grows world record-breaking gooseberries in his back garden in Cheshire.
Clips

Gooseberry shows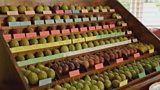 It's hard to believe that gooseberry growing used to be all the rage in the 1800s. It was particularly popular in the Midlands, the north of England and Scotland where the cool, moist air allowed the plants to thrive. Gooseberry shows sprang up all over the place where prizes were offered for the heaviest, smoothest or best tasting fruit. Club members became fiercely competitive especially when it came to weighing individual berries.
The age-old tradition of growing and showing giant gooseberries is still maintained in some parts of the country where the berries are still weighed in pennyweights and grains. Kelvin Archer belongs to the Mid-Cheshire Gooseberry Society which is centred around the village of Goostrey, whilst Egton Bridge Old Gooseberry Society near Whitby dates back to 1800. If you want to join in the fun, do get in touch.
Gooseberry facts (www.egtongooseberryshow.org.uk)
Monarda garden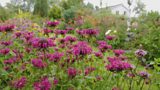 The beautiful monardas Carol talked about were all filmed at Glyn Bach Gardens in Pembrokeshire. The warm, wet climate of this part of the world suits them down to the ground as they thrive where there is plenty of moisture in the soil. They're a magnet for bees and butterflies, and the leaves can be used to make tea. If you would like to see this National Collection for yourself, you can do so by appointment in July and August.
Glyn Bach Gardens
Pont Hywel
Efailwen
Pembrokeshire
SA66 7JP
Tel. 01994 419104
Glyn Bach Gardens (www.glynbachgardens.co.uk)
Credits
| Role | Contributor |
| --- | --- |
| Presenter | Monty Don |
| Presenter | Carol Klein |
| Presenter | Nick Bailey |
| Presenter | Adam Frost |
| Presenter | Joe Swift |
| Series Producer | Sharon Fisher |
| Executive Producer | Paolo Proto |