Main content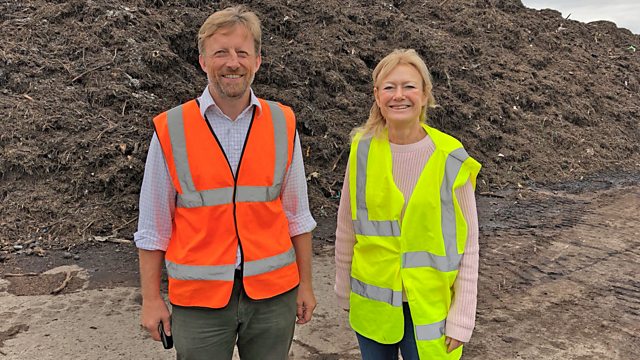 Merseyside
Eric Robson and his panel of experts visit Merseyside. Bunny Guinness, Pippa Greenwood and Bob Flowerdew answer the audience questions.
Eric Robson and his panel of experts visit Merseyside. Bunny Guinness, Pippa Greenwood and Bob Flowerdew answer the audience questions.
This week the panelists offer advice on when to harvest sweet potatoes, what to grow in a semi-shaded patch, and how to tackle a nasty case of Pytophthora.
They also suggest uses for homemade compost, ways to spruce up a messy alleyway, and methods for clearing an allotment of brambles.
Bunny Guinness meets with Ed Bastow of Material Change to track where green waste goes after it's been taken to the tip.
Produced by Dan Cocker
Assistant Producer: Laurence Bassett
A Somethin' Else production for BBC Radio 4.
Fact Sheet
Q  - When will we know when sweet potatoes are ready to harvest?
Bob - I tend to leave them in the containers of dry compost and use them usually by the beginning of the New Year.
Q - I have a difficult patch of ground – it's semi-shaded, lots of tree roots and very dry light sandy soil. Can you recommend a corm or bulb that will tolerate these conditions and give me lots of colour?
Pippa – I would try some hardy Cyclamen from about July – August. They do well in a really miserable spot.
Bunny – I love Lilium Martagon. They look very exotic but dead easy to grow.
Bob – Herb Robert. There is a white flowered version you can get which is less aggressive. I have it mixed in with lily of the valley in a shady place.
Q – My garden has suffered from an infection of Phytophthora kernoviae so a lot of evergreen shrubs had to be removed. What is more resilient that could be planted there?
Pippa – Regularly check the forestry commissions website - there is an overlap between gardens, parks, and forest and they can draw up seemingly resistant plants.
Bunny – Hydrangeas but they are not evergreen, but they work well in that climate
Bob – Have a 10-year plan.  Put in things like hydrangeas and cardoons and other herbaceous plants to give you bulk. Even Pampas Grass. Find out what will work.
Q - Next door to my tiny garden are two 20ft (6.1m) evergreen trees. My flower beds are in full shade and dry as a bone. Advice?
Bunny - Have a chat to your neighbours. Maybe they hate them. I would go round with a big bottle of champagne.
Pippa – Invite them round to see what the problem is in your garden.
Bob – Diplomacy before chainsaw.
Q – I have piles of homemade compost made since we moved to a house with a large garden. How else can we use it?
Bob - Make compost tea – when you are watering put a whole handful of compost into an old stocking and put that into a watering can. As a mulch put it round trees and shrubs – you can't have too much compost.
Pippa - Offer it to struggling neighbour gardeners. Cut down on what you are buying in dramatically.
Bob – You can't give away your compost; it's like giving away your children
Q - I have a back alley and its got filled with coal ash from the fireplaces over the years and I would like to grow some plants and encourage some wildlife.
Bob – Go for containers so you can control what you put in them. And hanging baskets.
Bunny – Hazel (Corylus Avellana) and Holly (Ilex Aquifolium) and some flowers.
Eric - What I have done is turned it into a pathway for birds.  I made a foliage tunnel out of it and its amazing how many birds are attracted by that.
Bunny  – Put some water then too  - like a winding rill.
Bob – and then all you need is an ocean wave machine.
 Pippa – Herbaceous Germania grow well in miserable conditions
Q – What would you recommend a new allotment holder grow first after clearing the plot of brambles?
Bob – Start with just 2 or 3 packet of seeds the first year and see how they go. Then the following year and get rid of the ones you didn't like and try a new 2-3 packets.
Bunny – I disagree there totally. I would grow everything I love. Deal with those brambles. When you have sorted them - The easy ones are courgettes, climbing French beans, cut-and-come-again lettuce and parsley – you can never have too much parsley.
Pippa – A Mattock is the most amazing piece of kit when you are trying to clear ground. It's not easy but it will hugely increase your chances are properly clearing an area.
Q – I've had a bucket of little black bits in my shed for 15 years. No-one knows what they are. I've brought them with me. I would love to know what use they might have.
Bunny –They have had their day. Maybe if you had sown them 15 years ago.
Bob  - when you don't know what something is its best not to spread it around.