Main content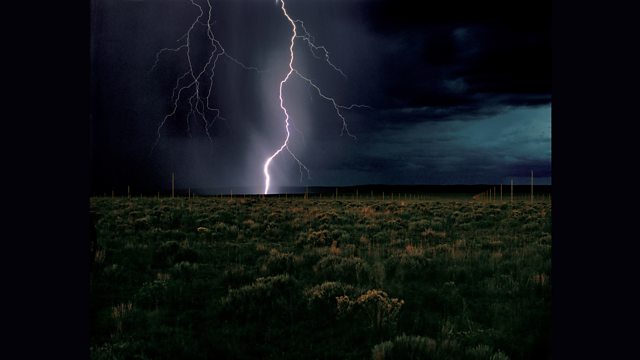 The Lightning Field
Poet Kim Addonizio visits The Lightning Field, as a cure for writers block, while Geoff Dyer recalls his own overnight experience in this giant sculpture in the desert.
In 1977 the sculptor Walter De Maria erected a field of stainless steel poles in the New Mexico high desert, where lighting frequently strikes. The only way to see this electrifying art work, one of the largest sculptures on earth, is to spend the night in a log cabin, in a remote and eerie location, off the grid.
We join acclaimed American poet Kim Addonizio as she drives hundreds of dusty miles to Quemado, the remote town closest to the Lightning Field. At the Dia Art Foundation Office, cowboy Robert Weathers drives the pre-booked guests out into the Field and leaves them alone overnight, with no phones, cameras, or digital devices, to experience the art work.
De Maria believed that no gallery could compete for impact with the power of a natural disaster - "Flood, forest fire, typhoon, sand storm, earthquake... it is in the unpredictable disasters that the highest forms are realised."
Addonizio responds, "Maybe that's part of his aim, to put us out here where we may experience an unpredictable disaster."
In a grid 1 mile by 1 kilometre, the 400 stainless steel poles reach an exact height on which an invisible pane of glass could be balanced. They are in themselves a remarkable sight. The added challenge for this very urban poet is a night in the desert, with heat, rattlesnakes and the potential thrill and danger of lightning strikes.
On the journey, Addonizio also dips into her favourite desert poems, including ones by Native American poets Joy Harjo, Simon Ortiz and others, and finds both personal and poetic inspiration.
We also hear from writer Geoff Dyer, who has twice visited the field, to enjoy his dry take on a pilgrimage on many an art fan's bucket list. "De Maria has rightly insisted that the light is as important as the lightning. But calling it the Lightning Field is a sensational piece of marketing..."
Addonizio is making a visit to the Field in June this year, where she will consider the personal and existential meanings of De Maria's steel rods, each a polished pointed spear aimed at the heavens.
An atmospheric journey through the desert to an extraordinary location, with one of the USA's most acclaimed contemporary poets.
Producer: Sara Jane Hall
"Rattlesnake" by Stanley Vestal
"Culture and the Universe" by Simon Ortiz
"To the Desert" by Benjamin Alire Saenz
"Invisible Fish by Joy Harjo
Readings from "White Plains" by Geoff Dyer
Photograph is of Walter De Maria's, Lightning Field, 1977. A permanent earth sculpture, 400 stainless steel poles arranged in a grid array measuring one mile by one kilometer, average pole height 20 feet 7 inches, pole tips form an even plane. Quemado, New Mexico. Collection Dia Art Foundation, New York. Photo: John Cliett. Courtesy Dia Art Foundation, New York.