Main content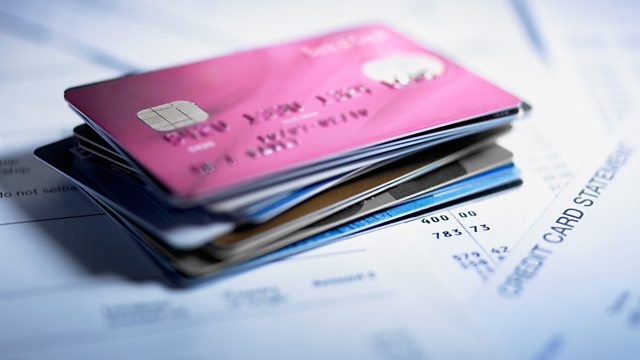 Millions in persistent credit card debt now to get help
Millions of people in persistent credit card debt should now get more help from their bank. What will happen to clients of the collapsed payday loan firm Wonga?
Three million people with persistent credit card debt could get more help from their bank from today. New rules from the Financial Conduct Authority mean that if they are paying more in charges than they pay off their debt then the credit card provider must help them to manage it. That could include freezing the interest being charged or even cancelling the debt altogether.
What now for clients of the collapsed pay day loan firm Wonga? The company's profits were drastically cut after strict new rules began in 2014 that limited the interest payday lenders could charge. The rules also set out how customers, especially those in difficulties, should be treated. Big profits turned to losses and with 11,000 customers complaining to the Financial Ombudsman Service in the first quarter of this year, the company could no longer trade. Mick McActeer founder of the not-for-profit Financial Inclusion Centre, explains to Paul Lewis what the implications are for clients of Wonga.
The Government's refusal to pay a widow's allowance to an unmarried mother has been ruled illegal by the Supreme Court. Siobhan McLaughlin from County Antrim, lived with her partner for 23 years but never married, which meant she was not able to claim the Widowed Parent's Allowance when he died. The court said that by denying these payments the Government was breaching her children's human rights. Siobhan McLaughlin spoke to Money Box at the start of her court case battle.
And Brexodus: The number of citizens of EU countries working in the UK has fallen slightly in the twelve months to the end of June. One factor is the high cost of living in Britain which is persuading workers to quit and return to the country of their birth. Money Box reporter Dan Whitworth meets people who are leaving and some who are staying.
Chapters
Credit Card Debt

The new rules that might help those with persistent credit card debt

Duration: 07:16

Wonga

The best known payday lender goes into administration

Duration: 04:17

EU Migrants

Numbers of EU citizens working in the UK falls

Duration: 06:34

'Bereavement benefits (court ruling)

The ruling that might change entitlements to unmarried parents

Duration: 04:58