Main content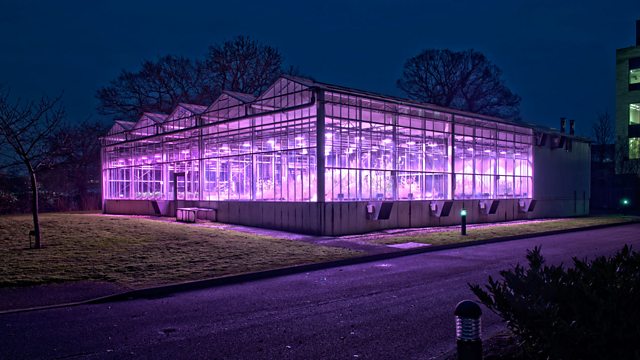 John Innes Centre, Norwich
Peter Gibbs and the panel are at the John Innes Centre in Norwich. Bob Flowerdew, Matthew Wilson and Christine Walkden answer the horticultural questions.
Peter and the panel are at the John Innes Centre in Norwich. Bob Flowerdew, Matthew Wilson and Christine Walkden answer the horticultural questions.
This week, the panellists help a listener hoping to camouflage a treehouse with plants, they give encouragement to a non-flowering Bird-of-Paradise plant, and they diagnose a rather black tomato plant.
They also advise on attracting worms into your compost bin, suggest why perennials aren't flowering this summer, and assist a gardener on a mission to create his own cultivar.
Peter Gibbs pays a visit to Dr Scott Boden, Project Leader of Crop Genetics at the John Innes Centre, to discover how LED lights are used to accelerate the growth of plants.
Produced by Darby Dorras
Assistant Producer: Hester Cant
A Somethin' Else production for BBC Radio 4.
Fact Sheet
Q – What can I plant to try and camouflage a tree house (around a birch tree)?
Christine – Ampelopsis brevipedunculata variegata.  It is climbing, vine-like, with 30-40ft (9-12m) of growth and porcelain blue berries. 
Bob – Strawberry vine
Matthew – I would grow more birch trees.  Smaller, more ornamental ones like Betula nigra  or ermanii or jackmontii (Grayswood Ghost). 
Q – My daughter has a Bird-of-Paradise plant in Belgium.  How can we make it flower?
Matthew – Don't put it outside; Strelitzia don't like it.  Keep it moist and give it some feed.
Q – Why have some of my growbag tomatoes got black bottoms?  Are they still edible?
Bob – It's called Blossom End Rot and it only really affects fruits in bags or containers, not so much ones in the ground.  The black bit isn't really edible but the rest of the fruit will be. 
Christine – Fluctuating water is the biggest cause of this. 
Q – I understand that worms are essential to make good garden compost; why can't the worms find their way into my compost?!  I have resorted to emptying worms in by hand.
Bob – It's the red, wriggly worms (Brandling or Tiger worms) that are good for compost.  They need to be able to get up into the compost from the ground.  However, they are not essential to good compost, they are just one contributing factor.
Q – Several of my perennials - Papaver 'Patty's Plum', Eryngium 'Neptune's Gold', Rodgersia– have failed to flower.  Is this because of the heatwave?
Matthew – Those three plants require different growing conditions: Rodgersia likes moisture in the soil and some shade; Papaver 'Patty's Plum' likes good garden soil; and Eryngiums tend to thrive in hot and dry conditions.  Give them all a bit of space. 
Christine – I don't think it's the heatwave on its own; it's the combination of the erratic weather we've had this year. 
Q – I would like to breed my own variety of flower.  Given that I am 70 years old could you recommend the genera of plant I should be looking at?
Christine – A round, hardy Lewisia.  All plant breeding takes time though.
Matthew – Try a low-prickle Rose.  Euphorbias are constantly crossing so that could be good.  I tried to breed a purple Euphorbia shukryia but to no avail.
Bob – Some plants are wind-pollinated, some are pollinated by insects.  To pollinate your plants you need to protect the female from unwanted pollen and then brush on your desired pollen. 
Q – In spring and early summer I spent a lot of time on my lawns but now they look awful.  What should I do?
Christine – Mow the lawn and water it if you can.  It should recover. 
Matthew – A word of warning - we might be having similar summers for the next few years so don't put too much work into it!
Correspondence update: It is illegal (Schedule 9 of the Wildlife and Countryside Act) to allow Crocosmia (formerly Montbretia) to escape from your garden or to intentionally plant it in the wild.