Main content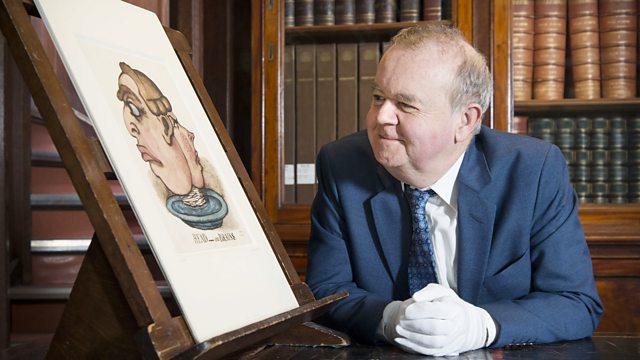 The Awkward Squad
In a partnership with the British Museum Ian Hislop, continues his celebration of dissenters throughout human history, concentrating in this programme on the work of professionals.
Ian Hislop's companion series to his exhibition at the British Museum celebrating sedition through the ages turns from dissent in the form of familiar items and objects to the works of dissenting professionals. There are some figures familiar to British audiences like cartoonist James Gillray and Richard Newton and we also hear from a modern day member of what Ian refers to as 'The Awkward Squad', Roger Law, part of the team that shook up the political world of the 1980s with the ITV series Spitting Images. But we also meet the Yoruba carving satirist Ar'owugun and his doors with their gentle mockery of British colonial rule and the shadow puppets from Turkey, Karagoz and Hacivat that were used to make fun of authority figures. There's also the work of a representative of the professional tomb painters of ancient Egypt who took time out to produce a tongue in cheek counter image to the familiar funerary images on which their employment depended.
Ian takes the opportunity of chatting with a living dissenter, Roger Law, to find out what it was that inspired his work and what satisfaction he gained from a TV series watched by millions.
Producer: Tom Alban.
British Museum Exhibition