Main content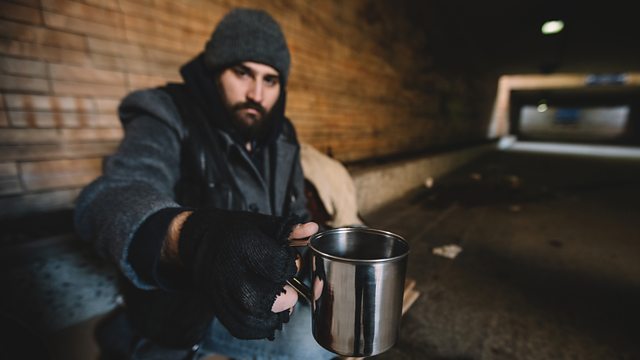 The Truth about Britain's Beggars
Former homeless drug addict Mark Johnson asks if there is such a thing as a fake beggar and investigates why the police are using a 200-year-old law to fine and jail beggars.
Being stopped by beggars on the street and asked for money makes most people feel uncomfortable. We may divert our eyes or make excuses about why we didn't stop. "They'd only spend it on drugs..." we tell ourselves. We worry they might not really need the money or that they might trying to con us.
Presenter Mark Johnson explores our relationship with beggars. He shares his own experience of living on the streets and goes on a journey to find out if there is such a thing as a fake beggar and asks why the police are fining and in some cases even jailing beggars.
He travels across the country to track a vigilante campaign in Torquay in which members of the public are trying to drive "fake beggars" off the street and discovers that 'outing' people can have terrible consequences for some of the most vulnerable in society. In Brighton he speaks to beggars who have been targeted by police using a 200 year old law to prosecute and fine them. And in Cambridge he meets a man who has been arrested 17 times and sent to prison twice for begging.