Main content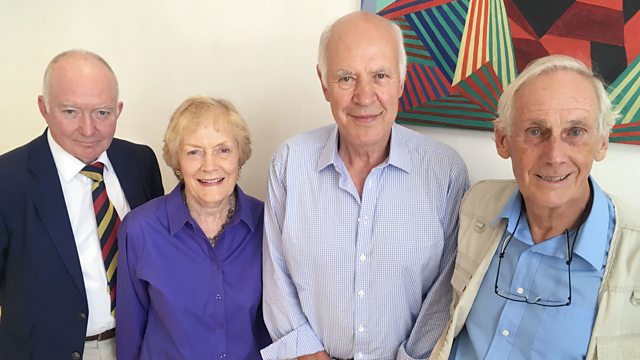 The Murder of Georgi Markov
Forty years since Bulgarian defector Georgi Markov was assassinated by a poisoned umbrella on London's Waterloo Bridge, Sue MacGregor brings together those who remember the event.
Sue MacGregor and guests recall the murder of Bulgarian dissident Georgi Markov on London's Waterloo Bridge.
The assassination of a Bulgarian dissident in 1978 captured headlines around the world. As details of the unconventional murder weapon emerged, the incident soon became infamous as the "umbrella murder". It was one of the first in a series of poisonings in the West, attributed to the former Soviet Union.
During the 1960s, Georgi Markov was one of Bulgaria's best-known writers. But in 1969, as party censors clamped down on his work, he defected to the West and settled in London. He began working for the Bulgarian section of the BBC's External Services, but it was his reports for Deutsche Welle and Radio Free Europe, which depicted the reality of life inside communist Bulgaria, that incensed the regime and its leader.
On 7th September 1978, as Georgi Markov walked across Waterloo Bridge between shifts at the BBC, he felt a sudden pain in his right thigh which appeared to have been inflicted by the tip of a stranger's umbrella. That night he developed a fever and four days later he died of unexplained blood poisoning.
It soon emerged that a tiny metal pellet filled with the poison ricin had caused his death. Fingers were immediately pointed at the Bulgarian and Soviet secret services, although the assassin was never identified. Scotland Yard's investigation into his murder remains open.
Joining Sue to look back on this political murder are Peter Udell, Georgi Markov's manager at the BBC; Bernard Riley, the doctor who tried to save him; Rumiana Ebert, a friend and fellow Bulgarian émigré; Michael Cockerell, who investigated the case for Panorama; and Markov's brother Nikola, who received warnings that his brother was a target for the Bulgarian regime.
Producer: Dan Hardoon
Series Producer: David Prest
A Whistledown production for BBC Radio 4.