Main content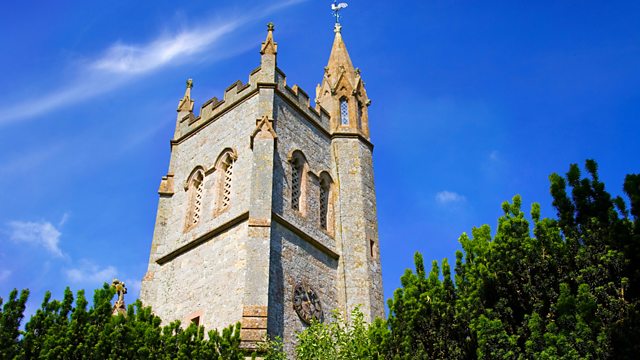 26/08/2018
From the World Meeting of Families in Dublin. The Most Rev Dr Donal McKeown, the bishop of Derry, looks at the importance and role of the different families to which we belong.
From the World Meeting of Families in Dublin which is being visited this week end by Pope Francis. In this Act of Worship, the Most Rev Dr Donal McKeown, the Bishop of Derry looks at the importance and role of the different families to which we belong. The service is led by Father Martin Magill.
Ephesians 5.25-31
John 6.60-69
Though we are many (Bernard Sexton)
O blessed are those who fear the Lord. (Inwood)
Set your hearts in the higher gifts (Warner)
O Joy for all the earth (Feely).
SCRIPT
This script cannot exactly reflect the transmission, as it was prepared before the service was broadcast. It may include editorial notes prepared by the producer, and minor spelling and other errors that were corrected before the radio broadcast.<?xml:namespace prefix = "o" ns = "urn:schemas-microsoft-com:office:office" />
It may contain gaps to be filled in at the time so that prayers may reflect the needs of the world, and changes may also be made at the last minute for timing reasons, or to reflect current events.
Opening Announcement:
BBC Radio 4. It's ten past eight  and time now for Sunday Worship which has been recorded at the World Meeting of Families in Ireland.
Father Martin Magill: Good morning from Dublin. I'm Father Martin Magill, a priest from Belfast and I'm here at the Royal Dublin Society at Ballsbridge. A fortnight ago, the Dublin Horse Show was in full swing. This week it's been the World Meeting of Families, held every three years, bringing families from all over the world to consider and reflect on the importance of marriage and family life for people society and the Church. This year's theme has looked at "the Gospel of the Family: Joy for the world"
There's been a three day congress with about 37,000 delegates taking part from many countries ; with many key note addresses and panels on issues affecting family life. The culmination of the week will be the visit of Pope Francis and his celebrating Mass with  a vast crowd tin Phoenix Park. In a moment we're going to get away from this hustle and bustle as we gather in a nearby quiet convent chapel to reflect on the place of family in our lives. The Down and Connor Diocesan Pilgrimage Choir sings O joy for all the earth, the specially written hymn for this meeting. It begins with words from St Paul's hymn to love in I Corinthians 15.
MUSIC O Joy for all the earth (Feeley)
Father Martin Magill The Lord be with you
And with your Spirit
We become aware of the faults and failings we bring to the families of which we are part
the things we've done we shouldn't have done and the things we never bothered to do
the words which should not have been spoken and those which should have been but weren't.
So, coming together as God's family.
 With confidence let us ask the Father's forgiveness
For he is full of gentleness and compassion
Lord Jesus, you came to reconcile us to one another and to the Father
Lord have mercy
Lord have mercy
Lord Jesus, you heal the wounds of sin and division
Christ have mercy
Christ have mercy
Lord Jesus, you intercede for us with your Father
Lord have mercy
Lord have mercy
May almighty God have mercy on us, forgive us our sins
and bring us to eternal life  AMEN
And we pray in the words of the official prayer of this World Meeting of Families:
God, our Father, We are brothers and sisters in Jesus your Son,
One family, in the Spirit of your love.
Bless us with the joy of love.
Make us patient and kind, gentle and generous, welcoming to those in need.
Help us to live your forgiveness and peace.
Protect all families with your loving care, Especially those for whom we now pray:
Increase our faith, Strengthen our hope, Keep us safe in your love,
Make us always grateful for the gift of life that we share.
This we ask, through Christ our Lord,  AMEN
Faith, hope and love. Our next hymn speaks of those higher gifts and prays that we will set our hearts and minds on them. After that we will hear something of the thoughts and experiences of some of those who are attending and taking part in this meeting of families
MUSIC Set your heart on the higher gifts  (Steven Warner)
TAPE INSERT
READER
 A reading from the fifth chapter of Paul's letter to the Ephesians
Follow Christ by loving as he loved you. Husbands should love their wives just as Christ loved the Church and sacrificed himself for her to make her holy. He made her clean by washing her in water with a form of words, so that when he took her to himself she would be glorious, with no speck or wrinkle or anything like that, but holy and faultless. In the same way, husbands must love their wives as they love their own bodies; for a man to love his wife is for him to love himself. A man never hates his own body, but he feeds it and looks after it; and that is the way Christ treats the Church, because it is his body – and we are its living parts. For this reason, a man must leave his father and mother and be joined to his wife, and the two will become one body. This mystery has many implications; but I am saying it applies to Christ and the Church.
The word of the Lord
Thanks be to God 
MUSIC O blessed are those who fear the Lord- Psalm 128 (Paul Inwood)
Father Martin Magill: The Lord be with you.
And with your spirit.
A reading from the holy Gospel according to John
Glory to you, O Lord.
After hearing his doctrine many of the followers of Jesus said, 'This is intolerable language. How could anyone accept it?' Jesus was aware that his followers were complaining about it and said, 'Does this upset you? What if you should see the Son of Man ascend to where he was before?
'It is the spirit that gives life,
the flesh has nothing to offer.
The words I have spoken to you are spirit
and they are life.
'But there are some of you who do not believe.' For Jesus knew from the outset those who did not believe, and who it was that would betray him. He went on, 'This is why I told you that no one could come to me unless the Father allows him.' After this, many of his disciples left him and stopped going with him.
  Then Jesus said to the Twelve, 'What about you, do you want to go away too?' Simon Peter answered, 'Lord, who shall we go to? You have the message of eternal life, and we believe; we know that you are the Holy One of God.'
The Gospel of the Lord.
Praise to you, Lord Jesus Christ.
MUSIC O Sacrum Convivium (Lorenzo Perosi)
Father Martin Magill: O sacrum convivium- O sacred banquet! In which Christ is received,
We now listen to the preacher at this service: the Bishop of Derry, Dr Donal McKeown
Bishop McKeown: The thousands of people who have gathered in Dublin come from an enormous variety of backgrounds; there are cardinals and archbishops; theologians, bankers, journalists and experts in many fields. But most of the participants are what might be called "ordinary" people, although I'm never happy calling anyone ordinary. For ordinary people can achieve the most extraordinary things as I've discovered throughout my ministry.
Clonmany is a small town in very rural Co Donegal. In the most recent census, its population was 428. It is part of the diocese where I now work – but until four years ago, I had no idea where it was. But just three weeks ago I was down in the parish church as the local community launched their 51st annual festival. This is Ireland's longest running community festival and it attracts thousands each August, leaving the streets packed with musicians, stalls, competitions and much more. And just four weeks before that, the parish had welcomed the Irish Open Golf at Ballyliffin. As the tens of thousands flocked to the area, one local church had a banner which welcomed visitors to the competition with the cheerful phrase "We are Irish and we are open"!
I mention those two events this morning because both Ballyliffin Golf Club and the Clonmany Festival show what little people can do when they work together and dream of doing great things. And this community has shown that travelling on a journey together does not limit human achievement but rather facilitates both personal growth and openness to others. Real maturity comes from confident independence that morphs into generous interdependence.
The scripture readings that today's Liturgy proposes to us are a challenge to both acknowledge the human capacity to belong – and the fact that Jesus' dream for human beings is often seen as unreasonable. I am sure that Pope Francis – when he addresses over half a million people here in Dublin– will be very sensitive to both the idealism of the Gospel call and the reality of people's lives and loves.
In our first reading, Paul is aware of the forces that were fragmenting his community in Ephesus. And he has been encouraging his listeners to see their gifts and talents, not as a source of pride or of inferiority complex but as complementary. That is how they would grow to be "fully mature, with the fullness of Christ himself" (Eph 5:13) In this passage, he is now encouraging families to work together and to believe that faithful love is the best context for human growth. But Paul goes further. He insists that there is a parallel between a human marriage and the faithful self-sacrificing attitude of Christ to the Church. I suppose that this sets a very high bar for human relationships – and it may well have raised as many eyebrows two thousand years ago as it would now.
The Bible has a recurring theme of the temptation to confuse what I want with what I need. Adam and Eve are portrayed as deciding that they should obey their desire for the forbidden fruit, despite what the Creator had said. And literature in every age has struggled with the decision between the attraction of living the good life and the risk of losing much by aiming at a good life. Human hungers are very strong – and we live in a culture which suggests quite openly that 'life is too short to say no'. 'Let's feel good' is offered as a criterion that should be our top priority and ultimately trump in moral decision-making. But the Judaeo-Christian message – along with that of many other religions and philosophies – offers uncompromising guidance in the struggle between the desire for freedom and the danger of being enslaved to our destructive passions. An addict struggles with the overwhelming desire to do what he or she wants – and the fear of doing what they are powerfully drawn to. Regarding committed family relationships in an age of individualism, Pope Francis wrote very powerfully that "The fear of loneliness and the desire for stability and fidelity exist side by side with a growing fear of entrapment in a relationship that could hamper the achievement of one's personal goals." ( Amoris Laetitia 34) We can want to be loved and fear being loved at the same time.
The theme of the World Meeting of Families here in Dublin is[PB1]  "The Gospel of the Family: Joy for the World". That dream is not meant to be a criticism of anyone because of where they find themselves. But recently I came across a helpful phrase – "God loves you where you are. But God loves you too much to leave you where you are." The Gospel, as I read it, meets us where we are, lonely at a Samaritan well or hanging beside him on a hard Cross, begging at a city gate or weeping for the death of her only Son, dreaming of great things but fearing to dream because of the risk of being hurt. And in a world of many frail role models, St Paul says two things. Firstly, we are capable of imitating Jesus and aiming for heroism and greatness in our relationships. And secondly, the little things of our daily loves can have eternal beauty and value. What we do in the intimacy of our relationships is sacred. The Gospel of the Family tells us that human greatness comes, not from self-indulgence but from self-control, not from anger and victimhood but from healing and reconciliation. And that jars with much of our modern cultural environment.
In our Gospel passage, Jesus has been talking about the body in another context – and he, too, meets both opposition and incomprehension. Paul has referred to the Church – in all its scarred and ugly imperfection - as the Body of Christ. Here Jesus has talked of his followers having an intimacy with him and spoke of himself as the bread of life. He went even further and talked of eating his flesh and drinking his blood. For some of his erstwhile followers, that was intolerable language. How could anyone accept it?  Jesus then turns to his closest companions and asked whether they too will go away. Jesus does not water down the language that he uses – and Peter answers that, even if they don't understand what he is talking about, they will remain loyal to him. Faith in people and in God takes a huge leap of trust, not in the wisdom of Jesus' teaching but in the authority of his person. Faith is not merely an intellectual conviction as to whether God exists or not, but the decision of a heart that loves, even without understanding. Hope, as Vaclav Havel, said, is not the conviction that everything will work out well but the belief that, however things work out, all will be well. Faith is a call, not to childishness but to greatness. A heart that loves can balance the rights of the individual with the blessings of belonging. The common good and the individual good are not in opposition. It takes a wise person to have a heart that loves and the ability to share that. And sometimes those with special challenges are better at having big hearts than those who believe they are wise in the ways of the world.
Jesus and St Paul invite us to cherish the power of unity in a diversity of gifts. In the Body of Christ, none of us is as smart as all of us. The Gospel of the Family is a call to greatness. The people of Clonmany and Ballyliffin, in their own unassuming way, have achieved great things in a little place.
MUSIC  You are Mine ARE MINE (David Haas)
READERS
For the family of the church for the Pope as he visits Ireland for all bishops and church leaders that the Church may always be a place of welcome. We pray to the Lord
 Lord Hear Our Prayer
For the worldwide family of men and women that the leaders of the nations, would promote life, peace, and justice, and work together for the common good, we pray to the Lord:
Lord Hear Our Prayer
For our families that we may be given the grace to be generous in our self-giving, patient with weaknesses, forgiving of injury, and persevering in our efforts to love one another as Christ has loved us. We pray to the Lord
 Lord Hear Our Prayer
For special grace on families dealing with conflict in their relationship at this time, for families dealing with the loss of a loved one; unexpected tragedy or the pain filled letting go of a sick or aging member of the family.     We pray to the Lord
 Lord Hear Our Prayer
That we may recognize the uniqueness of each family member and our responsibility to draw out their goodness in a way that they may be most receptive to. We pray to the Lord.
Lord Hear Our Prayer
For those who are sick, suffering, or homeless, and for the poor and unemployed, we pray to the Lord:
Lord Hear Our Prayer
For all those who have died, especially for members of our own families, let us pray to the Lord:

Lord Hear Our Prayer
Father Martin Magill:  Now as members of the family of the church, we pray in the words Jesus taught his disciples
.
Our Father, who art in heaven,
hallowed be thy name;
thy kingdom come,
thy will be done
on earth as it is in heaven.
Give us this day our daily bread,
and forgive us our trespasses,
as we forgive those who trespass against us;
and lead us not into temptation,
but deliver us from evil.
Deliver us, Lord, we pray, from every evil,
graciously grant peace in our days,
that, by the help of your mercy,
we may be always free from sin
and safe from all distress,
as we await the blessed hope
and the coming of our Saviour, Jesus Christ.
For the kingdom,
the power and the glory are yours
now and for ever.  AMEN
And as we have our final blessing, we ask that God will bless you as part of the different families to which you belong.
May the blessing of almighty God, the Father, and the Son, [1] and the Holy Spirit, come down on you and remain with you for ever. Amen.


MUSIC Though we are many, we are one body (Bernard Sexton)