Main content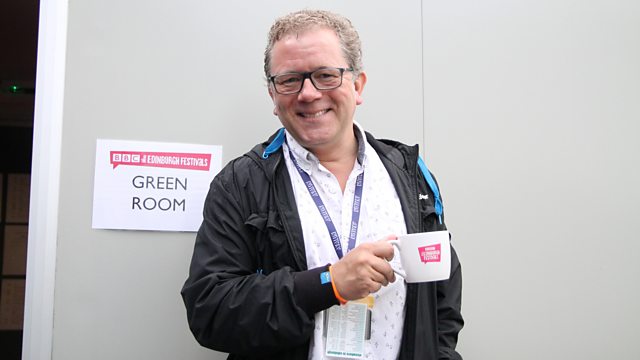 From the Edinburgh Festival - Jon Culshaw, Kate Dimbleby and Gruff Rhys
Comedian/impressionist Jon Culshaw, Kate Dimbleby, Super Furry Animals frontman Gruyff Rhys and The (blistering!) Blueswater band.
The Afternoon Show's last week at the Edinburgh Festival in the BBC Big Blue Tent kicks off with plenty of laughter as comedian/impressionist Jon Culshaw and legendary comedy writer/producer Bill Dare from BBC Radio 4's Dead Ringers discuss their unscripted, spontaneous show - The Great British Take Off - where politicians, sports personalities and celebrities are all up for roasting!
They will be joined by Kate Dimbleby who will provide sparkling conversation and some wonderful inventive music with her vocal looper and ironing board!
The Blueswater - an award-winning, Edinburgh-based band that tours internationally, will provide more uplifting musical accompaniment to the proceedings with some gritty, old-school rhythm and blues, and the brilliant Journalist and author Misha Glenny whose international bestseller McMafia, is now a hit BBC TV series, will discuss his upcoming appearance to talk about it all at the Edinburgh Festival Fringe.
Brilliant Indie- musician, Gruff Rhys will play selections from his four-decade career and tell Janice about his show 'Gruff Rhys: Resist Phony Encores!' in which he explores how he overcame chronic shyness, and communicative dysfunction, by placing commands on cue cards to whip audiences into a frenzy!!!
All that and Home - Actor, creator, magician and illusionist Geoff Sobelle discusses his breath-taking and tender spectacle of illusion, choreography and storytelling - that explores the everyday drama of what makes a house a home and he will be joined for some live troubadour tunes from Elvis Perkins!!
Don't Miss It!
Last on
Broadcast