Main content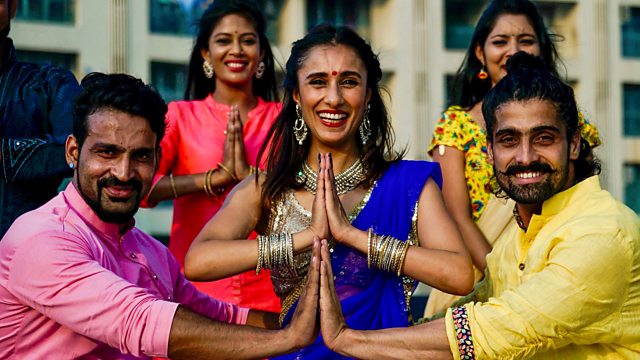 Anita Rani learns the secrets behind Bollywood's famous singing and dancing spectaculars. Anita meets Anil Kapoor, who gives her a rare glimpse into how the dance numbers are shot.
The film industry employs more than a quarter of a million people in India and Anita Rani begins her journey in Mumbai - the home of Bollywood - where the stars tower over the city on enormous murals. Anita discovers just how important the movies are to everyday people at one of the oldest cinemas in Mumbai, where she quickly finds herself in the middle of a screaming mob as the stars of that night's film make a surprise appearance. Anita is invited onto the set of a film shooting in downtown Mumbai, where she meets one of Bollywood's biggest stars, Anil Kapoor, who explains the enduring appeal of these films and gives her a rare glimpse into how the famous dance numbers are shot with almost no rehearsals in advance. Inspired to give it a go herself, Anita joins a leading choreographer who explains the ancient traditions at the heart of modern Bollywood dance numbers before they all head to the roof of a high-rise so Anita can star in a Bollywood 'Item Number' herself.
Anita then travels to the countryside of Lucknow where a large action film is being shot to meet action hero Ajay Devgan who shows her the secrets they use to create the impressive fight scenes. Then she is invited into the junk-strewn recording studio of Bollywood's leading foley artists to learn the surprising tricks behind creating the sound effects for India's biggest action films. In the showroom of India's leading fashion designer Manish Malhotra, Anita discovers how important the costumes are to Bollywood before racing across town to visit the hundreds of men working in his factories - where the most elaborate outfits can take six months and involve more than a million hand stiches. This is an example of the extraordinary wealth divide in India - the average salary for tailors across India is less than £1,500 a year, but the outfits they make can be worth as much as £27,000 and the Bollywood stars that wear them can earn tens of millions of pounds.
At a magazine cover shoot, Anita meets superstar Sidharth Malhotra to understand just how fanatical Indians are about their movie stars. Finally, Anita flies to Jodhpur, where she is roped into helping the wardrobe department dress a cast of hundreds for an epic battle scene at an ancient fort, as the casting team scramble to find enough foreign extras just hours before filming begins.
Music Played
Timings (where shown) are from the start of the programme in hours and minutes
Credits
| Role | Contributor |
| --- | --- |
| Presenter | Anita Rani |
| Special thanks | Bhansali Productions |
| Special thanks | Essel Vision Productions |
| Special thanks | Farhath Hussain |
| Special thanks | Think Events |
| Special thanks | Kairos Kontent Studios |
| Special thanks | Kriarj Entertainment |
| Special thanks | Panorama Studios |
| Special thanks | Romp Pictures |
| Special thanks | Viacom 18 Motion Pictures |
| Re-recording mixer | Nas Parkash |
| Colourist | Chris Batham |
| On-line editing | Ronnie Newman |
| Sound Recordist | Sudipto Mukhopadhyay |
| Production Coordinator | Laura Hodgson |
| Line Producer | James Mudie |
| Editor | Tony Graynoth |
| Producer | Sarah Muhsen |
| Executive Producer | Dominique Walker |
| Series Producer | Chris Parkin |
| Director | Chris Parkin |
| Production Company | Raw TV |
Featured in...
A bold and exciting range of programmes looking at the stories of British Asians.