Main content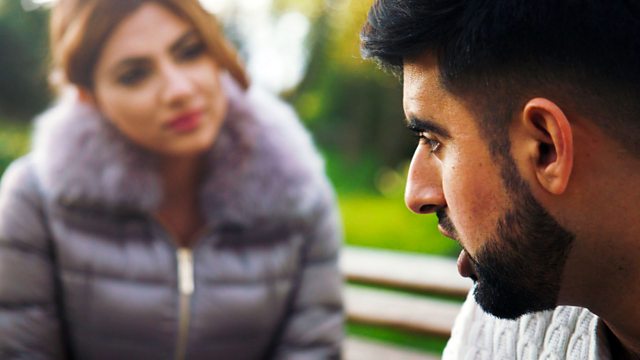 Lost Boys? What's Going Wrong For Asian Men
In this personal film, Mehreen Baig, a British-Pakistani woman, meets a range of young British-Asian men to understand their experiences of growing up in modern Britain.
Over the last few years, the story we have been hearing about British Asian men has been overwhelmingly negative. But for some British Asian communities there are real problems. In this personal film, Mehreen Baig, a British-Pakistani woman, goes behind the headlines and meets a range of young men to understand their experiences of growing up in modern Britain.
As a state school teacher, Mehreen saw British Asian boys from some communities falling behind. Now she wants to know why there are such huge disparities in how well different communities have integrated into the UK, why some are faring better than others in jobs and education, and why women from South Asian backgrounds are now outstripping their male peers. Mehreen begins her journey with British-Pakistani men. She travels to Bradford, which has the highest proportion of Pakistani residents of any British city. Here, there are signs that young British-Pakistani men are struggling - youth unemployment stands at 26% (nationwide the figure is 12%), and drug crime has risen in recent years, with British-Pakistani men making up a disproportionate number of convictions.
Mehreen meets young men such as 17-year-old Luqman, who lives in one of the most deprived areas of the country, and who has been supporting his family since the age of 13 by working six days a week. And she talks to Nav, who grew up locally and left for university before dropping out. He gives Mehreen an insight into some of the attitudes that prevail around education in the community, and suggests some reasons why British-Pakistani boys are one of the worst performing groups at GCSE, and British-Pakistani girls are now outperforming them. And she meets some of the young recruits to a new business enterprise which is attracting lots of British-Pakistani men in the city.
Setting the statistics in a historical context, Mehreen explores the story of Pakistani immigration to the northern towns of Britain, and how the closure of the mills and factories continues to influence the prospects of third and fourth-generation British-Pakistani men today.
In Leicester, Mehreen meets British-Gujaratis like Paven, who is following in his family tradition of entrepreneurship, and at the age of just 18, is already running his third business. Mehreen learns about the history of Indian Gujarati immigration to the UK from Uganda, and how they brought with them a tradition for trade and commerce that has helped them establish successful businesses here. They are now one of the highest earning ethnic minority groups in the UK, and Mehreen wonders whether this economic success has allowed greater integration. In fact, Guajarati's are far more likely than any other British Asian group to live in multi-ethnic neighbourhoods and are twice as likely as British-Pakistanis to marry outside their ethnic group.
Parle is another young British-Gujarati man, who is building a career as a writer and performer with online videos that playfully satirise some of the stereotypes within his own community. Mehreen talks to him about the expectations placed on young Asian men in Britain, and the link between financial security and cultural openness. Finally, Mehreen travels to Mirpur in predominantly rural Kashmir, where it is estimated that 70% of British-Pakistani families originate from, to understand how that community's immigration story began. There, she meets a grandfather who was one of the first wave of immigrants to Britain in the 1960s, and some younger British-Pakistanis who are now making that same epic journey in reverse - returning to Pakistan from Britain in search of a better life there.
Music Played
Timings (where shown) are from the start of the programme in hours and minutes
Credits
| Role | Contributor |
| --- | --- |
| Presenter | Mehreen Baig |
| Executive Producer | Joe Evans |
| Executive Producer | Neil Crombie |
| Director | Toby Trackman |
| Producer | Irshad Ashraf |
| Production Manager | Claire Ennion |
| Editor | Leigh Brzeski |
| Production Company | Swan Films |
Featured in...
A bold and exciting range of programmes looking at the stories of British Asians.