Main content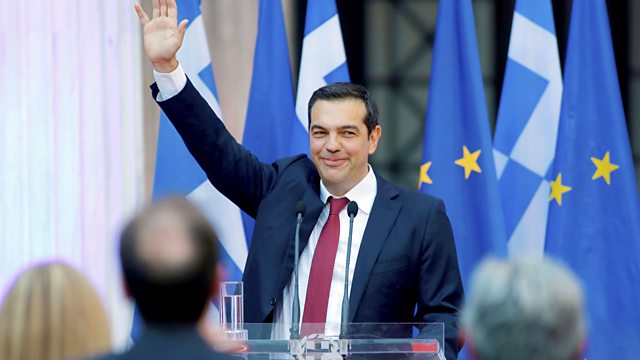 Is Greece out of the woods?
Series looking at important issues in the news. Presented by David Aaronovitch. Greece has exited its bailout programme. What does the future hold for the debt-ridden country?
Greece exited its bailout programme last week. It's the culmination of nine years of reliance on huge loans from international finance bodies and stringent budget cuts. Greek prime minister Alexis Tsipras, heralded it as a day of liberation.
In the course of the country's economic crisis, youth unemployment rose to nearly 50 per cent and 40 per cent of the working age population was left at risk of poverty. Pensions were frozen and public sector salaries slashed.
David Aaronovitch speaks to guests about what successive governments have had to do to turn things round and what impact years of austerity have had on the day-to-day life of the Greek people. And although the economic indicators have improved somewhat, how confident can the Greek government be in its future and in its ability to stimulate longer term growth?
CONTRIBUTORS
Michele Kambas, Athens bureau chief at Thomson Reuters
Roman Gerodimos, founder of the Greek Politics Specialist Group
Chloe Hadjimatheou, BBC journalist
Professor Kevin Featherstone, Director of the Hellenic Observatory at the London School of Economics
Producer: Tim Mansel.
The Brexit secretary has been in Brussels - what kind of deal does the UK now want?

The collapse of the Turkish lira has exposed deeper problems. How bad is the situation?

Imran Khan has claimed victory in Pakistan's election, but what can he change?