Main content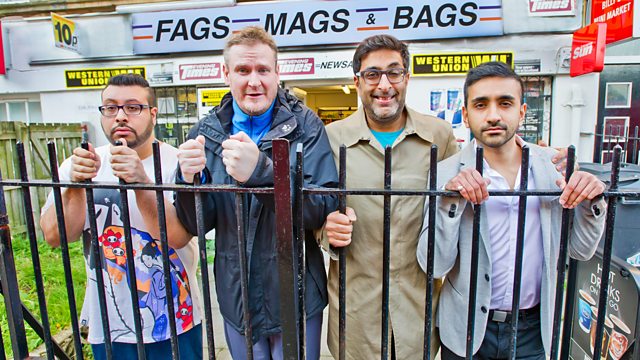 The Rubington's Doobrery 9000
Comedy set in a Scots-Asian corner shop. Malcolm gets jealous after Ramesh flirts with the Cash and Carry promotions lady. Written by and starring Sanjeev Kohli and Donald Mcleary.
The hit series returns for an eighth series with more shop based shenanigans and over the counter philosophy, courtesy of Ramesh Mahju and his trusty sidekick Dave. Written by and starring Donald Mcleary and Sanjeev Kohli.
Set in a Scots-Asian corner shop, the award winning Fags, Mags and Bags sees a return of all the shop regular characters, and some guest appearances along the way, from the likes of Moray Hunter, Lorraine McIntosh & Mina Amwar.
In this episode, Ramesh gets his fiancé Malcolm jealous when it's revealed that the Cash and Carry promotions manager, Helena (played by Lorraine McIntosh), fancies him.
Join the staff of Fags, Mags and Bags in their tireless quest to bring nice-price custard creams and cans of coke with Arabic writing on them to an ungrateful nation. Ramesh Mahju has built it up over the course of over 30 years and is a firmly entrenched, friendly presence in the local area. He is joined by his shop sidekick, Dave.
Then of course there are Ramesh's sons Sanjay and Alok, both surly and not particularly keen on the old school approach to shopkeeping, but natural successors to the business. Ramesh is keen to pass all his worldly wisdom onto them - whether they like it or not!
Producer: Gus Beattie for Gusman Productions.
A Comedy Unit production for BBC Radio 4.
Credits
| Role | Contributor |
| --- | --- |
| Ramesh | Sanjeev Kohli |
| Dave | Donald McLeary |
| Sanjay | Omar Raza |
| Alok | Susheel Kumar |
| Malcolm | Mina Anwar |
| Helena | Lorraine McIntosh |
| Bra Jeff | Steven McNicol |
| Mr Hepworth | Tom Urie |
| Writer | Donald McLeary |
| Writer | Sanjeev Kohli |
| Producer | Gus Beattie |