Main content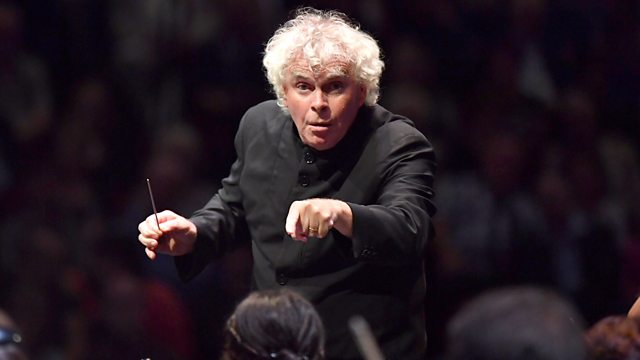 Live at the BBC Proms: Sir Simon Rattle conducts the London Symphony Orchestra in Ravel's Mother Goose. Magdalena Kozena leads the cast in the composer's L'enfant et les sortileges
Live at BBC Proms: London Symphony Orchestra and Sir Simon Rattle play Ravel including Mother Goose and Magdalena Kožená leads the cast in L'enfant et les sortilèges.
Live from the Royal Albert Hall, London
Presented by Tom Service
Ravel Mother Goose (ballet)
Ravel Shéhérazade
with Magdalena Kožena (mezzo soprano)
c. 8.20pm
Interval Proms Plus: Composer Kerry Andrew has published her first novel Swansong and she performs many traditional songs. She talks to writer Katherine Langrish, author of Seven Miles of Steel Thistles and a "Troll Trilogy" about the cultural legacy of fairy tales and the lessons we can learn from them. Presented by Rana Mitter.
Ravel L'enfant et les sortilèges
Magdalena Kožená Child
Patricia Bardon Mother/Shepherd/Dragonfly
Jane Archibald Fire/Nightingale/Princess
Anna Stéphany Chair/White Cat/Chinese Cup/Squirrel
Elizabeth Watts Shepherdess/Bat/Owl
Sunnyboy Dladla Teapot/Little Old Man/Tree-Frog
Gavan Ring Grandfather Clock/Black Cat
David Shipley Tree/Armchair
London Symphony Chorus
London Symphony Orchestra
Sir Simon Rattle (conductor)
Simon Rattle, the London Symphony Orchestra and an all-star cast, including Magdalena Kožena and Patricia Bardon, present Ravel's magical opera L'enfant et les sortilèges.
Ravel's fairy-tale ballet Mother Goose and sensuous song-cycle Shéhérazade complete the programme.
Broadcast on BBC Four on Sunday 26 August.
Last on

L'ENFANT ET LES SORTILEGES - SYNOPSIS
In the first scene the child, badly behaved, breaks crockery and tortures his pets. The furniture comes to life and retaliates, followed, in the second scene, by the plants and creatures in the garden. The boy cries out for his mother, 'Maman', the creatures attack him, but he helps the wounded Squirrel. The animals are moved by this and lead the boy back to the house.
Broadcast

Featured in...
We broadcast more live and specially-recorded concerts and opera than any other station.