Main content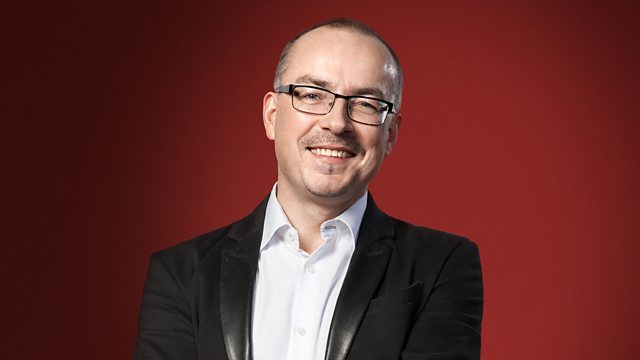 Andrew McGregor and Edward Seckerson
Marina Frolova-Walker chooses five indispensable recordings of works by Proms composer Tchaikovsky and explains why they need to be heard. Plus the week's outstanding new releases.
with Andrew McGregor
9.30
Proms Composer: Tchaikovsky
This week Marina Frolova-Walker chooses five indispensable recordings of Proms Composer Tchaikovsky and explains why you need to hear them.
10.30
Edward Seckerson delves into recordings by Leonard Bernstein
11.45
Proms Recording: Ravel's Introduction and Allegro with the Melos Ensemble.
Summer Record Review
9.00am  
Bailar Cantando: Fiesta Mestiza en el Peru
(Codex Trujillo ca.1780)
Tembembe Ensamble Continuo
Hesperion XXI
La Capella Reial de Catalunya
Jordi Savall
Alia Vox AVSA9927
https://www.alia-vox.com/en/catalogue/bailar-cantando/
Shostakovich: Symphonies Nos. 4 & 10
Russian National Orchestra
Mikhail Pletnev
Pentatone PTC5186647 (2 Hybrid SACDs)
https://pentatone.nativedsd.com/albums/PTC5186647-shostakovich-symphonies-4-10
Calling The Muse: Old & New Pieces for Theorbo
Bruno Helstroffer
Alpha 391
https://outhere-music.com/nl/albums/calling-the-muse-alpha-391
Haydn: Piano Sonatas, Vol. 7 – Nos 8, 46, 13, 57, 58
Jean-Efflam Bavouzet (piano)
Chandos CHAN10998
https://www.chandos.net/products/catalogue/CHAN%2010998
9.30am – Proms Composer – Marina Frolova-Walker on Tchaikovsky

Claudio Abbado conducts Tchaikovsky – Symphonies 1 – 6, Romeo and Juliet Overture etc
Chicago Symphony Orchestra
Claudio Abbado
Sony 88697836722 (6 CDs)
Tchaikovsky: String quartets 1,2 and 3, Quartettsatz and Sounvenir de Florence
Borodin Quartet
Melodiya  74321182902 (2 CDs)
Tchaikovsky - Piano Concertos Nos. 1 - 3
Peter Donohoe (piano)
Nigel Kennedy (violin)
Steven Isserlis (cello)
Bournemouth Symphony Orchestra
Rudolf Barsha
EMI 5855402 (2 CDs)
Dmitri Hvorostovsky: Tchaikovsky & Verdi Arias
Dmitri Hvorostovsky (baritone)
Rotterdam Philharmonic Orchestra
Valery Gergiev
Philips 4784800
Tchaikovsky - Symphonies Nos. 4-6
Leningrad Philharmonic Orchestra
Evgeny Mravinsky
DG 4775911 (2 CDs)
https://www.deutschegrammophon.com/gb/cat/4775911
10.20am – New Releases
Mendelssohn: A Midsummer Night's Dream - incidental music, Op. 61, etc.
Anna Lucia Richter (soprano)
Barbara Kozelj (alto)
Pro Musica (women's choir)
Budapest Festival Orchestra
Iván Fischer
Channel CCSSA37418 (Hybrid SACD)
https://www.channelclassics.com/catalogue/37418-Overture-Incidental-Music-to-A-Midsummer-Nights-Dream/
Telemann: Das seliges Erwägen
Anna Lucia Richter (soprano)
Hanna Zumsande (soprano)
Colin Balzer (tenor)
Michael Feyfar (tenor)
Julienne Mbodjé (alto)
Henk Neven (bass)
Peter Harvey (baritone)
Freiburger Barockorchester
Gottfried von der Goltz
Aparté AP175 (2 CDs)
http://www.apartemusic.com/discography/telemann-seliges-erwagen/
10.45 - Reissues: Edward Seckerson on Leonard Bernstein box
Leonard Bernstein: The Complete Recordings On Deutsche Grammophon & Decca
DG 4798418 (121 CDs, 36 DVD-Videos, 1 Blu-ray Audio)
https://www.deutschegrammophon.com/gb/album/bernstein-100/product-detail.html?tx_dgproduct_dgproduct%5BdGProduct%5D=1721&cHash=226c5bc16a72511c5092edaf5fd31fa3
11.50: New Releases
Lalande: Majesté: Grands Motets for the Sun King
Ensemble Aedes
Le Poème Harmonique
Vincent Dumestre
Alpha ALPHA968
https://outhere-music.com/en/albums/majeste-alpha-968
11.45am – BAL Proms Choice – Ravel's Introduction and Allegro as chosen by David Huckvale on 10th March 2001
Franck: Violin Sonata, Debussy: Violin Sonata, Ravel: Introduction And Allegro
Gervase de Peyer (clarinet)
Osian Ellis (harp)
Richard Adeney (flute)
Cecil Aronowitz (viola)
Kyung Wha Chung (violin)
Terence Weil (cello)
Radu Lupu (piano)
Melos Ensemble
Decca 421 1542
https://www.deutschegrammophon.com/gb/cat/4211542