Main content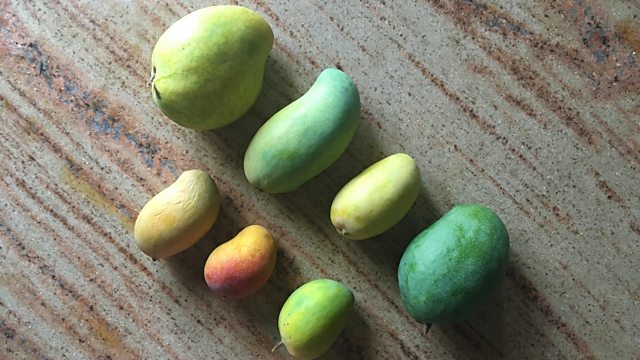 There's More to Mangoes
Sheila Dillon looks at how convenience mangoes have kept us from their true exotic flavour.
There are hundreds, maybe thousands, of varieties of mango. Some creamy and sweet, some a bit hot, some like pineapple and some that are just a bit bland. Unfortunately it's the latter that are usually peeled, chopped and potted for us on supermarket shelves. In this programme, Sheila Dillon and Romy Gill meet Monica Bhandari to talk about the breadth of mangoes that we could all be delighting in and they hear from Chef Allen, a Florida-based chef known for using mangoes in his fusion cooking, BBC Gloucestershire radio presenter Primrose Granville-McIntosh describes her lifelong infatuation with mangoes and BBC Asian Network presenter Noreen Khan explains the mango ban that shook Britain's mango-loving communities.
Last on
Mango Srikhand
Srikhand is an Indian sweet dish made of strained dahi (yoghurt)
Ingredients:
1​​ Fresh or tinned Mango
500g greek set yogurt
½tsp​ saffron
2tsp ​white caster sugar
10 small green cardamom seeds crushed into powder
10 ml hot water to soak saffron 
Method:
Hang the yogurt in a muslin cloth until the water comes out.
If using fresh mango, peel the mango, remove the pulp and puree it.
Soak the saffron in 10 ml of hot water in a dish.
Crush the green cardamom seeds.
Add 4 tsp of caster sugar, the soaked saffron, crushed cardamom seeds and the mango puree to the yogurt, mix well.
Keep it in fridge for an hour before serving.
Dhal
Dhal is a standard dish in any Indian kitchen, cooked differently every day in every household
Ingredients:
200g red lentils (wash and drain water )
1tsp turmeric powder
1heaped tsp salt
1550g cold water( if needed more add more)
6tsp ghee
15g fresh ginger chopped finely
1 large white onion chopped finely
3-4 green chillies chopped with seeds
handful chopped coriander
1 large tomato diced small
1tsp cumin seeds
1tsp garam masala
1tsp mango powder 
Method:
Wash and drain the lentils. Add to a medium sized saucepan with water, turmeric and 1tsp salt. Cook on a medium heat, stirring occasionally.
While the lentils are cooking, heat the frying pan and once hot add ghee. Then cumin seeds and when they starts sizzling, add the chopped ginger and cook for a minute.
Add chopped onions and cook for 5-6 minute on high heat, stirring continuously.
Then add  the chopped green chillies and tomatoes and cook for 3 minutes
Add garam masala, mango powder and fresh chopped coriander, mix well with the ingredients in the pan and cook for 1 minutes and leave it to rest.
Check your lentils. When they are nearly cooked, add your onion mixture from the prying pan to the lentils. Cook for further 5 minutes, leave it to rest before enjoying a delicious bowl of dhal.
Broadcasts