Main content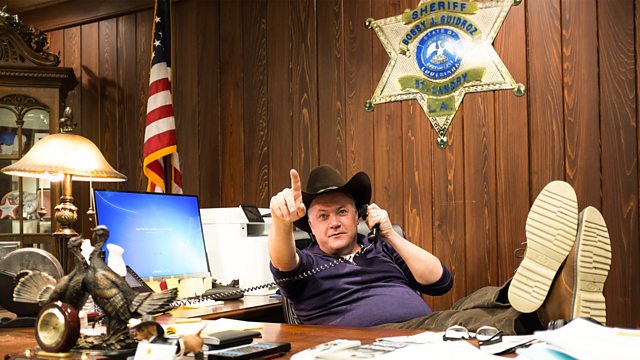 Making America Safe Again?
Ed Balls wants to find out if Trump is delivering on his promise to make USA safe again and speaks to victims of a school shooting in Florida.
In this entertaining series, Ed Balls travels to America's Deep South to immerse himself in the lives of those who put Donald Trump in power and learn how this reality TV businessman won them over. Trump promised to be the president of law and order, and to make the USA safe again. To witness the 'American carnage' Trump described in his inauguration speech, Ed heads to Opelousas - one of the most dangerous cities in the state with the most gun murders in America, Louisiana.
To find out if the president is delivering on his promise, Ed partners up with Trump-loving sheriff's deputy Ryan and soon discovers the realities of policing an area with lenient gun laws, where every household owns a firearm.
Ryan takes Ed to meet a bunch of rookies who are learning how to defend themselves out on the streets, but quickly regrets offering to have a go when he realises it means getting shot in the backside with a Taser gun. Keen to meet the criminals they are up against, Ed finds himself donning an ill-fitting orange jumpsuit and being locked up for a night in the local jail, where he meets some unlikely supporters of the president.
Trump vowed to protect America's gun laws and is a staunch supporter of the NRA, so Ed travels to Austin, in gun-toting Texas, to find out why so many Americans are obsessed with their firearms. His stay with gun trainer Michael takes an unexpected turn when he ends up in a dance-off in a gay club.
After a heated radio show debate with Texans who say they are willing to kill for their guns, Ed decides to travel to Parkland, Florida, where a 19-year-old armed with a semi-automatic assault rifle murdered 17 students and teachers at Marjory Stoneman Douglas High School just two weeks earlier.
Through their grief, the Parkland students have become a political force, campaigning for gun control and starting the #NeverAgain movement. Hopeful that the president appears to be considering the students' demands, Ed arrives in Parkland to meet some of the victims of the tragedy and find out if Trump is going to seize his chance to make America safer.
Clips

Credits
| Role | Contributor |
| --- | --- |
| Presenter | Edward Balls |
| Director | Oliver Lambert |
| Director | Warren Smith |
| Producer | Clare Cameron |
| Production Company | Expectation Entertainment |