Main content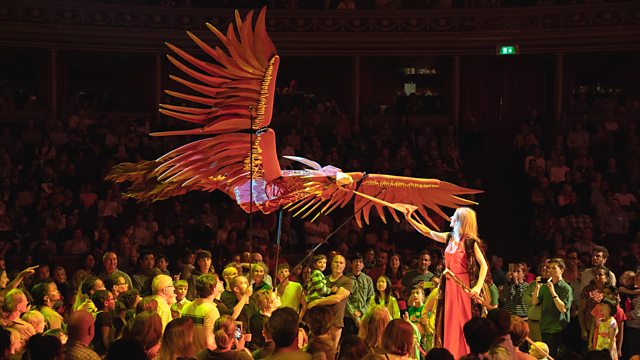 The Ten Pieces Prom with Naomi Wilkinson
Join CBBC's Naomi Wilkinson as she presents a musical adventure for all the family – the Ten Pieces Prom.
Join CBBC's Naomi Wilkinson as she presents a musical adventure for all the family – the Ten Pieces Prom.
The BBC Symphony Orchestra, the BBC Singers and the Ten Pieces Children's Choir conducted by Rafael Payare perform this year's selection. Music by the great composers including Dvorak, Stravinsky, Elgar, Copland, Sibelius and many more. Naomi is joined on stage by actors Josie Lawrence as Molly and Paapa Esiedu as the incredible composer Joseph Bologne. Bologne was born in Guadaloupe the song of a slave. His life reads like an adventure story - he became personal bodyguard to Louis the Fifteenth, a brilliant swordsman and all round athlete, swimmer, dancer, skater, violinist, composer and all-round spectacular person! Together Naomi, Milly and Joseph set off to discover the characters and stories behind some spectacular orchestral pieces and hear the imaginations of a new generation of music-makers.
Four years ago BBC Music's Katy Jones launched the Ten Pieces – an initiative to introduce children aged 7-14 to classical music and to encourage and inspire them to make their own music, dance and creative responses. To date 4 million children and 10,000 schools across the country have taken part in the project . Live Lessons, live concerts, films, music coaching with all the BBC Orchestras and performing groups all take place during the school year and culminate each summer with the grand Ten Pieces Prom at the Royal Albert Hall. Here the top names in classical music share the stage with school children and young performers from around the country. Tony Hall, Director-General of the BBC, says: "Ten Pieces is the biggest commitment the BBC has ever made to music education in the UK and I'm so proud that it continues to inspire children to find out more about classical music.
This year 10 more pieces have been announced -
1. Kerry Andrew; No Place Like - Commission for a cappella voices
2. Mason Bates; Anthology of Fantastic Zoology - Sprite; A Bao A Qu
3. Joseph Bologne, Chevalier de Saint-Georges; Symphony No. 1 in G major – Allegro (1st mvt)
4. Aaron Copland; Rodeo - Hoe-Down
5. Antonín Dvořák; Symphony No. 9 in E minor, 'From the New World' – Largo (2nd mvt)
6. Edward Elgar; 'Enigma' Variations - Theme ('Enigma'), variations 11, 6 & 7
7. Pyotr Ilyich Tchaikovsky; The Nutcracker - Waltz Of The Flowers; Russian Dance
8. Carl Orff Carmina burana ; 'O fortuna'
9. Henry Purcell ;Abdelazer - Rondeau
10. Jean Sibelius ;Finlandia
During the interval Naomi discovers other pieces of music written to introduce children to classical music - including Peter and the Wolf and Tubby the Tuba.