Main content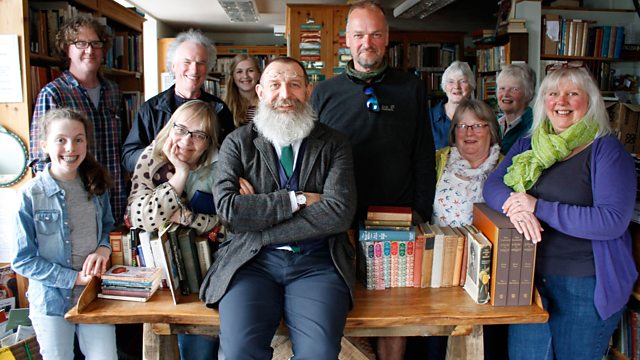 The Five-Foot Shelf
A guide for readers by readers, Ian Sansom asks people to choose the books they think should be included on his 5ft shelf.
According to Charles W. Eliot - President of Harvard and cousin of T.S. - everything required for a complete, liberal education could fit on a shelf of books just five feet in length. In 1909 the first volume of the Harvard Classics was published - and grew to become a 51-volume anthology of great works, including essays, poems and political treatises.
But what if people today, from all walks of life, were asked to recommend books to be included on a five-foot shelf? Which books do they think might be required for a complete home education?
Ian Sansom has set a course for Wigtown - Scotland's National Booktown – to find out.
Local craftsman Steve has been busy creating just the shelf for the job - exactly five foot long - and fashioned from elm wood and whiskey barrels recycled from a local distillery. Ian will be playing shopkeeper at the Open Book in Wigtown - a B&B meets bookshop which allows visitors to indulge their fantasy of running their own bookstore. With Ian parked behind the counter, all that's needed is for visitors to drop by and try to persuade him of the books they think deserve a rightful place on The Five-Foot Shelf. But of course not everything will make it on and, as custodian of the shelf, Ian can be ruthless. Well, kind of...
No academics. No critics. No nonsense. The Five-Foot Shelf is a guide for readers by readers about the books which matter to them.
Producer: Conor Garrett
Last on