Main content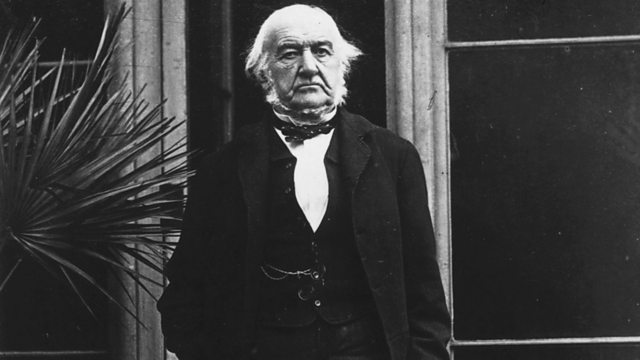 William Gladstone's Axe
David Cannadine meets Charlie Gladstone, the current resident of Hawarden Castle, to explore how William Gladstone's axe became a powerful political metaphor.
David Cannadine examines the careers of British Prime Ministers through their props of power.
Standing in a fireplace in his Temple of Peace at Hawarden Castle in Wales, is a selection of axes used by William Gladstone to chop down trees. David meets Charlie Gladstone, the current resident at Hawarden, to examine these axes and discuss the attraction of tree-felling for his ancestor, William. It was a vigorous physical activity that took his mind off everything else, especially public affairs.
Gladstone's axe was a Prime Minister's Prop which also became a powerful political metaphor. Gladstone was often depicted by his supporters as swinging his axe to eliminate wrongdoing and error, literally root and branch. And the image of him retreating to Hawarden, working away with his axe, appealed to working people who, as one historian has commented, "found a great statesman and popular leader in the plain clothes of a labourer".
To his critics however, Gladstone's axe was an apt metaphor for his increasingly radical politics, which seemed to them to be violent and destructive. For Tory opponents, and for Queen Victoria, the contrast with William Gladstone's great political rival Benjamin Disraeli was striking. For while Gladstone chopped down trees on his country estate at Hawarden, Disraeli planted them at Hughenden Manor, his rural retreat in Buckinghamshire.
Readings by Ewan Bailey and Will Huggins
Series Producer: Melissa FitzGerald
Series Researcher: Martin Spychal
A Blakeway production for BBC Radio 4.