Main content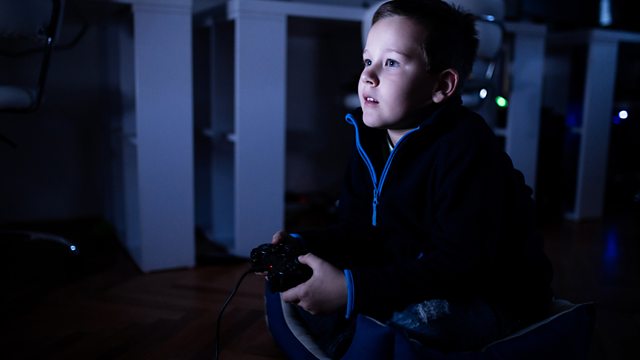 Game Changer: Fortnite on 4
Kevin Fong explores the latest video gaming smash hit Fortnite as a cultural phenomenon. What accounts for its extraordinary popularity, and should parents be worried?
If you are a parent, you probably do not need an introduction to Fortnite Battle Royale. It's the online video game that's been absorbing the minds and time of millions of children and young adults since its launch last September. To the uninitiated, it's an online shooter game that has elements of The Hunger Games movies and the building video game Minecraft. In each match, 100 people are air-dropped onto a cartoon-rendered island where they run around searching for weaponry, building defensive forts and fighting to the death. The winner is the last one standing. It's free to play on multiple devices from computers to games consoles to smartphones. Presenter Kevin Fong (medical doctor, broadcaster and father of two) asks, is Fornite more like the new crack cocaine or more like the Beatles?
It's estimated that more than 125 million people have played Fortnite Battle Royale and that 3 million people around the world are playing it at any one time. Its creators Epic Games have earned more than US$1 billion from Fortnite within the last year, and that is just from players buying virtual outfits and victory dances for their avatars. These dances or 'emotes' have leaked out of Fortnite's virtual world into the real one as anyone watching the World Cup will have seen. Football players now emote on scoring goals.
There are also professional Fortnite players who are making millions by playing the game while vast numbers of people spectate via live streaming internet channels. Fortnite's Ronaldo is Ninja, a 26 year old man in Illinois, USA. It's said he makes US$ 500,000 from the 300 hours he spends playing the game each month. There are now Fortnite e-sports scholarships offered to students at one university in the United States.
Is Fortnite a revolutionary development in video gaming and what is the formula of its undoubted success? With the World Health Organisation recently adding Gaming Disorder to its list of disease categories, how concerned should parents be about the risks of gaming addiction for their Fortnite-playing offspring? Kevin Fong explores the culture and conversation around Fornite with gamers of all ages, games creators, games culture experts, psychologists and psychiatrists.
Producer: Andrew Luck-Baker.
Last on