Main content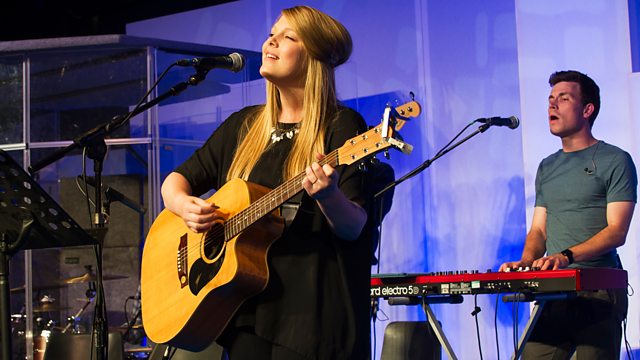 From the Keswick Convention
'Shining like stars' is this year's Keswick Convention theme. The preacher is Derek Burnside, principal of Capernwray Hall Bible School in north west England. With Emu Music.
'Shining like stars' is this year's Keswick Convention theme. Preacher: Derek Burnside, Principal of Capernwray Hall Bible School in North-West England takes the famous bible reading and early Christian hymn from Philippians 2 as his inspiration. Leader: Caz Evans. With Emu Music and Miriam Jones. Producer: Philip Billson.
Photo credit: Jenny Woolgar Photography
Keswick Convention script
Please note:
This script cannot exactly reflect the transmission. It may include editorial notes prepared by the producer, and minor spelling and other errors that were corrected before the radio broadcast.
It may contain gaps to be filled in at the time of recording.
KESWICK CONVENTION
BBC RADIO 4 RECORDING
BBC Radio 4.
It's ten past eight. 
Today's Sunday Worship was recorded in the main tent of the Keswick Convention in Cumbria.
It's introduced by Caz Evans.
Caz
Good morning.
This week, Christians of all ages and denominations are here in the Lake District town of Keswick, taking part in the final week of a 3-week summer Convention which has been running for over 140 years.
The Keswick Convention now attracts over 12,000 people from across the UK and from many parts of the world, and in addition has a vibrant programme for some 2,000 children and young people. Among the majestic hills and quiet waters of the Lake District, Christians come together every year to hear the Word of God, to lift their hearts and voices in praise, to encourage each other in prayer and fellowship, and to be inspired to serve God wherever He leads them.
MUSIC: Come and stand before the Lord your maker (Rejoice) - Dustin Kensrue & Stuart Townend (Jodem Music Ltd)
This year, the 143rd year of the Convention, we are concentrating particularly on one of Keswick's three big priorities with our theme, Sent: Serving God's Mission. 

Mission has always been at the heart of the Keswick Convention, and many have responded to God's call to serve His mission. We are convinced, as we always have been, of the uniqueness of Jesus Christ.
Our prayer is that this year's Convention would play a significant role in promoting world mission.
In a moment we will sing together. 
Before we sing, we pray together and confess our sins to the Lord:
Loving God and Father, we thank you that we can gather from far and wide to meet as your people, all one in Christ Jesus. As we prepare to hear your word, sing your praises and come before you in prayer, we are conscious of our many failings – both what we have done that we should not, and what we have not done, that we should. We ask you for forgiveness, forever grateful for the blood of Jesus Christ that cleanses us from every sin, and for the empowering of your Holy Spirit that helps us to live to please you. In Jesus' name.
Amen.
MUSIC – Praise my soul the king of heaven (Lauda Anima)
Caz:
Born of missionary parents in Haiti, Rebecca met and married Ramez at university in Montreal. In 1980 they moved to Egypt where Rebecca began her ministry at the Mokattam Garbage Village.
Rebecca is now going to bring us testimony, about stars shining in a really dark place
Testimony from Rebecca Atallah
The young man standing at my door was wearing clothes I wouldn't have used as rags, with a dirty, heavy bag over his shoulder.  He explained that he would be collecting our garbage every day and taking it back to his garbage village, where his mom and siblings would sort it for recycling.  It was the summer of 1980 and this teenager, Salah, was my introduction to the garbage people of Cairo, where I have now been involved for 35 years.
The garbage collectors of Cairo are a marginalized group, living in small cities in greater Cairo, far from other city residents.  When one visits there, one is immediately struck by the smell for the people actually own and live with their garbage. They have become known as some of the best recyclers in the world!
But before meeting Jesus in a personal, life-changing way, the garbage collectors basically believed they were garbage.  Although officially registered as "Christians", they knew nothing of His love for them, until a small group of Egyptians started visiting and sharing with them.  One of these, now called Father Simon, stayed on to become their first ever pastor.  As the people were changed by the power of the Holy Spirit, they started believing in their worth and in their ability to also change their lifestyles and their village.  Many exterior changes resulted, so that that group of 12,000 or so people living in tin shacks has now become a city of well over 60,000, living in buildings, high above the garbage and animals which are still a necessary part of their lives and work. 
They are a very hard-working, creative, and resourceful people.  Friendly to strangers, they welcome them to the "Cave Churches" which they and their church have built above the garbage city, and which are an oasis to all who venture in.  (You can now search "the Cave Churches of Cairo" on the net for some beautiful pictures.)
The garbage collectors of Cairo are truly brightly-shining lights, an example to all who are interested in what God does when He pierces the darkness with His passionate love!
Hymn 3 – I cannot tell (Londonderry Air)
Caz:
This morning's message will be taken from Philippians 2: 1 – 18.
Hear now God's Word:
Phillipians 2
Therefore if you have any encouragement from being united with Christ, if any comfort from his love, if any common sharing in the Spirit, if any tenderness and compassion, 2 then make my joy complete by being like-minded, having the same love, being one in spirit and of one mind. 3 Do nothing out of selfish ambition or vain conceit. Rather, in humility value others above yourselves, 4 not looking to your own interests but each of you to the interests of the others.
5 In your relationships with one another, have the same mindset as Christ Jesus:
6 Who, being in very nature[a] God,
    did not consider equality with God something to be used to his own advantage;
7 rather, he made himself nothing
    by taking the very nature[b] of a servant,
    being made in human likeness.
8 And being found in appearance as a man,
    he humbled himself
    by becoming obedient to death—
        even death on a cross!
9 Therefore God exalted him to the highest place
    and gave him the name that is above every name,
10 that at the name of Jesus every knee should bow,
    in heaven and on earth and under the earth,
11 and every tongue acknowledge that Jesus Christ is Lord,
    to the glory of God the Father.
12 Therefore, my dear friends, as you have always obeyed—not only in my presence, but now much more in my absence—continue to work out your salvation with fear and trembling, 13 for it is God who works in you to will and to act in order to fulfill his good purpose.
14 Do everything without grumbling or arguing, 15 so that you may become blameless and pure, "children of God without fault in a warped and crooked generation."[c] Then you will shine among them like stars in the sky 16 as you hold firmly to the word of life.
This is the Word of the Lord.
Thanks be to God.
Caz:
Our preacher this morning is Derek Burnside. Derek is the Principal of Capernwray Hall Bible School in North-West England.
Before Derek brings the Word, we will sing together:
Hymn 4 – This life I live - © 2009 Michael Morrow/Emu Music - https://emumusic.com/
Derek Burnside:
What do these five have in common?  Neil Armstrong, Paul McCartney, Marilyn Monroe, Mickey Mouse, Donald Trump.
One answer is, they all have their names on stars on the Hollywood Walk of Fame - that's a mile-and-a-half long, 15-block stretch of pavement in central Los Angeles.  It celebrates over two and a half thousand outstanding contributions to the entertainment industry.
I'm guessing none of us here have our name on one of those five-pointed terrazzo-and-brass stars embedded in that Californian pavement. But according to Paul it wouldn't be wrong for Christians to think of ourselves as 'stars'.  In fact he's expecting the believers in Philippi to 'shine like stars in the universe', to stand out in their city like blazing luminous balls of gas stand out against a night sky.
So: do you feel like a star right now? If you're like me, you find it hard to think of yourself as a 'star'.    The 'Hollywood Walk of Fame' smells of pride and performance and public praise, and whatever it means for Christians to be 'stars' it can't mean that.  Paul has just been urging the Philippians to imitate Jesus in his humility and servant-heartedness. 
Maybe, like me, you feel that you're not outstanding, that you're nothing particularly special.  And on one level, that's probably true. Paul reminded the Christians in Corinth that by human standards they were nothing special.  They weren't particularly wise, or influential, or of noble birth, and the same is probably the case for most of us.  I'm guessing you don't have to fight your way through the paparazzi to get to your car each morning.  And yet, Paul says, as Christians we are to shine like stars.  How?
Well, whether we're talking about movie stars or celestial stars, their brightness is the expression of what's already inside them, whether that's talent and charisma, or hydrogen and helium.  What's already in there works its way out in an explosion of warmth and light that just stands out, that brightens the darkness.   And that's what Paul calls the Christians in Philippi to do: work out your salvation.  Let the good news that Jesus Christ has already saved you, and now lives in you by his Spirit, that he loves you, let all that now work its way out in your everyday life.   Or as George Muller put it, 'Work out what God has worked in'.  And as we do that, we will shine like stars against a dark sky.
So is that always going to look spectacular, like a New Year's Eve firework extravaganza?  Is it going to be a series of consistent grand gestures?  No. Paul gives the Philippians and us a very simple starting point to work out.  Step one on 'the shine-like-stars-as-you-work-out-your-salvation' walk of fame is this:  do everything without complaining or arguing. You want to shine like a star against a dark sky? Then start with this: stop grumbling.
Because it looks like moaning, complaining and arguing had become a particular problem for the church in Philippi. Paul's had to urge them already in this letter to stop being selfish, and vain, and proud, and self-seeking but instead to be like-minded, to be one in spirit and purpose. Later in the letter he's going to make a direct appeal to two women in the church to stop fighting and start agreeing with each other in the Lord.  This was a church where loving one another and getting on together were real challenges.
And you might just recognise that description.  It might be the case in your church, or your workplace, or your staff room, or your retirement home, or your family, that complaining and grumbling has just become the norm, the culture. When Paul tells the Philippians to live differently to their crooked and depraved generation he's echoing the phrase Moses used to describe God's people in the Old Testament in their all ungrateful, complaining rebelliousness against God and the leaders of his people.  They should have been showing the world just how glorious life could be when it's lived under the reign of the living God.  But instead they let their God-given light dim until they just faded into the darkness of the negative, grumbling, idolatrous aimlessness all around them. Paul's plea to the Philippians - and to us – is, don't let that happen to you.  Shine like stars.
Because what churches do, matters.  Just listen again to Paul reminding the Philippians who they are and what they're doing.  In Christ Jesus, they are children of God.  God is working his good purposes out in them and through them.  As they preach the good news of Jesus Christ and increasingly become more and more like him they hold out the word of life to a dark world.  This is deeply important stuff.  No wonder Paul says we're to approach a calling that sacred with fear and trembling. Will we really let the light of the Lord Jesus shining from us be dimmed by constant carping? 
The Washington DC pastor Mark Dever calls the church 'the gospel made visible', and that's what Paul has been calling the Philippians to be.  The Lord Jesus has come to us with love and tenderness and compassion and forgiveness and comfort and encouragement and we are now one with him, his Spirit within us. So make that good news visible, Paul urges us, by working all that tender, loving, compassionate forgiveness out into your relationships with one another.  And take a really practical step to start with:  stop complaining and arguing. Why would a people united by the love and the forgiveness and the Spirit of Jesus Christ be defined by that?
The late Amy Carmichael set a rule for conversation in her mission.  It  was short and sweet: 'The absent are safe here'. She may have been paraphrasing Augustine, who had a sign over his table that read 'He that speaks an idle word against an absent man is not welcome at this table'.  That could be great place for us to start, even today.  Let's make every conversation we have a place where the absent are safe.  Where nothing is said behind someone's back that wouldn't be said to their face, where the words we speak are intended to build up and nourish, not tear down and destroy, words that keep step with God's will and purposes for that person.
We've been given the greatest gift it's possible for human beings to receive:  forgiveness of sins and eternal life in Jesus Christ. So let's start spraying out some of the joy and encouragement that is now ours in Christ.  God is working this great good news, this word of life, in us – let's work it out into our churches and wider communities as we make this gospel visible. And as we'll do that, we'll shine like stars in a dark sky. 
Song – I am One by Miriam Jones http://miriamjones.com/
Artist: Miriam Jones Album: Being Here Released: 2007
Caz:
That song was from Miriam Jones, and expressed our gratitude to God as our loving Father, for everything.
We now turn to God in prayer.
Our Father, the beauty of the English Lake District causes us to thank you for your work of creation, and for your many good gifts to us as our loving Creator. Day by day we experience your grace and mercy, and we thank you for health and strength; for homes, family and friends; for true Christian fellowship across denominations and cultures; and for peace and safety. We thank you that you are the compassionate Father who loves every person he has made.
Today we pray for those who are without shelter, or food, or friendship. We specially pray for the many refugees in our continent, and we pray for those governments and agencies seeking to help them.  We ask that the churches across our continent will extend your love to them, will share the good news of Christ, and will become a community which welcomes people, whatever their background or nationality. Lord, in your mercy,
Congregation: HEAR OUR PRAYER
We pray for the countries around the world experiencing war, terrorism, civil strife, or social breakdown. It saddens us that there are too many to name, but we lift these nations to you, the Sovereign Lord.  In this world of turmoil, we pray for your peace and justice, for the intervention of wise Government, for the advance of the Christian gospel. 
Lord, in your mercy,
Congregation: HEAR OUR PRAYER
Almighty God, we thank you for all your goodness and loving-kindness to us and to all whom you have made. We thank and praise you for making and sustaining us, and for giving us everything we need; most of all, though, we thank you for your love beyond measure in sending your Son to die for us. We thank you for the means of grace, and for the hope of glory. And, we pray, give us such an awareness of your mercy, that with we may praise you not only with our lips but with our lives, that with truly thankful hearts we may give ourselves up to serve you, and our lives may be marked by holiness and righteousness.
Lord, in your mercy,
Congregation: HEAR OUR PRAYER
Our Father in heaven,
Hallowed be your name,
Your Kingdom come,
Your will be done,
On earth as in heaven.
Give us today our daily bread.
Forgive us our sins
As we forgive those who sin against us.
Lead us not into temptation,
But deliver us from evil.
For the kingdom, the power and glory are yours,
Now and for ever,
Congregation: Amen
Caz: 
Introduction to closing hymn
Hymn 5 – Be thou my vision (Slane)
Sunday Worship was recorded in July at the Keswick Convention. The leader was Caz Evans and the preacher Derek Burnside. The band Emu Music was directed by Alanna Glover and Philip Percival – and the producer was Philip Billson. A link to pictures of the churches of Mokattam Garbage Village can be found on the Sunday Worship web page. Sunday Worship goes further north to Scotland next week, as it tells the story of a warm hearted seventeenth century pastor from Fife who placed music and poetry at the heart of his work.