Main content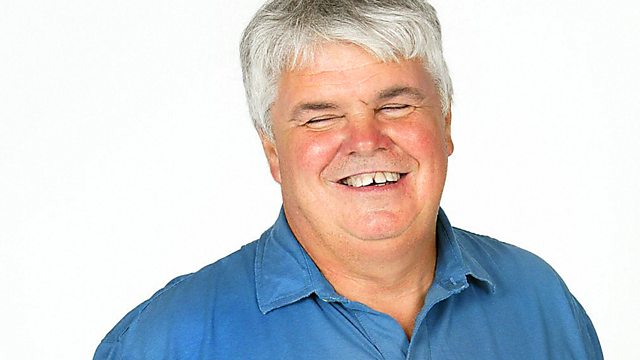 New treatment for glaucoma, Blind cricket
News, views and information for people who are blind or partially sighted. The academic researching blind cricket and how players navigate the game.
Glaucoma is a major cause of blindness throughout the world. 700,000 people are estimated to have some form of the disease in the UK alone.
It's caused by a build-up of fluid leading to high pressure in the eye and is usually treated with medication, with some patients needing repeated operations. But new technology being trialled by doctors at Manchester Royal Eye Hospital offers an alternative for patients with advanced glaucoma. We'll speak to Bernie Pedley, the first patient to try the new technology and her eye surgeon Leon Au about why the eyeWatch device is significant.
And we're on the pitch to try out blind cricket - a version of the game for visually impaired and partially sighted people. We'll speak to Ben Powis, a sociologist from Solent University in Southampton, who's done some research about how people use their senses to play the game. The Lancashire Lions have just won their regional league, and we join them at a practice session in Manchester.
Presenter: Peter White
Producer: Jess Quayle.
Last on
In Touch Transcript: 14-08-2018
THE ATTACHED TRANSCRIPT WAS TYPED FROM A RECORDING AND NOT COPIED FROM AN ORIGINAL SCRIPT.  BECAUSE OF THE RISK OF MISHEARING AND THE DIFFICULTY IN SOME CASES OF IDENTIFYING INDIVIDUAL SPEAKERS, THE BBC CANNOT VOUCH FOR ITS COMPLETE ACCURACY.
IN TOUCH – New treatment for glaucoma, Blind cricket
TX:  14.08.2018  2040-2100
PRESENTER:          PETER WHITE
PRODUCER:            JESS QUAYLE
White
Good Evening.  Tonight: A new development in the treatment of glaucoma, which could save you from drops and even ops.  And if you don't know your square leg from your silly mid-off how do you think blind cricketers make out? Well, pretty well by the sound of it:
Clip
When you feel that ball in the middle of the bat it feels very good.  When you hear it go whizzing past as well, those bearings you can hear when you hit it that hard.
White
We'll be meeting Amjad, some of his team-mates and the man who's done a PhD on the game later in the programme.
But first, glaucoma is a major cause of blindness throughout the world.  Seven hundred thousand people are estimated to have some form of the disease in the UK alone.  But the good news is that with the right treatment, early enough, it can be controlled.  It's caused by a build-up of fluid leading to high pressure in the eye.  It's usually treated with medication, and some patients need repeated operations.  But now, new technology, being trialled by doctors at Manchester Royal Eye Hospital, offers an alternative for patients with advanced glaucoma.
Patients like Bernie Pedley, she's 73, she lives in Preston and she was the first person in the UK to try out what amounts to a new drainage device, called EyeWatch. 
She told me how her glaucoma was diagnosed:
Pedley
Just by going annual check-up with the optician.  I think I was in my late 50s and said my pressure was up.  And I went the year after, still the same and then I was referred to Blackpool Victoria Hospital where they did lots of different eye drops, which I was allergic to, so I had about three different operations at Blackpool and none of them worked.
White
Did you have any symptoms initially?
Pedley
Not really, it's a funny thing really – glaucoma – I just didn't feel happy driving and I didn't know why.
White
And you mentioned the allergies to the drops – how did they show themselves, what was the effect?
Pedley
The eyes were itchy and burning and swollen.
White
What were you told about how this might develop without treatment?
Pedley
If your pressures get that high, they can't get the pressures down, your eye could haemorrhage – you've lost your eye.  So, you have to have the treatment what they advise to try and keep the pressures down. 
White
So, really quite alarming really?
Pedley
Oh yeah, I mean you had to take whatever they say and try everything.
White
Now you've got this EyeWatch technology, now what difference has that made?
Pedley
Oh, it's brilliant, I don't need to put anymore glaucoma drops in that eye.
White
Are you aware of it – what effect…
Pedley
No, I don't know it's there at all.  At the beginning, when they did it, it was painful and sore but as the days and the weeks went by it got less and now I don't know it's there.
White
How does it feel to be a first guinea pig?
Pedley
Ah brilliant, an old lady, I'm not an old lady, I'm fit as a fiddle.  It's brilliant to think you've taken part in something like this.
White
The effervescent Bernie Pedley.
Well her eye surgeon is Leon Au.  He's leading the Manchester trial of the EyeWatch study and he interrupted his holiday for us in Canada to tell us how the device works:
Au
This is really the first device that we have that we can adjust the flow.  We've got many devices that we use in glaucoma and the idea is to drain the fluid out of the eye to lower the pressure.  But most of the devices that we have is just a fixed flow device and we've never been able to titrate or change the flow.  With the drainage device there's a small proportion of patients who may not get enough and probably more importantly you may drain it too much and then the pressure becomes too low.  So, we've got this little device that's got a little tap that we can turn using a magnetic pen.  So, we hold the pen about a millimetre off the patient's eyes, so we don't actually have to touch the patient, and using magnets we can turn the wheel which then adjusts the flow through the device.
White
So, what will this save the patient from having to do basically, what effect is it going to have on people?
Au
Sometimes, especially when it comes to drainage devices in glaucoma, like in Bernie's case, which is quite complicated, already had previous surgery then we always have to go for an operation that is a little bit more invasive in order to achieve the results.  And more invasive surgery does come with a small price of complication – we may have to take the patient back to theatre to adjust the device.  But with the EyeWatch then it's the first time in the clinic, by the bedside if you like, we can just adjust there and then without taking the patient back to theatre.  So, there isn't anymore further surgery and that avoids a lot of complication.
White
Now this has worked for Bernie, she seems to be very happy, would this work for everyone – who really is this going to be most significant for?
Au
Certainly, it's a test of concept and we've got a long way to go to see how well this works, certainly in the medium and long term, but it's really targeting patients with more advanced glaucoma who's had previously failed operation, like Bernie.  So, it is certainly for later stage in glaucoma not for the earlier stage.
White
One of the alarming things about glaucoma, in a way, is that it doesn't have symptoms, as Bernie described, I mean what would you say to people, who are the people who are vulnerable to it?
Au
It does tend to be more common with age, so generally we always say that over the age of 40 then the incidence, the chances of it happening, goes up.  We estimate, for example, there's about 30, 40% of glaucoma patients are still not diagnosed, sitting in the community and not knowing it.  Really need to go and see an optician on a regular basis, especially if you have a family history then you should go much earlier.
White
Because it can be serious in some cases?
Au
Oh, without a doubt and I think unfortunately we still see on a frequent basis the patient would turn up to the hospital with very late and advanced glaucoma.  It doesn't affect your vision until very late but it tends to affect your field of vision, so maybe certain parts of your vision you don't see so sharply but overall you still see miles away, so patients don't feel there's anything wrong.  So, that's why it needs to be picked up by someone else and by the time you know it, it'll be too late.
White
Ophthalmic surgeon Leon Au.
Now, it's known as England's summer game, this is just a slightly different version:
Actuality – Blind Cricket Match
Helen, Amjad and Abu are playing cricket.  It's practice night for the Lancashire Lions, a team made up of blind and partially sighted players.  And if you're surprised blind people are playing cricket at all, well here's a short guide:
They're playing with a ball, the size of a small football that rattles.  It has ball bearings inside.  Totally blind people are allowed to catch the ball after it's bounced once, and the ball has to bounce a couple of times if you're bowling to a blind batsman.
Blind cricket is now quite highly organised, right up to Test Match level, and the Lions have just won their regional league.
But sociologist Ben Powis, of Solent University in Southampton, is watching this session with particular interest.  Blind cricket was the subject of his PhD:
Powis
So, as a sighted cricket fan and a person who played cricket all my life I was fascinated with how the game was played in an alternative way really.  It's no less, it's just being played in a different way and that the adaptations that have made to the sport itself I wanted to delve into a bit further.
White
Now it's pretty obvious that we are going to have to depend a lot on hearing with cricket, so exactly what aspect of it were you trying to research and how did you do it, what was your method?
Powis
So, what I was interested in is firstly how the space itself is conceptualised, so for someone who's never seen a game of cricket being played how can you understand the 22 yards of the pitch, the boundary, all the shots being played and then how do the players themselves negotiate that.  So, what different strategies do they create.
White
We'll go and interrupt them in a minute because they're all rehearsing.  Just one more thing before we do that.  Can you just explain how you actually set the thing up so that you gave blind and partially sighted people the sort of framework to talk to you about what they understood about the game and where they knew where they were?
Powis
So, I used a methodology called soundscape elicitation.  It's using a set of recordings to elicit an emotion or a response.  So, I recorded a number of different tracks representing their game.  So, I put in four or five microphones around the pitch and then created a soundscape that reflected what it sounded like.  Then once in the interview listened to those tracks and then talked through what they were listening to.
White
And what were they able to tell you from that?
Powis
I think being detached from the situation was an advantage.  So, if we went up right now to the players here and said – well what senses are you using – they would be like I've no idea, I'm trying to hit the ball.  But if you're in an interview you can take the step back.  A lot of them noticed that they used sight, vision or the [indistinct word] touch sense in different ways because they've had that chance to reflect a little bit more.
White
Yeah because I mean I remember playing, it's a long time since I played probably, but even playing at school there were certain key positions that you needed, which meant you could set yourself out.  And the most obvious one is where the batsman is.  The baller calls out to the batsman and the batsman answers every time they bowl.  So, that enables you to orientate yourself.  Presumably that – you began to realise that was all going on?
Powis
Yeah, and those are kind of solid points in this space, so you know you're going to get that every ball, those four pieces of sound that a player can be ready and know the ball's going to then come towards them.  And of course, there's some more adaptations, such as the wicket keeper almost acts as a commentator, so they will be partially sighted, so they have probably the most amount of sight in the team, and once that ball's been hit they will communicate to the whole field where it's going, to whose hand, when they should put their hand down.  So, you've got the players themselves directing each other.  So, it's a communicative piece of action.  And for some of the players even sledging was a part of it.  So, if they heard a fielder sledging them they'd work out where they were in relation to the pitch and where they could then play their shots.
White
For those who don't know we'd better define sledging Ben.
Powis
So, I see it as putting pressure on a batsman or a player through verbal intimidation. 
White
Which could mean just yelling at them, swearing at them or being rather cleverly rude to them?
Powis
Exactly, I think it's usually a mixture of the both.
Actuality – Blind Cricket Match
White
Well sorry to interrupt your game guys but I mean what was very interesting there was Helen you were bowling to Amjad and you were playing some pretty confident strokes there I think weren't you – you seemed to be in quite good touch.
Amjad
Er yeah [laughter].  Since we've been – we had a game on Saturday so I got a bit of batting time.
White
There are categories of cricketers in the team, can you just explain who they are and what that means?
Amjad
A B1 is a totally blind person, so they'll be wearing blindfolds.  The low partial has got slightly more sight than the B1, so they won't be wearing blindfolds.  Then you've got your mid partials who have more sight than the other two categories and the higher partial will be the most sighted player in the team.
White
I must ask you this – why are totally blind people wearing blindfolds?
Amjad
I think that's just to make it a level playing field because some low partial category will play as B1s, so to make it fair they have to wear blindfolds as well.
White
What I'm particularly interested in is Ben here has been doing this research into the way we, as visually impaired people, would play and the way we actually listen.  I mean Amjad just explain what happens – Helen comes up to bowl to you, can you actually picture and analyse what you do as you wait to see what she's going to bowl to you?
Amjad
Yeah definitely, I think it sort of comes with experience.  First time, when I started, I didn't know where the ball was coming from.  Now, I've got that picture in my mind.  Because I used to have sight, I used to play normal red ball cricket, from that I can tell which angle she's coming at and from the sound of the ball – one, two, three bounces – whereabouts it's going to come.
White
So, when you play a shot like the one you did when you hit that four how does it feel now?
Amjad
It just when you feel that ball in the middle of the bat it feels very good and when you hear it go whizzing past as well, those bearings you can hear when you hit it that hard.
White
And Helen what part does hearing, if you like, play in bowling because in a way you might think that bowling was just a question of coming up and delivering the ball?
Helen
Yeah well with bowling the wicket keeper will clap behind the stumps so that I can actually know where I'm aiming towards.
White
Yeah because he was shouting off, off, off which was…
Abu
Yeah, I was behind the wicket.
White
That was you – Abu.
I'm going to bring Ben in because Ben you did this survey, I mean what are the kind of things you would like to ask these three?
Powis
Yeah, I think we'll talk about fielding, say you know you're in a particularly position, does it help that you know the position, say you know where cover is or you know where point is, to understand the space?
Abu
Yeah, the captain will tell us where they wants us fielding, so the B1s will place near the wicket, so three or four B1s in a team, then you've got the rest of the field like spread out or it could be – it depends on the batter, who's coming in to bat.
Helen
When we're bowling if you don't shout play as you throw the ball it's a no ball.
White
Do totally blind people run for…
Abu
No, no you've got fully sighted or mid partial runners.
White
Right, I used to run when I was at school, I managed to break my nose, I ran into the wicket keeper coming out from behind the wicket.
Helen
That's why we don't run, it's not safe.  Also, how do – can you run if you don't know where the ball is?
White
How competitive would you say visually impaired cricket is?
Amjad
I think it brings that nature out in everybody – competitiveness – it's like you get sledging in red ball cricket, you get the same in blind cricket as well.
White
I just wondered whether blind people actually tried to confuse other blind people with tricks, like calling and then moving away to be somewhere else….
Amjad
Yeah, they do try it but umpires will say you know look guys, once the ball's in play can you not move position, so yeah.
White
So, just getting a sense of what it means being in the team.  Helen, you first, because this is your first season isn't it?
Helen
Yeah, it's the first season.  I lost my sight three and a half years ago, very suddenly, from being fully sighted to blind was quite an upheaval.  So, found the sport, it actually got me out the house doing things again, people were very good they helped me get somewhere but it's got me out doing things, got my confidence in other aspects of my life as well.  I just like going with me cane and walk across a pitch and someone clapping their hands was amazing sort of achievement and this year we've had a few away games and it's the first time I've been away without my mum holding me hand.  It's done a lot more than just a sport and getting me fitter as well.
Amjad
It definitely does because, for example, when you're dependent on that cane all the time when you're out there you can use those skills in the environment around you as well.  When you're trying to cross a road, listen for minor things.
White
Because I guess also with cricket you're running, you're getting a chance to run in an open space as well aren't you.
Amjad
Well we do get an opportunity if we can hear the ball to go after it, so we do like the last game Helen decided to take a run to chase the ball which was very good because she navigated where the ball was.
Abu
She's got good hearing and she can sense where the ball's going.
Amjad
Like, for example, Helen, she caught out one of the England players this weekend…
Abu
International player.
Amjad
One of the Sussex players, he wasn't expecting a B1 to take a catch.
Abu
And that was on the first ball, golden duck, so he's in the primary club now.
White
So, did that make her woman of the match?
Abu
Yes.
White
Well I'll tell you what I haven't played for decades but hearing Amjad's – I think it might have been an off drive, anyway it went for four, it's given me…
Abu
We would like you to have a go.
White
Can I have a go?
Abu
Yeah, yeah, yeah.
White
Thank you.
Amjad
So, we'll get our best bowler on to you – Helen.  Here's the bat – do you want to take the bat?
White
I'll take the bat.  Do I have to wear any pads or anything?
Amjad
No, no, no.
White
Oh, it's nice to have a bat in my hand again.
Amjad
We're up to always looking to recruit.
White
Well it's a long time since I played.
Actuality – Blind Cricket Match with Peter
I swept myself off my feet.
Abu
Try listen to the ball on the second bounce.
White
Okay.
Helen
Ready?
White
Yeah.
Abu
Well done.
White
I felt the bat on the ball.  It's really rather exciting to have a bat in my hand.  I remember now how you do listen to the ball and the rattle of the ball.  The kind of speed varies quite a bit, so you're never quite sure – because I'm starting – haven't done it for so long – I'm a bit out of practice but I was quite pleased that I managed to get me bat on the ball.
Actuality – Blind Cricket Match with Peter
Am I bowled?
Amjad
Yeah.
White
Oh, alright, I used to sulk when I was out. 
There's nothing like a bit of ritual humiliation of the presenter to end the programme.
That's it.  You can call our Actionline on anything you've heard in the programme for 24 hours after tonight's programme, number 0800 044 044.  You can email intouch@bbc.co.uk or click on contact us on our website, from where you can also download tonight's and other editions of the programme.  From me, Peter White, this week's producer Jess Quayle and the team, goodbye.
Broadcast