Main content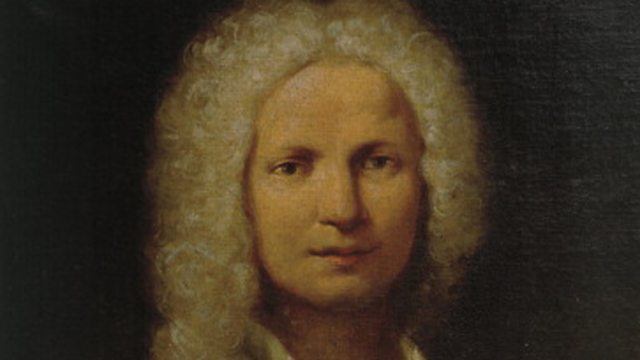 Vivaldi is presented to the Pope
Donald Macleod surveys Vivaldi's successes in Rome where the composer enjoyed an audience with the Pope and received a commission for the wedding of Louis XV of France.
Donald Macleod surveys Antonio Vivaldi's successes in Rome
As part of the BBC's opera season, Composer of the Week takes a look behind the curtain and onto the stage exploring the world of Antonio Vivaldi's operas. Vivaldi was one of the most original and influential Italian composers of his generation, and his music travelled far past the boundaries of his native Italy. He was considered an innovator in the art of violin technique and concerto writing, and yet he said himself that during his career he wrote nearly one hundred operas in total, though few have survived today. Vivaldi not only composed for the stage and performed in theatre orchestras, but he also became something of an impresario managing many aspects of opera productions. This week Donald Macleod is joined by Professor Eric Cross to lift the veil on this lesser known operatic side of the creator of the famed Four Seasons, Antonio Vivaldi.
Vivaldi returned to Venice in 1720 where he continued to work for the Ospedale. He also threw himself into Venetian theatrical life, now casting his own singers for his stage productions. By 1723 his opera 'Ercole' was premiered in Rome and was a big hit. Vivaldi was invited to compose for the 1723 Carnival season in Rome, where he presented them with his new opera 'Giustino'. This was another success and soon the composer found himself not only presented to the Pope, but also commissioned to compose music for the wedding of Louis XV of France. Further opera successes came Vivaldi's way including 'Farnace' and 'Orlando furioso', although these were both premiered in Venice and included a particular singer the composer had now taken an interest in, Anna Giro.
Sento in seno ch'in pioggia di lagrime (Giustino, Act 2 scene 1)
Nathalie Stutzmann, contralto & conductor
Orfeo 55
Sorte, che m'invitasti ....Ho nel petto un cor sì forte (Giustino, Act 2 scene 13)
Nathalie Stutzmann, contralto & conductor
Orfeo 55
Farnace (Act 3, scenes 8-12)
Gilade .... Karina Gauvin (soprano)
Tamiri .... Ruxandra Donose (mezzo-soprano)
Berenice .... Mary Ellen Nesi (mezzo-soprano)
Selinda .... Ann Hallenberg (mezzo-soprano)
Farnace .... Max Emanuel Cencic (countertenor)
Pompeo .... Daniel Behle (tenor)
Choir or Swiss Radio and Television, Lugano
I Barocchisti
Diego Fasolis, conductor
Orlando furioso (Act 2, scenes 4-6)
Angelica .... Veronica Cangemi (soprano)
Orlando .... Marie-Nicole Lemieux (contralto)
Medoro .... Blandine Staskiewicz (mezzo-soprano)
Ruggiero .... Philippe Jaroussky (countertenor)
Ensemble Matheus
Jean-Christophe Spinosi, director
Violin Concerto in A minor, RV358
Simon Standage, violin
The Academy of Ancient Music
Christopher Hogwood, director
Producer Luke Whitlock.