Main content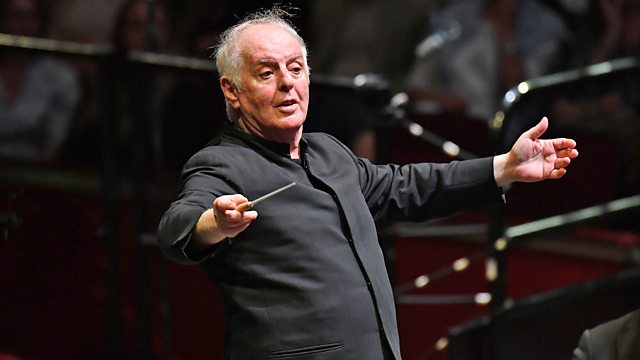 Prom 43: Daniel Barenboim and the West-Eastern Divan Orchestra perform Tchaikovsky and Scriabin
Live at the BBC Proms: the West-Eastern Divan Orchestra, conducted by Daniel Barenboim, perform Tchaikovsky, Scriabin and David Robert Coleman's Looking for Palestine.
Live at BBC Proms: West-Eastern Divan Orchestra & Daniel Barenboim in Tchaikovsky, David Robert Coleman and Scriabin
Live from the Royal Albert Hall, London
Presented by Ian Skelly
Tchaikovsky: Polonaise from Eugene Onegin
Tchaikovsky: Violin Concerto
8.05pm
Interval Proms Plus: BBC New Generation Thinker Hetta Howes and philosopher Mark Vernon compare figures from the past and present who have searched for a sense of transcendence and experienced ecstatic states. Hosted by Christopher Harding.
8.25pm
David Robert Coleman: Looking for Palestine
London premiere
Alexander Scriabin: The Poem of Ecstasy
Elsa Dreisig, soprano
Lisa Batiashvili, violin
West-Eastern Divan Orchestra
Daniel Barenboim, conductor
Daniel Barenboim and his pioneering West-Eastern Divan Orchestra return to the Proms for a concert marrying passion and politics.
One of the most richly Romantic works in the repertoire - Tchaikovsky's heart-rending Violin Concerto, performed here by Georgian violinist Lisa Batiashvili - is paired with Scriabin's ecstatic, orgiastic 'The Poem of Ecstasy', an attempt to bridge the divide between spirituality and sexuality in music.
At the centre of the concert is David Robert Coleman's 'Looking for Palestine' for soprano and orchestra, a work commissioned by the ensemble, and one that speaks to its uniquely political identity.
Featured in...
We broadcast more live and specially-recorded concerts and opera than any other station.