Main content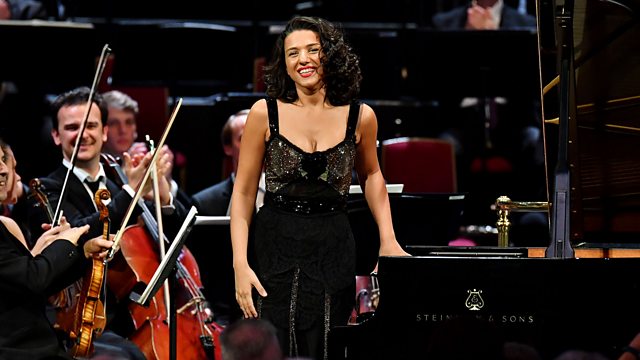 Prom 42: Estonian Festival Orchestra, Paavo Jarvi, and Khatia Buniatishvili in Part, Grieg and Sibelius.
Live at the BBC Proms: Paavo Jarvi and the Estonian Festival Orchestra in Sibelius's Symphony No 5 and Part's Symphony No 3, and Grieg's Piano Concerto with Khatia Buniatishvili.
Live at BBC Proms: Estonian Festival Orchestra, Paavo Järvi (conductor). Khatia Buniatishvili (piano). Grieg Piano Concerto, Sibelius Symphony No 5, Pärt Symphony No 3
Live from the Royal Albert Hall, London
Presented by Kate Molleson
Arvo Pärt: Symphony No 3
Edvard Grieg: Piano Concerto in A minor
c.8.35pm
Interval: Proms Plus. Presenter Ian Skelly introduces Sibelius' 5th Symphony together with Radio 3's New Generation Thinker, Leah Broad and musicologist Prof. Tim Howell. Recorded earlier at the Imperial College Union.
c.8'55pm
Jean Sibelius: Symphony No 5 in E flat major
A concert with a Nordic flavour from Paavo Järvi and the Estonian Festival Orchestra (making its Proms debut) pairs music by Grieg and Sibelius with Estonia's own national composer, Arvo Pärt.
Celebrated Georgian pianist Khatia Buniatishvili - a former BBC Radio 3 New Generation Artist - performs one of the great Romantic piano concertos.
Beloved for its generous melodies and dramatic gestures, Grieg's concerto is matched for sonic drama by Sibelius's stirring Fifth Symphony.
Arvo Pärt's eclectic Third Symphony, with its echoes of Renaissance polyphony and Orthodox chant, opens the concert.
Broadcast on BBC Four on Friday 17 August.
Clips

Featured in...
We broadcast more live and specially-recorded concerts and opera than any other station.