Main content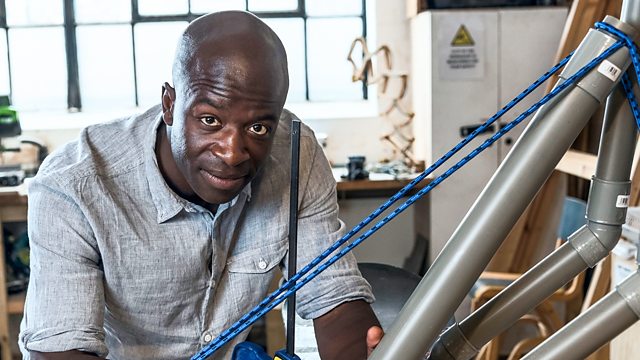 Inventors try to help a boy with a rare form of epilepsy, a man with cerebral palsy who loves sailing and an older woman with multiple sclerosis who lives on her own.
A team of inventors attempt to change the lives of three inspiring people with very different problems.
Four-year-old William has a rare form of epilepsy which causes him to have multiple seizures, some of which are life-threatening. These seizures can happen at any time. With doctors unable to control them through medication and no suitable seizure alarms, William's parents have to take it in turns to watch him around the clock. Lack of sleep and constant worry over the last four years has left them both desperate for help. Designer and technologist Haiyan Zhang bravely agrees to take on one of the most emotionally charged problems of the series. Can she come up with an invention that will help William's parents to monitor him and ease the pressure they're under?
Nineteen-year-old Ian was born with cerebral palsy which has left him with no control of his body and an inability to speak. Since he was a child, he has loved sailing - an activity he used to enjoy with his dad before he was killed in a car accident three years ago. Now Ian goes out on the water with a friend who has fashioned a rudimentary system so that Ian can signal directions to him using his eyes. This allows him to have some involvement in navigating the boat, but what he really wants is to have complete control of the vessel. Engineer Ryan White and experience designer Ruby Steel team up to see if they can come up with a solution. If they're successful, it'll be the first time anyone has ever sailed a boat using just their eyes. They're hopeful that their idea to use the eye-gaze technology that Ian already uses to operate his computer will work if they hook it up to motors on the boat.
Susan has multiple sclerosis and lives alone. She was diagnosed when she was 40 years old and, as the symptoms have worsened over the years, she has worked hard to maintain her independence. Carers visit her twice a day to help her get in and out of bed and perform basic tasks, and her daughters visit regularly, but for much of the day she is on her own. Her flat has been kitted out with a range of assistive technology, but most of it is not fit for purpose. She has a tablet computer which she struggles to operate due to tremors in her hands and a computerised system to operate the telephone and various electrical items, which are difficult to navigate and hard to read as her eyesight is failing. Ruby's initial thought is to use the latest smart technology so that Susan can operate systems using her voice. But like many older people, Susan is not familiar with this latest technology and knowing how to navigate it and what commands to use is incredibly confusing for her. Ruby needs to find a way to make smart technology more accessible for people like Susan. If she can crack it, she could help her to remain living in her own home, and potentially help thousands of other elderly and vulnerable people to avoid loneliness and continue living independently.
Clips

Credits
| Role | Contributor |
| --- | --- |
| Expert | Ross Atkin |
| Expert | Akram Hussein |
| Expert | Zoe Laughlin |
| Expert | Yusuf Muhammad |
| Expert | Jude Pullen |
| Expert | Ruby Steel |
| Expert | Ryan White |
| Expert | Haiyan Zhang |
| Executive Producer | Ros Ponder |
| Executive Producer | Tom Watt-Smith |
| Producer | Itamar Klasmer |
| Production Manager | Eleanor Roffe |
| Editor | John McAvoy |
| Production Company | Studio Lambert |