Main content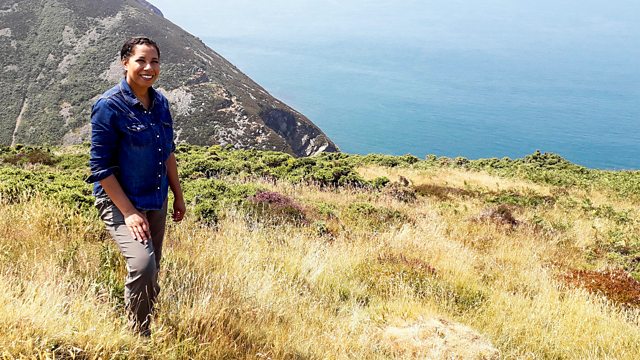 Exmoor
In Exmoor, Margherita Taylor meets those doing all they can to restore the habitat, and numbers, of the UK's most endangered butterfly - the high brown fritillary.
The team travel to Exmoor. Matt Baker meets a group of youngsters on the National Citizen Service scheme, a residential course that uses outdoor activities to help children from all backgrounds to build skills for work and life. Exmoor is one of only a handful of places in the country where the UK's most endangered butterfly - the high brown fritillary - can be spotted, and Margherita Taylor meets those doing all they can to restore its habitat in a bid to increase its numbers. This involves using a remote-controlled mini-tractor that breaks down bracken to create runnels that the butterflies can travel though. It also encourages the underlying violets to grow that the caterpillars feed on. Adam Henson meets the Sikh family of strawberry growers that are uniting farmers around Worcestershire, who have started the Growers United Football Charity. It not only brings local farmers and growers together and raises money, but also promotes agriculture as a key sector of the economy. Tom looks at what is being done to fight lyme disease, a debilitating illness that affects up to 3,000 people a year and is often transmitted through a single bite from an infected tick. Joe finds out how moorland communities are dealing with the impact of this summer's wildfires, looking at how the continuing dry spell is forcing farmers to use up vital supplies of winter fodder to make up for the lack of grazing in the parched countryside. The Young Presenter Talent Search reaches its climax, as Anita is joined by fellow presenters Nick Baker and JB Gill to decide the winners in each age category.
National Citizen Service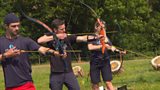 Matt Baker is down on a farm in the heart of Exmoor, for a taster of an innovative residential summer camp. It's part of the Government initiative - National Citizen Service. NCS is open to all 16 and 17-year-olds in England and Northern Ireland, to bring together young people from different backgrounds and help them develop greater confidence, self-awareness and responsibility through outdoor learning and activities. Matt meets Jim Whittaker who heads up the team implementing the activities and finds out how the young people involved have coped without mobile phone signal and living in the great outdoors for an entire week!
Lyme Disease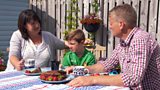 Every year, up to 3,000 people are diagnosed with the debilitating illness Lyme disease, many after being bitten by an infected tick in the countryside.
As Tom Heap discovers, we don't know where the infected ticks are likely to be in the UK and once bitten it's not always easy to accurately diagnose.  Tom hears the devastation it can cause from families that have been affected by the disease. 
But could more be done to prevent it? Tom meets Professor Matthew Baylis who is helping to draw up the first 'tick-map' of the UK.  He also talks to scientist Dr Roger Evans, part of a team working on a new and more accurate blood test for Lyme disease.
It's progress, but it's not nearly enough for Phones-For-You founder and billionaire philanthropist John Caudwell. John challenges the Government's Department of Health to match his offer of millions to fund fresh research and treatment for sufferers of Lyme disease.
Find more information on how to keep safe from tick bites here
High Brown Fritillary Butterflies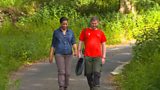 Margherita Taylor is in the Heddon Valley - one of only a handful of places left in the UK to spot the High Brown Fritillary - the UK's most endangered butterfly. On-going efforts to manage the habitat by The National Trust and Butterfly Conservation, are crucial to its survival. Margherita meets National Trust Ranger, Dan Cameron, to find out what's being done, including the introduction of a new robot! The remote controlled mini tractor flattens bracken to create runnels that the butterflies can navigate and encourages the plants the caterpillars feed on. It's the perfect time of year to be out and about looking for butterflies and you can get involved and take part in this year's Big Butterfly Count too.
Young Presenter Winners!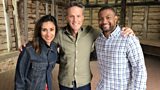 From hundreds of entries, just four youngsters from each age category made it through to a presenting boot-camp on Adam's Farm.  
Now it's time to for Anita Rani, natural history presenter Nick Baker and pop star turned farmer and TV presenter JB Gill to reveal the results of our Young Presenter search!
Strawberry Farming Family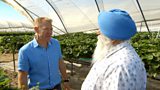 Adam Henson heads to the Vale of Evesham to meet a family of strawberry farmers.
Makhan Singh Padda arrived in Birmingham in 1966 from Punjab. He worked as a farm labourer and in pack-houses before discovering strawberries. 
Not one for a timid start, and with no prior knowledge of growing soft fruit, Makhan bought a small nursery, called a strawberry plant salesman and ordered 80,000 strawberry plants to be delivered the next day!

Known to many in the local area as 'Mr. Strawberry', Makhan and his family are well respected in the local community. As Sikhs, the Padda's have a strong belief in giving back to the community. So his son, Bal started 'Growers United Football Charity'. It not only brings local farmers and growers together, and raises money, but also promotes agriculture as a key sector of the economy.
Adam gets his kit on and joins the team for a Charity Shield match! 
Fodder Crisis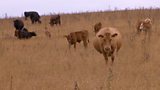 This summer is one of the driest on record.  Moisture starved brown fields are covering our countryside- and that's having a serious impact on our farmers. 
At this time of year pastures in the South West of England  should be green and lush but they're far from it. The last time we saw Kevin Harris he was dealing with freezing cold temperatures and record snow fall as The Beast from the East ravaged Exmoor. 
Five months later and he's having to deal with sky high temperatures - and near drought conditions. 
These unusually dry conditions not only mean that animals fed outside are suffering but it's also having a huge impact on farmers who keep their animals indoors. We also hear from Thomas Reed, who's a dairy farmer, about the impact the weather his having on his supplies.
Moor Fires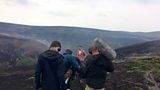 The shocking images of wildfires blazing across moors in the Peak District shocked the nation earlier this summer – and it wasn't an isolated case, with subsequent fires flaring up in other parts of England, Wales and Scotland.
Joe Crowley visits the scorched moors of Tameside, to find out how the fires have impacted the local environment and wildlife, and how landowners, farmers and other organisations want to work together to avoid any repeat of this tragedy in future.
Joe visits the farm of the Crowther family, who had sheep grazing on the moors when the fire first broke out – and managed a daring rescue through the smoke on quad-bikes…
At the nearby Dove Stone Nature Reserve, he meets Uplands Conservation Officer David Hunt and hears about their ambitions to return the peatlands to peak condition and ensure the moors host an array of plants, to keep the land as moist as possible and discourage any quick-spreading fires in future.
Meanwhile the Moorland Association's Amanda Anderson says that the various local grouse moors are also being managed to maximise environmental benefits, and tells Joe that controlled burning at the right time of year can also inhibit summer fires from getting out of control.
Credits
| Role | Contributor |
| --- | --- |
| Presenter | Matt Baker |
| Presenter | Margherita Taylor |
| Presenter | Adam Henson |
| Presenter | Tom Heap |
| Presenter | Joe Crowley |
| Presenter | Anita Rani |
| Executive Producer | William Lyons |
| Series Producer | Joanna Brame |