Main content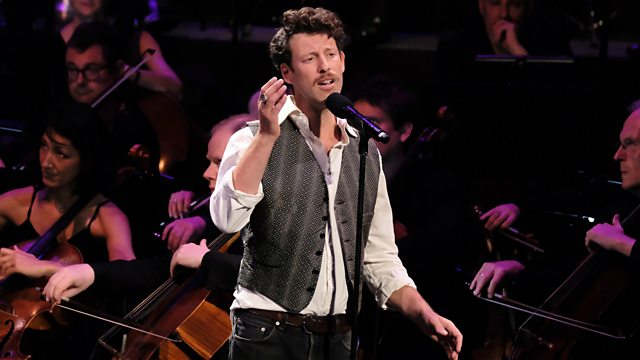 Folk Prom featuring The Unthanks, Jarlath Henderson, Julie Fowlis, Sam Lee and Alaw
A prom celebrating the evolution of folk music in Britain and Ireland. The BBC Concert Orchestra joins The Unthanks, Julie Fowlis, Sam Lee, Jarlath Henderson and Alaw.
In a Prom that celebrates the history and evolution of the folk music scene in Britain and Ireland, the BBC Concert Orchestra collaborates with some of the folk world's leading musicians who are pushing the boundaries of traditional music, and bringing with them a new breed of folk fan.
With performers from England, Scotland, Wales and Ireland, this Prom reflects the diversity of a genre of music that, while steeped in tradition, is constantly evolving and reinventing itself through the generations.
The Unthanks is a family affair for Tyneside sisters Rachel and Becky Unthank, with Rachel married to pianist, producer, arranger and composer, Adrian McNally. Even though McNally has scored tonight's arrangements for The Unthanks, all three are musically untrained, and put their inspiration down to the music they grew up listening to in their native North East of England. Their album 'The Bairns' was nominated for the 2008 Mercury prize and their 2016 album 'Mount the Air' picked up best album at the BBC Radio 2 Folk awards. The band perform the title track from that album tonight alongside the BBC Concert Orchestra.
From County Armagh, Northern Ireland, Jarlath Henderson has been playing the uilleann pipes since the age of 10. A talented and versatile musician, Jarlath also plays whistle, flute, cittern and has recently been winning over audiences with song. He was the youngest ever winner of the BBC Young Folk awards in 2003 and in 2008 he released his first album, 'Partners in Crime' with fellow piper Ross Ainslie. His 2016 solo debut, 'Hearts Broken, Heads Turned', comprises arrangements of traditional songs.
Welsh trio Alaw ( which means 'Melody' in Welsh) are Oli Wilson-Dickson, Dylan Fowler and Jamie Smith. With guitar, fiddle and accordion the trio combine Welsh traditional music with original compositions and songs. Tonight they perform music from their second album Dead Man's Dance (Dawns y Gŵr Marw), released last year.
Presenting and performing at tonight's prom are the singers, musicians and broadcasters Julie Fowlis and Sam Lee. Julie hails from North Uist in the Outer Hebrides and is internationally renowned for her renditions of Gaelic language songs, a selection of which she will perform tonight, including songs from her latest album ' Alterum'.
Sam Lee is an acclaimed traditional music specialist dedicated to collecting, restoring and sharing ancient folk songs from Britain and Ireland. His debut album 'Ground of its own' received both a Mercury and BBC Folk award nomination in 2012.