Main content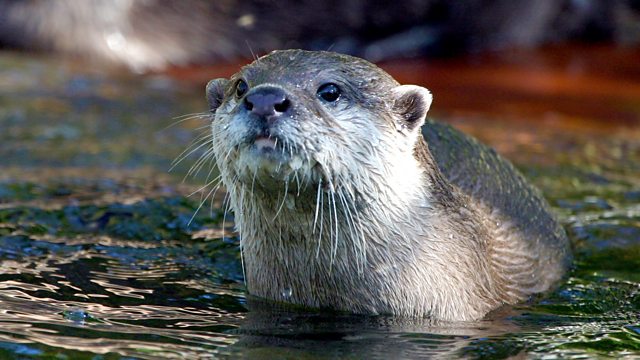 Otter
The utterly beguiling and mysterious otter leads Brett on a merry spraint hunt, in and out of books, music and myth, to the watery corners of England, Ireland, Scotland and Wales.
With its playful, hand-holding, pebble-juggling ways, the otter wins the cuteness contest with its eyes closed. It's no wonder such a stunningly elegant and charismatic animal has been the star of films and books and the inspiration for thousands to make pilgrimages to rivers in Devon or rings of bright water in Scotland.
But do not be deceived. As Brett Westwood discovers, this elusive wild animal is a skilled and ferocious predator and, given half a chance, he'll have your fingers off!
Writer Miriam Darlington shows Brett the paw prints on the banks of the river Dart, and describes the first time she ever saw an otter.
Anthony Phillips, once the guitarist for global pop group Genesis, now composes music for screen and, he tells us, it all started with reading and feeling compelled to make music inspired by Tarka.
Dr Elizabeth Chadwick, who manages to slit otters open for science, explains how the otter's insides are a barometer of health for our environment.
Dr Daniel Allen charts the history of otter hunting from anglers removing fish-eating vermin, to a Great British summertime sport, and the legislation that saved them.
and Olivia Morgan reads Robert Macfarlane's spell for conjuring an otter, over the watery sounds of Joanna Newsom's Divers, in an attempt to evoke the slippery land fish that inspires such awe, devotion and fear.
Producer: Ellie Richold.