Main content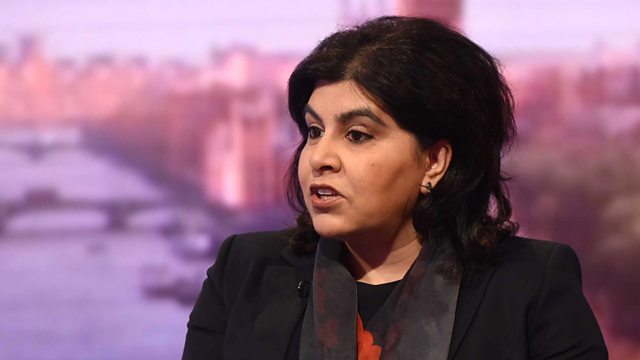 Sayeeda Warsi
Peter Hennessy invites senior politicians to reflect on their life and times. This week, his guest is Sayeeda Warsi (Baroness Warsi), the former Conservative cabinet minister.
In this series, the historian Peter Hennessy asks senior politicians to reflect on their life and times. Each week, he invites his guest to explore their early formative influences, their experiences and their impressions of people they've known.
In this programme, Peter Hennessy's guest is Sayeeda Warsi (Baroness Warsi), a lawyer, politician and the first Muslim to sit in the Cabinet. She was born and grew up in Dewsbury, West Yorkshire. After studying at Leeds University, she trained as a lawyer and became a solicitor in Dewsbury.
She discusses how her life was changed by the 9/11 terrorist attacks in 2001. She sold her legal practice and went to Pakistan, but after nine months decided that she should return to Britain and face the challenges in her life. Her politics had been influenced by her parents, especially her father's work ethic although he voted Labour. She stood for the Conservatives in Dewsbury in 2005. Although she didn't win, she was appointed vice-chairman of the Conservative Party. Two years later, David Cameron, the then Conservative Leader, appointed her Shadow Minister for Social Cohesion and she became a member of the House of Lords. In 2009, she came to national prominence by appearing on BBC One's Question Time, when Nick Griffin, the BNP Leader took part.
After the 2010 election, David Cameron appointed her to the Cabinet as Minister without Portfolio and also made her Conservative Party co-chairman. Two years later, she was appointed Senior Minister of State at the Foreign and Commonwealth Office and also Minister of State for Faith and Communities. However, she resigned in 2014 over the Government's policy on the Israel-Gaza conflict. She is the author of 'The Enemy Within: a Tale of Muslim Britain'.
Producer: Rob Shepherd.