Main content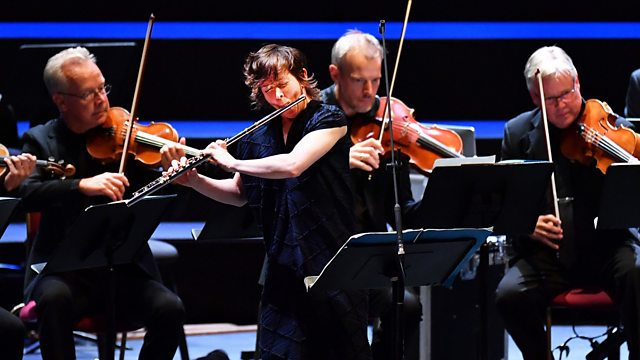 Live at the BBC Proms: the Swedish Chamber Orchestra, conducted by Thomas Dausgaard, perform three Bach Brandenburg Concertos alongside three newly commissioned companion works.
Over two concerts in one day, Thomas Dausgaard and the Swedish Chamber Orchestra present Bach's six Brandenburg Concertos alongside six newly commissioned companion works, to create a brand-new musical cycle, heard here in the UK for the first time.
Live from the Albert Hall, London
Presented by Andrew McGregor
7.30 pm
JS Bach: Brandenburg Concerto No 4 in G major, BWV 1049
Olga Neuwirth: Aello - ballet mécanomorphe (UK premiere)
Brett Dean: Approach - Prelude to a Canon (UK premiere)
JS Bach: Brandenburg Concerto No 6 in B flat major, BWV 1051
8.45 pm Interval: Proms Plus
A series of classical tales, from the Iliad to the Inferno, via the Ramayana and the Sagas have been recast by modern poets. New Generation Thinker and poet Sandeep Parmar and poet Sean O'Brien scrutinise contemporary re-workings of classical stories. Hosted by New Generation Thinker Catherine Fletcher.
9.05 pm
JS Bach: Brandenburg Concerto No 2 in F major, BWV 1047 (arr. Felix Mottl)
Steven Mackey: Triceros (UK premiere)
Antje Weithaas, violin
Brett Dean, viola
Tabea Zimmermann, viola
Claire Chase, flute
Fiona Kelly, flute
Marten Larsson, oboe
Håkan Hardenberger, trumpet
Swedish Chamber Orchestra
Thomas Dausgaard, conductor
The Second, Fourth and Sixth of Bach's Brandenburg Concertos appear alongside present-day responses by Steven Mackey, Olga Neuwirth and Brett Dean.
The soloists include star Swedish trumpeter Håkan Hardenberger, German violinist Antje Weithaas and violist Brett Dean himself.
Featured in...
We broadcast more live and specially-recorded concerts and opera than any other station.