Main content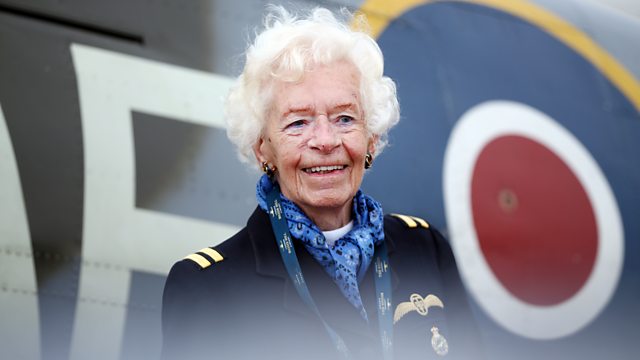 Mary Ellis, Shinobu Hashimoto, Dr William McBride AO, CBE, Dr Lincoln Brower, Mahendra Kaul
Matthew Bannister on pilot Mary Ellis, screenwriter Shinobu Hashimoto, obstetrician Dr William McBride, lepidopterist Lincoln Brower and broadcaster Mahendra Kaul.
Pictured: Mary Ellis
Matthew Bannister on
Mary Ellis - a leading pilot for the Air Transport Auxiliary who risked her life to deliver fighters and bombers during the war.
Shinobu Hashimoto, the screenwriter who teamed up with the director Akira Kurosawa to make great classics of Japanese cinema, including the Seven Samurai and Rashomon.
Dr William McBride, the Australian obstetrician who raised the alarm about the terrible side effects of the drug Thalidomide.
Lincoln Brower who devoted his life to the study and protection of the Monarch butterfly.
Mahendra Kaul, the pioneering Indian TV and radio broadcaster who was the face of the BBC's Asian Programmes Unit for 20 years.
Archive clips from: 'Spitfire Women', BBC Four 18/09/2010; 'Supersense', BBC TV 23/01/1989; Sonia Deol, Asian Network 27/12/2011; 'Ten Million Wings', Radio 4 16/03/2004.
Mary Ellis
Born 2 February 1917; died 24 July 2018, aged 101.
Last Word spoke to Paul Beaver, aviation historian and friend of Mary.
Shinobu Hashimoto
Born 18 April 1918; died 19 July 2018, aged 100.
Last Word spoke to film critic Larushka Ivan-Zadeh.
Dr William McBride AO, CBE
Born 25 May 1927; died 27 June 2018, aged 91.
Last Word spoke to his daughter Catherine McBride, and Martin Johnson, retired Director of the Thalidomide Trust.
Dr Lincoln Brower
Born 10 September 1931; died 17 July 2018, aged 86.
Last Word spoke to his friend, writer Sue Halpern.
Mahendra Kaul
Born 28 July 1922; died 11 July 2018, aged 95.
Last Word spoke to his friend Lord Paul, and Anita Bhalla OBE, former head of the BBC Asian Network.
Credits
| Role | Contributor |
| --- | --- |
| Presenter | Matthew Bannister |
| Interviewed Guest | Paul Beaver |
| Interviewed Guest | Larushka Ivan-Zadeh |
| Interviewed Guest | Catherine McBride |
| Interviewed Guest | Martin Johnson |
| Interviewed Guest | Swraj Paul |
| Interviewed Guest | Anita Bhalla |
| Interviewed Guest | Sue Halpern |