Main content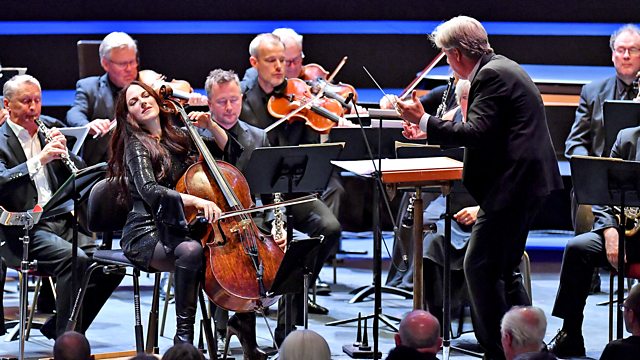 Live at the BBC Proms: the Swedish Chamber Orchestra, conducted by Thomas Dausgaard, perform three Bach Brandenburg Concertos: No 1 in F, No 3 in G and No 5 in D.
Over two concerts in one day, Thomas Dausgaard and the Swedish Chamber Orchestra present Bach's six Brandenburg Concertos alongside six newly commissioned companion works, to create a brand-new musical cycle, heard here in the UK for the first time.
Live from the Royal Albert Hall, London
Presented by Martin Handley
3.00 pm
Bach: Brandenburg Concerto No 1 in F major, BWV 1046
Mark-Anthony Turnage: Maya (UK premiere)
Bach: Brandenburg Concerto No 3 in G major, BWV 1048
Anders Hillborg: Bach Materia (UK premiere)
4.00 pm PROMS INTERVAL: A Walk in the Darent Valley
This afternoon's Proms Interval is an account of a classic English summer walk in a thunderstorm. The acclaimed novelist and nature writer Melissa Harrison explores our relationship with the weather as she follows the course of a thundery rain shower deep in the Kent countryside. Fittingly, given this sun-blessed summer, she walks alongside the River Darent at the end of a drought and reflects on how the countryside changes in wet weather - and how the English identity is shaped by the elements..
The extract is introduced and read by the author, and taken from her collection Rain: Four Walks in English Weather.
Producer Jules Wilkinson
First broadcast 26/07/2016
4.20 pm
Bach: Brandenburg Concerto No 5 in D major, BWV 1050
Uri Caine: Hamsa (UK premiere)
Pekka Kuusisto,violin
Antje Weithaas, violin
Maya Beiser, cello
Fiona Kelly, flute
Uri Caine, piano
Mahan Esfahani, harpsichord
Swedish Chamber Orchestra
Thomas Dausgaard, conductor
The second concert, broadcast live on BBC Radio 3, is at 7.30 pm this evening.
Featured in...
We broadcast more live and specially-recorded concerts and opera than any other station.