Main content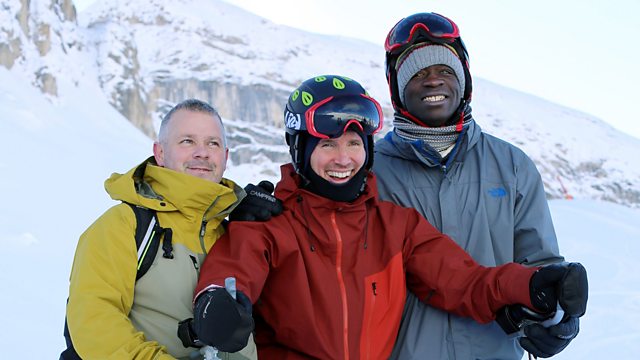 The inventors help a disabled man who dreams of snowboarding, a hairdresser who was born with one hand, and a young man who could die if his skin is exposed to sunlight.
A team of inventors attempt to change the lives of three inspiring people with very different problems.
40-year-old Graham was passionate about snowboarding until an accident dramatically changed his life. He was caught up in an avalanche and buried under the snow for half an hour before rescuers could dig him out. Now he's severely disabled; spending most of his time in a wheelchair, and with limited use of his arms and legs. But, despite all the trauma he's suffered, Graham dreams of one thing… getting back on the slopes and back on his snowboard again. Can award-winning engineer, Yusuf Muhammed, help make his wish come true? There are already a range of skis and snowboards adapted for the disabled, but none that meet Graham's ambition – to stand upright and control the board independently.
Alexander lives with a rare genetic disorder that causes extreme sensitivity to the sun's ultraviolet rays. He is 10,000 times more sensitive to sun light than the average person. If he exposes his skin it immediately blisters and burns and he has a very high chance of getting skin cancer. He lives at home with his parents and for the last 24 years he's spent his life avoiding going outside. When he does go out he has to cover every inch of his body, including wearing a home-made helmet and visor which are bulky and draw the attention of everyone who sees him. For materials expert, Zoe Laughlin, it's a huge challenge. She needs to find a way to protect Alex's skin from the harmful rays which is light-weight and ventilating, whilst allowing him to go out in public without being stared at.
Kyle's ambition has always been to be a hairdresser, but he was born with a deformed hand making it impossible for him to hold hair while cutting or styling it. Determined not to give up on his dream he has enrolled at a hairdressing academy, but he's reached a point where his disability is stopping him from progressing any further and he cannot complete the course. Engineer, Jude Pullen, needs to come up with a solution that will give Kyle the dexterity required to work as a professional hairstylist. And, in a world where appearances are everything, it's important that whatever he designs looks the part too.
Last on
More episodes
Previous
You are at the first episode
Credits
| Role | Contributor |
| --- | --- |
| Expert | Ross Atkin |
| Expert | Akram Hussein |
| Expert | Zoe Laughlin |
| Expert | Yusuf Muhammad |
| Expert | Jude Pullen |
| Expert | Ruby Steel |
| Expert | Ryan White |
| Expert | Haiyan Zhang |
| Executive Producer | Ros Ponder |
| Executive Producer | Tom Watt-Smith |
| Director | Damian O'Mahony |
| Director | Itamar Klasmer |
| Production Company | Studio Lambert |
| Executive Producer | Mick Ebeling |
| Executive Producer | Caskey Ebeling |
| Production Company | Not Impossible Labs |
Engineers have been improving lives since ancient times - explore further with The Open University
Short Films from BBC Teach