Main content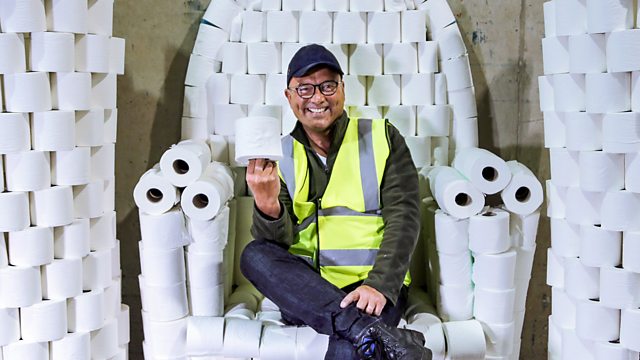 Toilet Roll
Documentary series. Gregg Wallace explores the factory that makes 700,000 toilet rolls a day and Cherry Healey gets the bum deal of following a flush through the sewers.
Gregg Wallace explores the Manchester factory that produces 700,000 toilet rolls a day. He begins 940 miles away in Sweden, where the raw material - wood - is harvested from a sustainable forest of one billion spruce trees. Most of the wood is used for timber, but the offcuts are turned into sheets of wood pulp. Gregg follows this pulp to Manchester, where he learns that two types of wood fibre - long and short - are required for a loo roll, to give it strength but also softness. He watches as 3,750 kilos of fibre are combined with 34,000 litres of water and sprayed into a 40-metre-long, 11-metre-high paper-making machine. It takes just four seconds for the watery pulp mix to be transformed into soft, dry paper. It is then rolled onto a 1.2 tonne supersized toilet roll known as a 'mother reel'. Each one of these gives birth to 25,000 individual toilet rolls.
Meanwhile, Cherry Healey is at Britain's oldest toilet factory, where they churn out 1,000 loos a day. And she gets the bum deal of following the flush through the sewers and water treatment works of Brighton, finding out how sewage is cleared of debris, grease and bacteria, and transformed into clean water in a little over an hour after flushing. She has a cheeky encounter with a high-tech Japanese toilet and heads to Cranfield University to see a prototype toilet that does away with the need for water altogether. Could this be the toilet of the future that gives one-third of the world's population access to efficient sanitation?
Historian Ruth Goodman finds out what was used to wipe with before the invention of toilet paper. She discovers that the weapon of choice in the American midwest was a dried-out corn cob. And that it wasn't until the 1930s that toilet paper was guaranteed 'splinter free'. She is also in myth-busting mode, finally laying to rest the idea that Thomas Crapper invented the modern toilet. She heads into the House of Lords to check out an 18th-century flushing toilet, still in use today, and discovers that the Great Stink of 1858 expedited a period of sanitary invention that led to the toilet we know today.
Last on
Music Played
Timings (where shown) are from the start of the programme in hours and minutes
00:02

Katy Perry

California Gurls (feat. Snoop Dogg)

00:07

The Phoenix Foundation

Buffalo

00:09

Paloma Faith

Guilty

00:10

Stereophonics

All In One Night

00:12

Pyotr Ilyich Tchaikovsky

The Sleeping Beauty (Panorama)

Orchestra: London Symphony Orchestra. Conductor: André Previn.

00:16

Bad Sounds

Living Alone

00:16

Crystal Fighters

Live For You

00:26

Fickle Friends

Vanilla

00:28

Royal Blood

Figure it Out

00:30

Rae Morris

Lower The Tone

00:34

Eliza and the Bear

It Gets Cold

00:35

Fickle Friends

Hard To Be Myself

00:37

Paloma Faith

Till I'm Done

00:37

Louis Berry

25 Reasons

00:41

Calvin Harris

Acceptable In The 80s

00:41

Chase & Status

This Moment - Instrumental

00:45

Noel Gallagher's High Flying Birds

She Taught Me How To Fly

00:45

CHVRCHES

Clearest Blue

00:48

Dua Lipa

Be The One

00:55

Laura Mvula

Phenomenal Woman

00:57

Coldplay

All I Can Think About Is You

00:57

Tom Grennan

Found What I've Been Looking For
Credits
| Role | Contributor |
| --- | --- |
| Presenter | Ruth Goodman |
| Presenter | Cherry Healey |
| Presenter | Gregg Wallace |
| Production Company | Voltage TV Productions Ltd |
| Music | Steve Tait |
| Sound | Geraint Lewis |
| Sound | Simon Cross |
| Director of photography | Chris Titus-King |
| Camera Operator | Rhys Plume |
| Colourist | Tim O'Brien |
| On-line editing | Jamie Home |
| Re-recording mixer | Michael Wood |
| Runner | Celeste Harper-Davis |
| Runner | Natalie Chodakowska |
| Production Coordinator | Rachel Drew |
| Production Manager | Samara Friend |
| Editor | Tim Hansen |
| Editor | Ruth Horner |
| Assistant Producer | Katie Louise Clarke |
| Assistant Producer | Fran Jarvis |
| Producer | Phillip Smith |
| Executive Producer | Jon Alwen |
| Executive Producer | Sanjay Singhal |
| Director | Emma Pound |
| Series Editor | Amanda Lyon |