Main content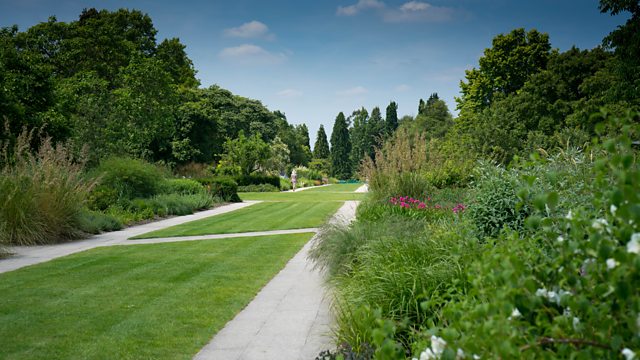 Correspondence Edition: Sir Harold Hillier Gardens
Peter Gibbs and the team are at the Sir Harold Hillier Gardens in Hampshire. Bob Flowerdew, Matt Biggs and Anne Swithinbank answer questions from the GQT inbox.
Peter Gibbs and the team are at the Sir Harold Hillier Gardens in Hampshire. Bob Flowerdew, Matt Biggs and Anne Swithinbank answer questions from the GQT inbox, postbag and from social media.
As the panellists take a tour around the gardens, they are joined by botanist Barry Clarke to answer questions on Brussel Sprouts, containing Lily-of-the-Valley in a rockery, and good garden uses for leftover wool.
They also help listeners with issues such as getting a Swiss Cheese plant to fruit, how to encouraging an Edgeworthia to get going, and moving a small oak tree.
A Somethin' Else production for BBC Radio 4.
Fact Sheet
Q – A few months ago I started growing Brussel Sprouts on my balcony but recently they've been attacked very badly by caterpillars.  I added a bit of washing up liquid to my watering can and it seems to have gotten rid of the caterpillars but the leaves are damaged.  Will they recover?
Anne – Sprouts are pretty resilient.  
Bob – End of November I'd take the rosette out and then the plant will put its energy into the sprouts
Q – Is my Jade plant ok outside in the summer and into the autumn?
Barry – This is sometimes known as a Money Plant and is often sold as a house succulent.  I don't think it will do outside beyond the summer
Bob – You have to move house plants gradually
Anne – This is Crassula ovata.  There's a good form called 'Hummel's Sunset 'which is orangey/yellow and is quite pretty
Q – How can I get rid of or contain Lily-of-the-Valley in a rockery?
Bob – Try and work around it!  It's difficult to get rid of.
Q – Is there a good gardening use for leftover wool?
Bob – Slugs don't like climbing over wool.  Birds will use it for nesting too.
Q – My Swiss Cheese plant produced a spectacular plant in May this year.  Is it likely to produce edible fruit?
Anne – They can fruit under glass
Bob – You get a big, Arum-like flower that can be a foot tall and so think that you can't bend them.  Then over a period of a few months the middle turns into the biggest, fattest, greenest banana.  Tastes a bit like pineapple and banana.  Watch out for the spicules as they can irritate.  Its Latin name is Monstera deliciosa. 
Matt – They do have to be really ripe before you eat them
Herbaceous borders:
Anne – Jasmine 'Clotted Cream'; Clematis
Q – I have additional petals growing from the centre of my sunflowers.  Why is happening?
Bob – Phyllotaxis is the word for this.  Can be caused by frost damage, bite of an insect, it can be genetic; lots of reasons. 
Q – I bought an Edgeworthia and am struggling to get it going.  What can I do?
Anne – Edgeworthia chrysantha is the usual variety.  It is essentially a woodland plant so they will like a sheltered position. 
Barry – They are part of the Daphne family and are quite fickle.
Q – Why would a plant struggle in too-big-a-pot but not in open soil?
Anne – It's normally to do with drainage.  In a pot there won't be airways; whereas in the open soil there will.  In a pot use 50/50 John Innes No2/soilless compost and put a bit of grit in there too. 
Q – In late-May I planted tomatoes, aubergine, cucumber and a yellow habanero pepper plant in my greenhouse.  The cucumber is struggling; what is wrong?
Bob – There is a variety called Crystal Apple that might look like this (like a giant gooseberry).  The seed could have been hybridised. 
List of national collections including:
Oaks
Cornus (Dogwood)
Cotoneaster
Ligustrums
Rubus
Giant tulip trees (Magnolia campbellii)
Q – I have an oak sapling in my small garden.  How can I move it to a place where it can thrive?
Barry – Oaks are tricky to move when they're very young.  Only move in the dormant period. 
Q – I've lost half my loganberry crop to raspberry beetle.  If tried using a pheromone in a trap but this isn't reducing the problem enough.  What is the best thing to do?
Bob – As I make jelly rather than jam I manage to strain them out!  Like Gooseberry Sawfly they can disappear of their own accord. 
Shaded area conversation:
Gunnera
Heleniums
Flox
Q – Is there a suitable pot plant to leave on a grave all year round and with long periods with watering outside of rainfall? 
Bob – Sempervivums (Houseleeks).  The arachnoideum variety almost looks like it has cobwebs growing on it.
Q – Why has my Hydrangea changed colour this summer?  Up until now it has been mauve pink but no it is blue.  Why?
Barry – They can change colour for a number of reasons.  Soil is a big one.  Blue hydrangeas come from acidic soil.  Temperature can have some effect. 
Q – We have pomegranate flowers for the first time in thirty years.  What other unusual things have occurred during this prolonged hot summer?
Matt – I've got a plant called Chitalpa tashkentensis which has flowered for the very first time.  Fruits on the Sorbus have been really positively affected by the severe cold followed by the prolonged heat. 
Bob – Peppers, aubergines, melons have all been loving it! 
Peter – Echinops has been the one for me