Main content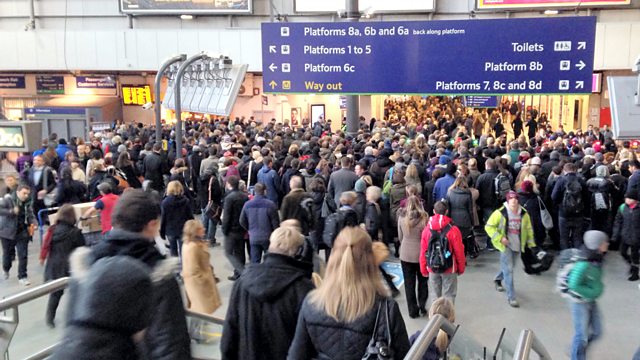 Chaos on the railways
Passengers on trains run by Northern and Govia Thameslink have faced weeks of disruption. David Aaronovitch asks why this happened and if new timetables will resolve the crisis.
In May, what was billed as the biggest ever overhaul of train timetables led to widespread rail disruption - why has this new timetable caused such rail chaos this summer?
Since then, passengers travelling on the services of two rail franchises - Govia Thameslink and Northern - have suffered weeks of cancellations and delays.
The overhaul was aimed at improving punctuality and boosting capacity, but what passengers got was hundreds of trains removed from service as the franchises struggled to cope with the planned changes.
Transport Secretary Chris Grayling has defended his handling of the situation and pointed the finger at the rail industry - but who is really responsible? And can long-suffering passengers trust that the disruption will finally be brought to an end - and not repeated?
David Aaronovitch assesses what led to such chaos on the railway and what the disruption says about the state of Britain's railways.
CONTRIBUTORS
Tony Miles, Modern Railways magazine
Dieter Helm CBE, Professor of Economic Policy at Oxford University.
Lord Adonis, former Transport Secretary and former Chairman of the National Infrastructure Commission.
Last on

Public ownership is a popular idea with voters, but would it improve Britain's railways?

How well equipped is Britain today to defend itself both at home and overseas?

In its 70th year the NHS is in a winter crisis again. What will it take to fix it?
Broadcast