Main content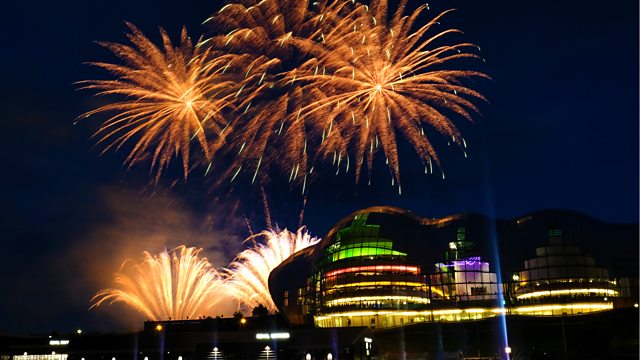 Degna Stone meets artists including Lubaina Himid and Ryan Gander as they show new work at the Great Exhibition of the North and explores work embracing pioneering technology.
In the final part of the Radio 4 series 'The Great Exhibition of the North', Degna Stone spends time at the exhibition itself to look at how some of the region's visual artists are embracing its broader themes of innovation and technology, making work that examines and celebrates the ways in which the north has stood both historically and in the present day at the forefront of technological discovery.
Ryan Gander, one of the most innovative artists at work today, watches on as his major new sculpture - 'a charm bracelet for a giant' obliquely representing northern inventions that emit light - is put in place on the banks of the River Tyne. Degna meets Purva Chawla and Adele Orcajada inside their geodesic dome, made up of scores of triangles made out of traditional textiles, as well as the most cutting edge materials such as graphene and self-healing concrete. These, they tell her, are art works in their own right, whose beauty shines in the space of Gateshead's Baltic Gallery. Degna also finds out how increased rents for young artists are, as in London previously, forcing them out of their studio spaces in cities like Manchester and Sheffield.
Finally Degna meets two of the area's most eminent artists - Turner prize winner Lubaina Himid and photographer Sirkka-Liisa Konttinen - both of whom have, like her, made a home in the north, to hear why they have found it to be such an inspirational and productive place to base themselves.
Last on

Broadcast