Main content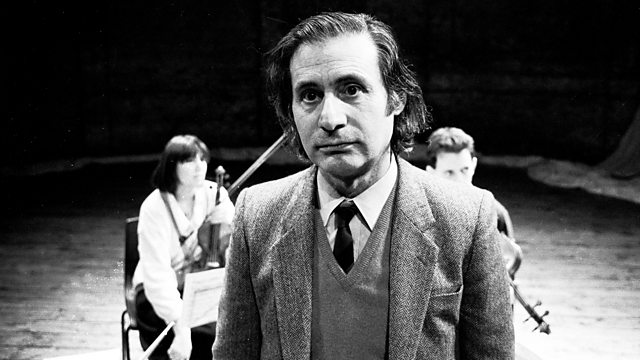 Donald Macleod explores the strange, brilliant and sometimes nightmarish world of Soviet composer Alfred Schnittke. Today, why Schinittke was seen as Shostakovich's musical heir.
Donald Macleod explores the strange, brilliant and occasionally nightmarish world of the Soviet composer Alfred Schnittke. Today - the composer's role as heir to Shostakovich.
The music of Alfred Schnittke (1934-1998) is like being lost in a hall of mirrors. Staring back at you is the whole of music history - from Bach to modern pop via tangos, Soviet work songs, Gregorian chant and Viennese waltzes - refracted and distorted, and woven together to create a uniquely personal style. Thrilling, grotesque, occasionally nightmarish - Schnittke creates a world where everything has a hidden meaning. Beethoven's Fifth suddenly springs terrifyingly out of the darkness in the midst of an otherwise chaotic symphony. Or a cheap Russian pop song appears inexplicably amidst a Baroque chorale. Schnittke's world of suppressed meanings perfectly captured life under the cosh of Soviet Communism. All this week, Donald Macleod unpicks the strands of a musician often seen as the heir to Shostakovich - and perhaps the last truly great composer of the 20th century.
Donald begins the week by exploring the connections - musical, psychological and spiritual - between Alfred Schnittke and the great titan of Soviet music, Dmitri Shostakovich. Featuring the second movement of Schnittke's utterly remarkable First Symphony - a gargantuan, postmodernist fever-dream of a piece in which tangos, Bach, marching bands, Beethoven, honky-tonk pianos, electric guitars and Viennese waltzes collide in a vast particle-accelerator of musical history.
Concerto Grosso No 1 (version for flute, oboe, harpsichord, prepared piano and strings) (2nd mvt)
Sharon Bezaly, flute
Christopher Cowie, oboe
Cape Philharmonic Orchestra
Owain Arwel Hughes, conductor
Violin Concerto No 1 (2nd mvt)
Mark Lubotsky, violin
Malmo Symphony Orchestra
Eri Klas, conductor
Piano Quintet (2nd mvt - "In Tempo Di Valse")
Erato Alakiozidou, piano
Lutoslawski Quartet
Violin Sonata No 1
Roman Mints, violin
Katya Apekisheva, piano
Symphony No 1 (2nd mvt)
Royal Stockholm Philharmonic Orchestra
Leif Segerstam, conductor
Producer: Steven Rajam for BBC Wales.
More episodes
Previous
You are at the first episode