Main content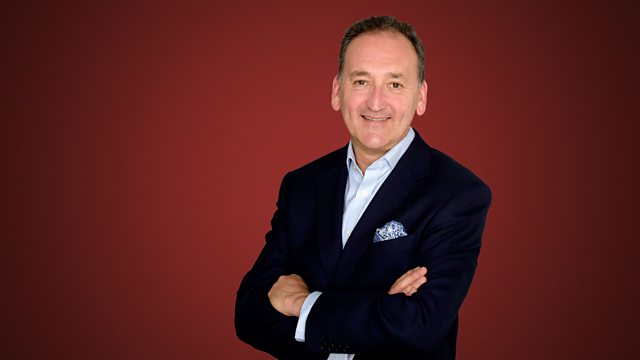 Monday with Ian Skelly - Bach, Gyles Brandreth, WW1 Toys
Ian Skelly with the best in classical music, plus this week's guest, Gyles Brandreth.
Ian Skelly with Essential Classics - the best in classical music.
0930 Your ideas for companion pieces on the Essential Classics playlist. Today's starter is the chorus Jesu, Joy of Man's Desiring from Bach's Cantata No 147.
1010 Time Traveller - A quirky slice of cultural history. Naomi Paxton investigates the World War I boom in military-themed children's toys.
1050 This week Ian's guest is the writer, broadcaster, and former MP, Gyles Brandreth, who talks about some of the things that have inspired him throughout his life and career.
1130 Slow Moment - time to take a break for a moment's contemplation, today with music for piano and two harps by Paul Hindemith.
Other music on today's programme includes a string quartet by Haydn, a Concerto Grosso by Handel, and the beguiling Adagio from Dvorak's Piano Concerto in G minor.
Last on
Music and featured items
Giovanni Gabrieli

Magnificat à 12 (1615)

Choir: Ex Cathedra. Ensemble: His Majestys Sagbutts and Cornetts. Ensemble: Concerto Palatino. Conductor: Jeffrey Skidmore.

Gabrieli: Sacred Symphonies: Ex Cathedra/Concerto Palatino/Skidmore.
Hyperion.
9.

Frédéric Chopin

Waltz in C sharp minor, Op 64 No 2

Performer: Maria João Pires.

Chopin: Piano works: Maria Joao Pires/Pavel Gomziakov.
Deutsche Grammophon.
6.

Heinrich Marschner

Hans Heiling (Overture)

Orchestra: Academy of St Martin in the Fields. Conductor: Neville Marriner.

German Operetta Overtures: Academy of St Martin in the Fields/Marriner.
Philips.
6.

César Franck

Sonata for Violin & Piano in A Major (arr. J Delsart for cello & piano) (4th mvt)

Performer: Dmitry Kouzov. Performer: Peter Laul. Music Arranger: Jules Delsart.

French Favorites: Debussy, Franck, Ravel & Chopin.
Delos.
204.

Jean‐Philippe Rameau

La Dauphine

Performer: Steven Devine.

Rameau: Complete Solo Keyboard Works.
Resonus.
032.

Johann Sebastian Bach

Jesus bleibet meine Freude (Cantata No 147)

Conductor: Sir John Eliot Gardiner. Orchestra: English Baroque Soloists. Choir: Monteverdi Choir.

J.S. Bach: Cantatas nos. 147 & 140: Monteverdi Choir/English Baroque Soloists/Ga.
Archiv Produktion.
17.

Antonín Dvořák

Piano Concerto in G minor, Op 33 (2nd mvt)

Performer: Pierre‐Laurent Aimard. Orchestra: Royal Concertgebouw Orchestra. Conductor: Nikolaus Harnoncourt.

Gustav Mahler

Trost im Unglück (Des Knaben Wunderhorn)

Singer: Thomas Hampson. Ensemble: Vienna Virtuosi.

Joseph Haydn

String Quartert in E flat major, Op 64 No 6

Ensemble: Doric String Quartet.

Haydn String Quartets Op 64.
Chandos.
009.

Trad.

The British Grenadiers

Ensemble: Band of HM Royal Marines.

Her Majesty's Royal Marines.
Polydor.
2383302.

Time Traveller: Military toys for chidren

Duration: 02:01

Trad.

Lillibulero

Ensemble: Band of HM Royal Marines.

Her Majesty's Royal Marines.
Polydor.
2383302.

Trad.

Hielan' Laddie

Ensemble: Band of HM Royal Marines.

Her Majesty's Royal Marines.
Polydor.
2383302.

Leopold Mozart

Cassation in G major (Toy Symphony) (1st mvt)

Orchestra: Amsterdam Baroque Orchestra. Conductor: Ton Koopman.

From Kindersinfonie to Bauernhochzeit.
Challenge Classics.
013.

Teresa Carreño

Un rêve en Mer, Op.28

Performer: Clara Rodriguez.

Teresa Carreno: Clara Rodriguez.
Nimbus.
10.

Johann Sebastian Bach

Chorale Prelude 'Ich ruf' zu dir, Herr Jesu Christ', BWV 639

Performer: Murray Perahia. Music Arranger: Ferruccio Busoni.

William Byrd

Ave verum corpus

Choir: ORA. Conductor: Suzi Digby.

Upheld by Stillness.
Harmonia Mundi.
013.

Pyotr Ilyich Tchaikovsky

Waltz from The Sleeping Beauty

Orchestra: Mariinsky Orchestra. Conductor: Valery Gergiev.

Sleeping Beauty.
Philips.
007.

Edvard Grieg

Homeward, Op.62 no.6

Performer: Leif Ove Andsnes.

Grieg Lyric Pieces.
EMI.
6.

Johan Halvorsen

Intrata (Suite ancienne, Op 31)

Orchestra: Norwegian Radio Orchestra. Conductor: Ari Rasilainen.

HALVORSEN: Suite ancienne; Mascarade.
NKF.
1.

Cultural Inspirations: Gyles Brandreth talks about the influence of Church Music on his life

Duration: 04:15

Hubert Parry

Dear Lord and Father of mankind

Choir: Choir of Westminster Abbey. Performer: Daniel Cook.

George Frideric Handel

Concerto grosso in C major HWV.318 'Alexander's Feast'

Orchestra: The English Concert. Director: Trevor Pinnock.

Concerto Grosso 'Alexander's Feast'.
ARCHIV.
1-4.

Richard Strauss

Sonatina No 2 in E flat major for 16 wind instruments (3rd mvt)

Ensemble: Armonia Ensemble.

Richard Strauss - Wind Sonatas.
Berlin Classics.
006.

Wolfgang Amadeus Mozart

Rondo in B flat major, K 269

Performer: Isabelle Faust. Ensemble: Il Giardino Armonico. Conductor: Giovanni Antonini.

Mozart: Violin Concertos.
Harmonia Mundi.
4.

Paul Hindemith

Concert Music for piano, brass & 2 harps, Op 49 (2nd mvt)

Performer: İdil Biret. Orchestra: Yale Symphony Orchestra. Conductor: Toshiyuki Shimada.

Hindemith: The Complete Piano Concertos.
Naxos.
003.

Claudio Monteverdi

Chiome d'oro (Madrigals, Book 7)

Singer: Anna Crookes. Singer: Clare Wilkinson. Ensemble: I Fagiolini. Director: Robert Hollingworth.

Monteverdi Fire and Ashes.
CHANDOS.
12.

Gioachino Rossini

William Tell (Overture)

Orchestra: Chamber Orchestra of Europe. Conductor: Claudio Abbado.

Rossini: Overtures: Chamber Orchestra of Europe, Abbado.
Deutsche Grammophon.
Broadcast

The Classical Companion Collection