Main content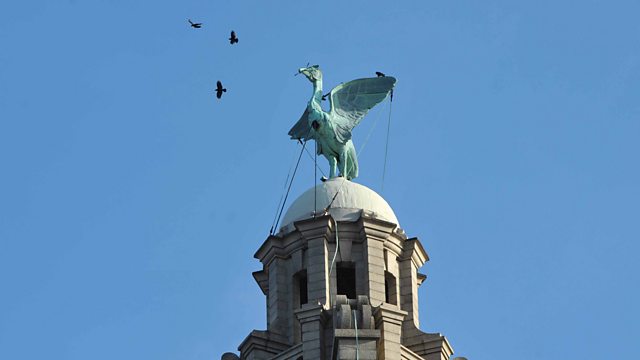 Beautiful World, Where Are You?
A reflection on ideas of upheaval inspired by Schiller's poem, 'The Gods of Greece', set to music by Schubert, and the work behind the theme for the 10th Liverpool Biennial.
The line 'Beautiful world, where are you?' derives from a 1788 poem 'The Gods of Greece' by the German poet Friedrich Schiller which Franz Schubert set in 1819. Between these dates Europe saw profound change, from the French Revolution to the fall of the Napoleonic Empire. The line from Schiller's poem was the theme for the 2018 Liverpool Biennial and it sets the tone for a Words and Music exploring change.
The readers are Nyla Levy and Steve Toussaint. A full list of the words and music can be found on the Words and Music website.
Caliban's the Isle is Full of Noises speech from the Tempest ends darkly, with an injunction to murder Prospero. No-one should listen to promises of Beautiful Worlds and not realise there will be a price to pay. Then there is reaching for the ultimate with John Coltrane and Favourite Things - ecstatic terrifying music. Then those who have tried to think their way to understanding, Pythagoras, Galileo, Ernest Rutherford and Roger Penrose. and those who, faced with reality, take refuge in dreaming like Elizabeth Barrett Browning or John Lennon, reaching into a past he suspects never existed. We lurch from the promise of the Statue of Liberty to the despair of refugees and victims of recent wars and those who refuse to give in to despair. So music and words from around the world and across time, from Hesiod and Nassir Shamma, John Agard and Gillian Clarke, Shelley and Faiz Ahmed Faiz, The Waterboys, Joanna Kavenna, Ambrose, Berthold Brecht and Penelope Lively, Galilei, Simeon ten Holt, Sally Beamish, Bruckner, Max Richter and Josquin des Prez
Producer: Jacqueline Smith.
Music Played
Timings (where shown) are from the start of the programme in hours and minutes
William Shakespeare

from The Tempest, read by Steve Toussaint and Nyla Levy

Derek Mahon

The World of J. G. Farrell (extract), read by Steve Toussaint

Derek Mahon

The World of J. G. Farrell (extract), read by Nyla Levy

Friedrich Schiller, translated by Richard Wigmore

The Gods of Greece, read by Steve Toussaint

Gillian Clarke

Lament, read by Nyla Levy

William Wordsworth

The World Is Too Much With Us, read by Steve Toussaint

Hesiod, translated by Hugh G. Evelyn-White

Works and Days (extract), read by Nyla Levy

Hesiod, translated by Hugh G. Evelyn-White

Works and Days (extract), read by Steve Toussaint

Hesiod, translated by Hugh G. Evelyn-White

Works and Days (extract), read by Steve Toussaint

Hesiod, translated by Hugh G. Evelyn-White

Works and Days (extract), read by Nyla Levy

Hesiod, translated by Hugh G. Evelyn-White

Works and Days (extract), read by Steve Toussaint

Penelope Lively

Going Back (extract), read by Nyla Levy

Sean Borodale

RESPONSE TO FINDING A FOSSILISED FERN AT WRITHLINGTON COAL BATCHES NEAR RADSTOCK (extract), read by Steve Toussaint

Saint Ambrose, translated by John J. Savage

The Six Days of Creation (extract), read by Nyla Levy

Saint Ambrose, translated by John J. Savage

extract The Six Days of Creation, read by Steve Toussaint

Elizabeth Barrett Browning

The Best Thing in the World, read by Nyla Levy

Arthur C. Clarke

The Songs of Distant Earth (extract), read by Steve Toussaint

Edward Lear

The Dong With the Luminous Nose (extract), read by Nyla Levy

Bertolt Brecht, translated by Arvind Gupta

Galileo (extract), read by Steve Toussaint

Joanna Kavenna

A Field Guide to Reality (extract), read by Nyla Levy

Roger Penrose

Shadows of the Mind: A Search for the Missing Science of Consciousness (extract), read by Steve Toussaint

Emma Lazarus

The new Colussus, read by Nyla Levy

John Agard

Old World New World (© John Agard 2000 reproduced by kind permission of John Agard c/o Caroline Sheldon Literary Agency Ltd.), read by Steve Toussaint

Karen Press

Hope For Refugees, read by Nyla Levy

Faiz Ahmed Faiz, translated by Naomi Lazard

When Autumn Came, read by Steve Toussaint

Percy Bysshe Shelley

Ode to the West Wind (extract), read by Steve Toussaint

Douglas Stewart

Rutherford (extract), read by Nyla Levy