Main content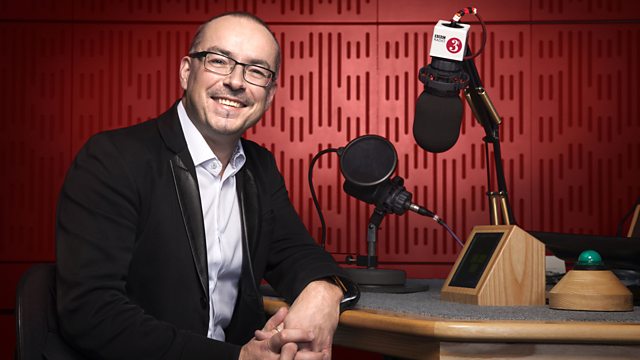 Andrew McGregor with Sarah Devonald
Sarah Devonald with five indispensable recordings of works by Wolfgang Amadeus Mozart, one of the featured composers at the 2018 BBC Proms and explains, why they need to be heard.
with Andrew McGregor
9.30
Proms Composer: Wolfgang Amadeus Mozart
This week Sarah Devonald chooses five indispensable recordings of the music of one of the best known and most prolific of all composers, whether child prodigy or mature master.
11.45
Proms Recording: Richard Strauss 4 Last Songs with soprano Felicity Lott and the Royal Scottish National Orchestra conducted by Neeme Järvi.
Last on

Summer Record Review
9.00am
Venice 1629
Music by Castello, Monteverdi, Marini etc.
The Gonzaga Band
Resonus Classics RES10218
http://www.resonusclassics.com/venice-1629-the-gonzaga-band-jamie-savan-res10218
Rachmaninov: Études-tableaux
Steven Osborne (piano)
Hyperion CDA68188
https://www.hyperion-records.co.uk/dc.asp?dc=D_CDA68188
American Symphonies
Walter Piston Symphony No. 6, Samuel Jones Symphony No. 3 'Palo Duro Canyon', Stephen Albert Symphony No. 2   
London Symphony Orchestra
Lance Friedel
BIS BIS2118 (Hybrid SACD)
http://bis.se/conductors/friedel-lance/american-symphonies
Edita Gruberová
Live recordings of Mozart, Michael Haydn, Donizetti, Bellini, Rossini, Handel, and Johann Strauss II
Edita Gruberova (soprano)
Munich Radio Orchestra
Regensburger Domspatzen
Mark Elder, Lamberto Gardelli, Leopold Hager, Marcello Viotti (conductors)
BR Klassik 900325
9.30am – Proms Composer – Sarah Devonald on Mozart

Mozart: Serenade in B flat, K.361 'Gran Partita' & Serenade, K.375
Netherlands Wind Ensemble
Edo de Waart
Philips 4207112

Mozart - Symphonies Nos. 29, 31, 32, 35 & 36
Scottish Chamber Orchestra
Sir Charles Mackerras
LINN CKD350 (2 Hybrid SACDs)
http://www.linnrecords.com/recording-mozart-symphonies-29--31--paris---32--35--haffner----36--linz-.aspx
Mozart: Violin Concertos Nos 1, 5 & Sinfonia concertante
Vilde Frang (violin)
Maxim Rysanov (viola)
Arcangelo
Jonathan Cohen
Warner Classics 2564627677
http://www.warnerclassics.com/release/3253637,0825646276776/frang-vilde-mozart-violin-concertos-nos-1-5-and-sinfonia-concertante
Mozart: Le nozze di Figaro, K492
Patrizia Ciofi - Soprano
Véronique Gens - Soprano
Marie McLaughlin - Soprano
Elisabeth Rapp – Soprano
Nuria Rial - Soprano
Yeree Suh - Soprano
Angelika Kirchschlager - Mezzo-soprano
Kobie van Rensburg - Tenor
Antonio Abete - Bass
Lorenzo Regazzo - Bass
Simon Keenlyside - Baritone
Collegium Vocale Gent
Concerto Köln
René Jacobs
Harmonia Mundi HMC901818.20 (3 CDs)
http://www.harmoniamundi.com/#!/albums/731
Mozart: Piano Concerto No. 17 in G major, K453, etc.
Maria Joao Pires (piano)
The Chamber Orchestra of Europe
Claudio Abbado
DG 4399412
https://www.deutschegrammophon.com/gb/cat/4399412
10.20am – New Releases
Schubert: Symphony No. 9 in C major, D944 'The Great'
Symphonieorchester des Bayerischen Rundfunks
Mariss Jansons
BR Klassik 900169
Haydn 2032 Volume 6 - Lamentatione
Kammerorchester Basel
Giovanni Antonini
Alpha ALPHA678
https://outhere-music.com/en/albums/haydn-2032-vol-6-lamentatione-alpha-678
Kalevi Aho: Wind Quintets Nos. 1 & 2
Berlin Philharmonic Wind Quintet
BIS BIS2176 (Hybrid SACD)
http://bis.se/orchestras-ensembles/berlin-philharmonic-wind-quintet/kalevi-aho-wind-quintets-1-2
Shostakovich: Symphonies Nos. 4 & 11 'The Year 1905'
Boston Symphony Orchestra
Andris Nelsons
DG 4835220 (2 CDs)
https://www.deutschegrammophon.com/gb/cat/4835220
10.55am – New Releases – Jeremy Summerly on Harmonia Mundi 60th birthday boxes

GENERATION HARMONIA MUNDI – I. The Age of Revolutions (1958-1988)
HMX2908904.19 (16 CDs)
http://www.harmoniamundi.com/#!/albums/2333
GENERATION HARMONIA MUNDI – II. The Family Spirit (1988-2018)
HMX2908920.37 (18 CDs)
http://www.harmoniamundi.com/#!/albums/2336
11.45am – BAL Proms Choice – Strauss' Four Last Songs as chosen by Hilary finch on 13th April 2002
Four Last Songs and other works
Felicity Lott (soprano)
Royal Scottish National Orchestra
Neeme Jarvi
Chandos CHAN 10075 (CD)
https://www.chandos.net/products/catalogue/CHAN%2010075


Broadcast