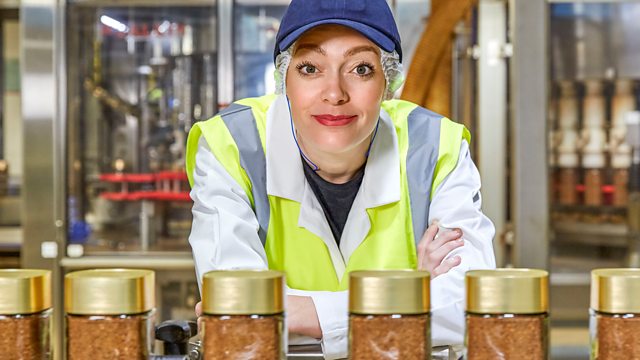 Coffee
Gregg Wallace is in Derbyshire at an enormous coffee factory where they produce 175,000 jars of instant coffee every day. He follows the production of freeze-dried instant coffee, from the arrival of 27 tonnes of Brazilian green coffee beans right through to dispatch. Along the way he chills out in a freezer cooled to -46 degrees Celsius and discovers how they give you that hit of freshly brewed coffee smell when you pierce the foil lid. They extract the aroma and put it back in just before the instant coffee granules head into the jars.
Meanwhile, Cherry Healey learns about the chemistry of coffee. She finds that roasting alters its chemical composition, and listens for the 'first crack' as steam splits the bean along its seam. She also goes cold turkey on caffeine, giving up her coffee habit for five days to understand how this most commonly used psychoactive drug affects her body and brain. She discovers that the caffeine withdrawal headache is due to increased blood flow to the brain. And she is at Kew Gardens, where they have concerning evidence revealing that climate change is affecting coffee harvests worldwide. Cherry samples a brew made from the beans of a coffee species that could cope in these warmer growing conditions, and which could ensure a future for the daily cuppa.
Historian Ruth Goodman investigates the origins of instant coffee. She tastes a version that looks very like axle grease which was drunk during the American Civil War in the 1860s, and finds out why it began being referred to as 'a cup of Joe'. She also visits the site of the UK's very first coffee house, which sprang up in a London churchyard in 1652, and learns that the early passion for coffee led to the founding of modern institutions, including the Stock Exchange, auction houses and newspapers.
On TV
More episodes
Previous
You are at the first episode
Credits
| Role | Contributor |
| --- | --- |
| Presenter | Ruth Goodman |
| Presenter | Cherry Healey |
| Presenter | Gregg Wallace |
| Production Company | Voltage TV Productions Ltd |
| Music | Steve Tait |
| Sound | Geraint Lewis |
| Sound | Simon Cross |
| Director of photography | Chris Titus-King |
| Camera Operator | Rhys Plume |
| Colourist | Tim O'Brien |
| On-line editing | Jamie Home |
| Re-recording mixer | Michael Wood |
| Runner | Celeste Harper-Davis |
| Runner | Alex Masters |
| Production Coordinator | Rachel Drew |
| Production Coordinator | Lily Jane Stead |
| Production Manager | Samara Friend |
| Editor | Matthew Reinders |
| Editor | Ben Nugent |
| Assistant Producer | Katie Louise Clarke |
| Assistant Producer | Pete Matthews |
| Assistant Producer | Fran Jarvis |
| Producer | Phillip Smith |
| Executive Producer | Jon Alwen |
| Executive Producer | Sanjay Singhal |
| Director | Emma Pound |
| Series Editor | Amanda Lyon |