Main content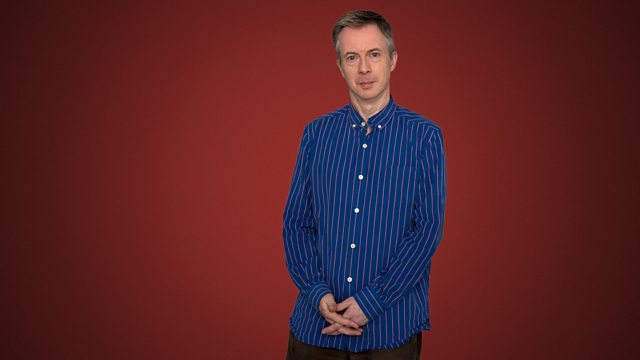 Oh, stop thy singing, maiden fair
John Shea presents a concert given by the Quasars Ensemble at the 2018 Radio_Head Awards Festival in Bratislava of works by Martinu, Saint-Saens and Ferenczy.
John Shea presents a concert given by the Quasars Ensemble at the 2018 Radio_Head Awards Festival in Bratislava.
12:31 AM
Bohuslav Martinů (1890-1959)
The Kitchen Revue (La revue de cuisine) - suite from the ballet for 6 instruments
Quasars Ensemble, Ivan Buffa (conductor)
12:45 AM
Camille Saint-Saëns (1835-1921)
The Carnival of the Animals (Le carnaval des animaux)
Quasars Ensemble, Ivan Buffa (conductor)
1:09 AM
Oto Ferenczy (1921-2000)
Concertino per 10 stromenti (1948)
Quasars Ensemble, Ivan Buffa (conductor)
1:27 AM
Moyzes, Alexander [1906-1984]
Symphony no. 7 Op.50
Slovak Radio Symphony Orchestra, Ladislav Slovák (conductor)
2:07 AM
Ligeti, Gyorgy (1923-2009)
String Quartet no 1 (Metamorphoses nocturnes)
Casals Quartet: Vera Martínez-Mehner and Abel Tomàs (violins), Jonathan Brown (viola), Arnau Tomàs (cello)
2:31 AM
Lauber, Joseph (1864-1952)
Sonata Fantasia in una parte for flute & piano (Op.50)
Marianne Keller Stucki (flute), Agathe Rytz-Jaggi (piano)
2:44 AM
Beethoven, Ludwig van (1770-1827)
Piano Concerto No.4 in G major (Op.58)
Nelson Goerner (piano), Norwegian Radio Orchestra, Ari Rasilainen (conductor)
3:19 AM
Rachmaninov, Sergey (1873-1943), added violin part by Kreisler, Fritz (1875-1962)
Two Songs: When night descends in silence ; Oh, stop thy singing, maiden fair
Fredrik Zetterström (baritone), Tobias Ringborg (violin), Anders Kilström (piano)
3:28 AM
Califano, Arcangelo (fl.1700-1750)
Sonata for 2 oboes, bassoon and keyboard in C major
Ensemble Zefiro
3:37 AM
Bach, Johann Sebastian (1685-1750) arr. Andrew Manze
Toccata and Fugue in D minor (BWV.565) - reconstructed for violin solo in A minor by Andrew Manze
Andrew Manze (violin)
3:46 AM
Pachelbel, Johann (1653-1706) [text: Psalm 46]
Gott ist unser Zuversicht - motet for double chorus & bc
Cantus Cölln , Konrad Junghänel (director)
3:50 AM
Mozart, Wolfgang Amadeus (1756-1791)
12 Variations for piano in B flat (K.500)
Simon Crawford-Phillips (piano)
4:00 AM
Parker, Horatio William (1863-1919)
A Northern Ballad
Albany Symphony Orchestra, Julius Hegyi (conductor)
4:13 AM
Yuste, Miguel (1870-1947)
Estudio melodico (Op.33) for clarinet and piano
Christo Barrios (clarinet), Lila Gailing (piano)
4:21 AM
Mendelssohn, Felix (1809-1847)
Ruy Blas - overture, Op 95
BBC Symphony Orchestra, Jiří Bělohlávek (conductor)
4:31 AM
Mikhail Ivanovich Glinka (1804-1857)
Nocturno for harp
Branka Janjanin-Magdalenic (Harp)
4:36 AM
Bach, Johann Michael (1648-1694)
Liebster Jesu, hor mein Flehen - dialogue for 5 voices, 2vn, 2va & bc
Maria Zedelius (soprano), David Cordier (alto), Paul Elliott and Hein Meens (tenors), Michael Schopper (bass), Musica Antiqua Koln, Reinhard Goebel (director)
4:44 AM
Haydn, Joseph (1732-1809)
Trio for keyboard and strings in G major (H. 15.25) 'Gypsy rondo'
Grieg Trio
4:58 AM
Klami, Uno (1900-1961)
Revontulet - Fantasy for orchestra, Op 38
Finnish Radio Symphony Orchestra, Sakari Oramo (conductor)
5:19 AM
Ravel, Maurice (1875-1937)
Gaspard de la nuit for piano
Nikita Magaloff (piano)
5:40 AM
Gombert, Nicolas (c.1495-c.1560)
Elegie sur la mort de Josquin Musae Jovis (6 part)
Studio de Musique Ancienne de Montréal, Christopher Jackson (director)
5:48 AM
Dauvergne, Antoine (1713-1797)
Concert de simphonies à IV parties in F major (Op.3 No.2)
Capella Coloniensis, William Christie (harpsichord and director)
6:10 AM
Beethoven, Ludwig van (1770 -1827)
Violin Sonata in E flat major Op.12/3
Alexandra Soumm (violin), Julien Quentin (piano).
Credit
| Role | Contributor |
| --- | --- |
| Performer | BBC Symphony Orchestra |