Main content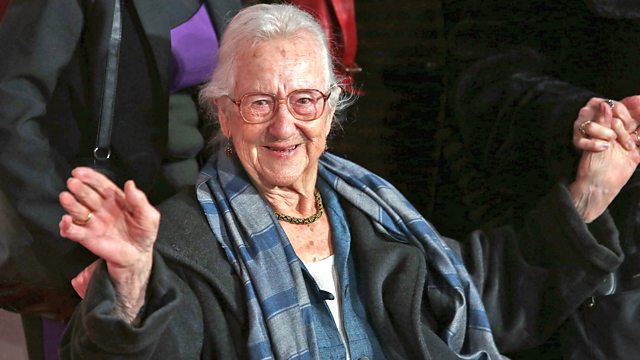 Charles Gimingham, Felicia Langer, Julian Tudor Hart, Anne Olivier Popham Bell, Adrian Cronauer
Julian Worricker on ecologist Charles Gimingham, lawyer Felicia Langer, doctor & campaigner Julian Tudor Hart, art scholar & editor Anne Olivier Bell, disc jockey Adrian Cronauer.
Pictured: Anne Olivier Popham Bell
Julian Worricker on:
Charles Gimingham, an environmentalist, described as the foremost expert on heather and moorland landscapes....
Human rights lawyer, Felicia Langer, who represented many Palestinians in the Israeli courts....
Campaigning doctor, Julian Tudor Hart, who pioneered the regular monitoring of blood pressure in patients....
Art historian, Anne Olivier Bell, who edited the five volumes of Virginia Woolf's diaries....
And the real-life Good Morning Vietnam DJ, Adrian Cronauer, inspiration for the film starring Robin Williams...
Archive clips from: Assignment: A Report From The Israeli-Occupied Golan Heights, Radio 4, 07/04/1982; On Behalf of the Working Class, BBC Wales, 07/11/1982; The Good Doctor, BBC TV/Worldwide, 07/10/1996; Newsnight, BBC Two, 23/01/2008; George Orwell Back at the BBC, Radio 4, 05/11/2017; Panorama: Life at 100, BBC One, 23/10/2017; Dear Diary, Episode 2, BBC Four, 11/01/2010; Good Morning Vietnam Revisited, Radio 2, 13/04/2015.
Charles Gimingham
Born 28 April 1923; died 19 June 2018, aged 95.
Last Word spoke to Professor Des Thompson, Principal Adviser on Biodiversity in Scottish Natural Heritage.
Felicia Langer
Born 9 December 1930; died 21 June 2018, aged 87.
Last Word spoke to lawyer Daphna Baram.
Julian Tudor Hart
Born 9 March 1927; died 1 July 2018, aged 91.
Last Word spoke to Professor Allyson Pollock, Director of the Institute of Health and Society at Newcastle University. 
Anne Olivier Popham Bell
Born 22 June 1916; died 18 July 2018, aged 102.
Last Word spoke to poet and literary editor Andrew McNeillie, and art historian and writer Frances Spalding.
Adrian Cronauer
Born 8 September 1938; died 18 July 2018, aged 79.
Credits
| Role | Contributor |
| --- | --- |
| Presenter | Julian Worricker |
| Interviewed Guest | Des Thompson |
| Interviewed Guest | Daphna Baram |
| Interviewed Guest | Allyson Pollock |
| Interviewed Guest | Andrew McNeillie |
| Interviewed Guest | Frances Spalding |