Main content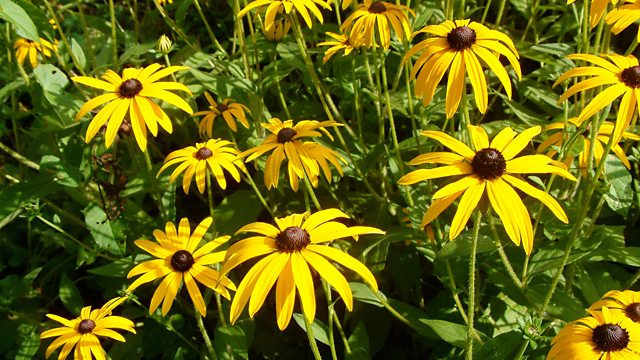 Ledbury Allotment Association
Peter Gibbs chairs the horticultural panel programme from Ledbury, Herefordshire. Pippa Greenwood, Chris Beardshaw and Anne Swithinbank take questions from amateur gardeners.
Peter Gibbs chairs the horticultural panel programme from Ledbury, Herefordshire. Pippa Greenwood, Chris Beardshaw and Anne Swithinbank take questions from amateur gardeners.
The team hears how Ledbury locals have been working hard to try and ensure a 12th RHS Britain in Bloom gold medal in a row, and they discuss tactics for gardening through the ongoing drought. There's also a question from one of GQT's long distance listeners who's travelled all the way from California to ask what makes the British so good at gardening.
Meanwhile, RHS Wisley Curator Matthew Pottage visits Surbiton to meet Myles Irvine, a remarkable back-garden-breeder of ornate and hardy passionflowers.
Produced by Darby Dorras
Assistant Producer: Hester Cant
A Somethin' Else production for BBC Radio 4.
Last on

Fact Sheet
Q - When can we expect a wide range of self-deadheading plants to be available?
Anne - When deadheading you need to remove the developing seeds to promote flower growth but not many bedding plants die in such a way that would allow for this to be done without a bit of help.
Pippa - Whilst it can be phenomenally boring, picking over the plants does mean you get to spot other problems earlier such as aphids or mildew.
Chris - You can always drink wine whilst you deadhead in the evening.
Anne - Not too much though.
Q - My Magnolia grandiflora has died on the north and east facing aspects of the tree, is it old age or can I save it?
Pippa - I don't think it's too old.
Anne - I think it would have been the "Beast from the East". Evergreens took a real hammering in the cold weather earlier this year. Now is time to take real care of it, make sure it is well-watered and put damp mulch over that well-watered ground.
Pippa - Prune out the (definitely) dead bits to save from infections, such as coral spot, which do well on dead wood. Remember to water under the branch line, not just around the trunk, as the newer, thinner roots spread out far.
Q - Can you please recommend a slow growing shrub that will survive in heavy clay soil with minimal care.
Anne - Escallonia 'Red Elf' - it roots very easily from cuttings and I've grown it very well in heavy clay soil. It has nice bold flowers and doesn't grow too large. It is best in a sheltered spot to keep it out of cold winds.
Chris - Nandina domestica (Sacred Bamboo) would do well as it is tough and vigorous, but isn't particularly spectacular. Lilacs work very well in heavy soils and tolerate all sorts of conditions. Miss Kim is an unusual one, very beautiful and requires very little pruning.
Q - Has the panel any design advice for a long narrow garden which slopes from side to side?
Chris - There are two different challenges here. For long and narrow gardens you want to fool the eye into thinking the garden is much wider and shorter than it actually is to make it seem more square. Using colour is one way to do this. Reds are more dominant than blues, so if you plant a red border at the end of the garden and blues, whites, and indigos on the sides, the garden seems shorter and wider. For the slope, the eye naturally travels to the lowest part of the garden. Get large foliage evergreens, tall and bulky, on the low side of the garden, and some shorter, wispier foliage on the high side of the garden. This along with putting the darker green ones closer to you transforms the whole garden.
Q - I have a silver birch planted about 7 years ago. A couple of weeks ago it started to look unhealthy with leaves turning yellow and brown. The other plants and trees around it are looking healthy but the neighbour's birch died last year. Is it the heat or could it have caught something?
Pippa - It could be heat and lack of moisture. Infections such as honey fungus does like to attack Silver Birch when stressed, so during times of drought do be aware.
Chris - You might find with a reasonable autumn and winter it will come back into bud and leaf next spring. Birch trees should be very resilient, for around 40 to 50 years you get good growth.
Pippa - Make sure you are watering anything you've recently planted, they're the most likely to be affected by the heat.
Chris - Try and water as deeply as possible, surface water will evaporate quickly.
Q - Do we need to be careful with water in water butts because of a risk of legionella?
Pippa - This hot weather is a major factor because the bacteria thrive in the warmer temperatures. The problems come when the water is a fine spray and legionella can be inhaled, for example if you connect a hosepipe to your water butt.  If you're putting your watering can under the butt to fill it then there is little danger. If you think your water butt is dirty, cleaning it is a good idea. Cleaning once a year should help avoid problems. You can also insulate your water butt / move it out of direct sunlight to keep the temperature down.
Q - Why are my Scarlet Emperor runner beans flowering but not setting beans?
Pippa - They are an incredibly thirsty plant if you want them to do well, so it is a watering problem. They should be a priority crop with deep, thorough watering and add a layer of mulch on top. Do put out water for birds too as they are desperate for moisture and will attack your plants looking for it.
Anne - I have some weeds growing around the beans but I have left them (the non-nasty ones) in to shade the surface of the soil! White flowered runner beans are thought of as better dealing with the heat than the red ones, so you may want to try that. Alternatively there are hybrid runner beans with French beans in them which self-pollinate, these also deal with heat very well.
Broadcasts