Main content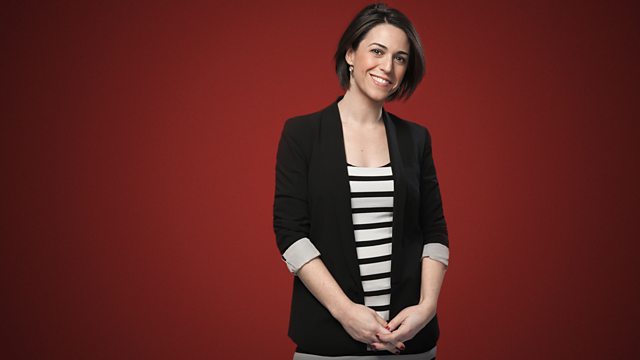 Wednesday with Suzy Klein - Albeniz Asturias, A Victorian drama school by the sea, Sheila Hancock
Suzy Klein with the best in classical music, plus this week's guest, actress Sheila Hancock.
Suzy Klein with Essential Classics - the best in classical music, including
0930 Your ideas for companion pieces on the Essential Classics playlist. Today's starter piece is Asturias from Albeniz' Suite Espanola: a piano piece which has become just as well known in its guitar transcription.
1010 Time Traveller - A quirky slice of cultural history - Naomi Paxton takes us to the UK's first ever drama school, in Margate.
1050 This week Suzy's guest is the actress and writer Sheila Hancock, who talks about some of the things that have inspired her throughout her life and career.
Other music on the programme includes Wagner's Siegfried Idyll, Britten's Simple Symphony and today's 'slow moment': a brief pause for reflection with organ music by Leon Boëlmann.
Last on
Music and featured items
Domenico Cimarosa

Il matrimonio segreto (Overture)

Orchestra: English Chamber Orchestra. Conductor: Daniel Barenboim.

Fritz Kreisler

Marche miniature viennoise

Performer: Joshua Bell. Performer: Paul Coker.

The Kreisler Album: Joshua Bell/Paul Coker.
Decca.
15.

Johann Sebastian Bach

Cantata No 51, 'Jauchzet Gott in allen Landen'

Singer: Elizabeth Watts. Orchestra: The English Concert. Director: Harry Bicket.

Bach - Cantatas.
Harmonia Mundi.
13.

Maurice Ravel

Noctuelles (Miroirs, No 1)

Performer: Yukyeong Ji.

Reflections.
Genuin.
501.

Edvard Grieg

Symphonic Dance, Op 64 No 2

Orchestra: Gürzenich-Orchester Köln. Conductor: Dmitri Georgievich Kitayenko.

Sibelius . Grieg.
Oehms Classics.
005.

Isaac Albéniz

Asturias [Leyenda] (Suite española no.1)

Performer: Alicia de Larrocha.

Albeniz: Iberia; Navarra; Suite Espanola - Larrocha.
Decca.
9.

Ludwig van Beethoven

Egmont, Op 84 (Overture)

Orchestra: Bavarian Radio Symphony Orchestra. Conductor: Colin Davis.

Beethoven: Overtures: Sir Colin Davis.
CBS.
5.

Dmitry Shostakovich

Piano Quintet in G minor, Op 57 (3rd mvt)

Performer: Igor Uryash. Ensemble: St. Petersburg String Quartet.

Shostakovich: String Quartet no.1, Piano Trio no.2, Piano Quintet: Igor Uryash.
Hyperion.
11.

Richard Wagner

Siegfried Idyll

Conductor: Thomas Dausgaard. Orchestra: Swedish Chamber Orchestra.

Time Traveller: Victorian Drama School

Duration: 01:33

Kurt Weill

The Mussel of Margate: Petroleum Song

Performer: Steven Blier. Singer: Cyndia Sieden.

Unquiet Peace: The Lied Between the Wars.
Koch.
008.

Alba Rosa Viëtor

Canzonetta

Ensemble: Storioni Trio.

Carlo Gesualdo

Se la mia morte brami

Choir: Collegium Vocale Gent. Conductor: Philippe Herreweghe.

Gesualdo: O Dolce Mio Tesoro.
PHI.
1.

Ottorino Respighi

Spring (3 Botticelli Pictures)

Orchestra: Orpheus Chamber Orchestra.

Respighi: Ancient Airs and Dances: Orpheus Chamber Orchestra.
Deutsche Grammophon.
16.

Francisco Tárrega

Recuerdos de la Alhambra

Performer: Miloš Karadaglić.

The Guitar: Milos Karadaglic.
Deutsche Grammophon.
2.

Emmanuel Chabrier

España

Orchestra: Vienna Philharmonic. Conductor: Sir John Eliot Gardiner.

Wolfgang Amadeus Mozart

Piano Sonata No 11 in A major, K 331 (3rd mvt)

Performer: Mitsuko Uchida.

Mozart: Complete Piano Sonatas: Mitsuko Uchida.
Philips.
9.

Peter Maxwell Davies

Ojai Festival Overture

Orchestra: BBC Philharmonic. Conductor: Peter Maxwell Davies.

Peter Maxwell Davies: Mavis in Las Vegas.
Collins Classics.
1.

Cultural Inspirations: Sheila Hancock on her love of Bach

Duration: 02:27

Maurizio Cazzati

Correnti e balletti, Op.4 (Ciaconna)

Ensemble: London Baroque.

The Trio Sonata in 17th Century Italy.
BIS.
8.

Benjamin Britten

Simple Symphony, Op 4

Orchestra: Camerata Nordica. Director: Terje Tonnesen.

Benjamin Britten - Music for String Orchestra.
Bis.
012.

Léon Boëllmann

Prayer to Notre Dame (Suite Gothique)

Performer: Bertalan Hock.

Dieterich Buxtehude

Schlagt, Kunstler, die Pauken, BuxWV 122

Singer: Bettina Pahn. Singer: Miriam Meyer. Singer: Patrick Van Goethem. Singer: Klaus Mertens. Choir: Amsterdam Baroque Choir. Orchestra: Amsterdam Baroque Orchestra. Conductor: Ton Koopman.

Opera Omnia VII.
CHALLENGE RECORDS.
3.

Claude Debussy

Reflets dans l'eau (Images, Set 1)

Performer: Pascal Rogé.

A Debussy Recital: Pascal Roge.
Decca.
11.

Franz Schubert

Konzertstück in D major, D 345

Performer: Andreas Janke. Orchestra: Tonhalle-Orchester Zürich. Conductor: David Zinman.

Schubert: Symphony no. 7 Unfinished Tonhalle Orchestra - Zinman.
RCA Red Seal.
5.
Broadcast

The Classical Companion Collection